Our life is half natural and half technological. Half-and-half is good. You cannot deny that high-tech is progress. We need it for jobs. Yet if you make only high-tech, you make war. So we must have a strong human element to keep modesty and natural life."

– Nam June Paik, pioneering moving image artist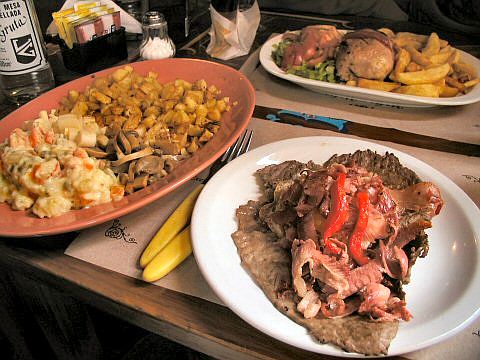 Buenos Aires – Ahh, the chivito uruguayo come to Buenos Aires. Actually, it's apparently been here awhile, and the main proponent seems to be a small chain of venues called La Esquina del Medio y Medio, though there are other spots as well. The fact that I've mentioned them before was apparently enough to bring it to mind of my friend Barbara (or maybe it was the book on Uruguayan cuisine I'd bought at the book fair a day or so before?), and she suggested we head off to one of those branches that we'd spotted many moons ago and never wandered back to. So, off to Perón 1602, at the corner of Montevideo we went, and settled in at one of the well worn wooden tables in this bi-level outpost of Uruguayan casual cuisine. While there are a few of the usual suspect minutas from local food available as well, presumeably for the die-hard Argentine who simply won't sample such an exotic thing as… food from "somewhere else", the two main features at this "corner of the half and half" are the chivito uruguayo and the pamplona.
There are about a dozen and a half of the former, and three, or was it two, of the latter – I lose count with small numbers. The chivitos, unfortunately, don't come in a "have it your way" style – where you pick what you want on them. They have specified combinations, and that's what's available. Some of them are sandwiches and some are platters, but interestingly, most of them aren't designated one way or the other on the menu, you have to guess or ask your waiter. Substitutions are simply not allowed. We asked. You order them as is, and that's what you get. Now, we particularly wanted to try the papas uruguayas, french fries soaked in lemon juice, fried up, and topped liberally with chopped oregano. Really good! But we couldn't substitute those for the plain fries with the pamplona, not even for an extra charge. Nor for what turned out to be a massive plate of accompaniments that came with my especial chivito – roasted potatoes, mushrooms, hearts of palm, and ensalada rusa – a meal in themselves, before ever looking at the sandwich. Which wasn't a sandwich, as it turned out my order was one of those that was a platter, sans bun. Still, the filling part was done right – a nice slice of lomo, a bit of slightly crispy bacon, a fried egg, I don't know, I lost track again. I was too mystified as to just exactly what one was supposed to do with the platter of sides – the waiter assured me I should just mix them all together – the piping hot roasted potatoes and the icy cold potato salad, and the somewhat slimy canned mushrooms and palm innards… I think not. Given that the main part was a winner, and the pamplona as well, we'll be back – next time, we'll leave off the "especial" and go for just the simple sandwich and an order of those fries.
By the way, the name of the spot is also the name of a traditional drink – the medio y medio – your choice of the tinto or blanco, respectively a glass of half vermout and half cane syrup; or half champagne and half sweet white wine. We tried the former – it's more like a digestif than something you'd want to drink with your food, but somehow, the glasses ended up empty by the end of our meal, so I guess if you're not paying attention, they kind of grow on you…
By the way, continuing in the Uruguayan theme, the wines of Pisano, my friends in Uruguay, are now available in Buenos Aires, and we've picked up the family reserve Tannat for Casa SaltShaker's wine list. Definitely worth seeking out!