"History and, at the present time, the question of globalization are the works of men and women who have lived through these events. There are those who are observers and those who are the active advocates of such a "global village," with the ideal of a human family, such as Renaissance men and women in Europe called for at the beginning of the sixteenth century when new worlds were being discovered. But there are also those who object to this trend, because they fear that too much uniformity will be imposed on their lifestyle resulting in the loss of their identity as a group of people who have been making together through centuries of history woven in an extricate pattern, a fabric of shared hardship, happiness, common language, taste, and thinking. How can you abolish these centuries of genes accumulated in us? Is it not these differences in the human families that make for the originalities and the beauty of the World Stage or World Garden? These differences in the ways of thinking allow for the progress of humanity. It is obvious that the revolutions brought in by the Buddha or Jesus, in their respective societies, contributed to changes in the pattern of thinking in Asia and in Europe. If there were not the revolutions of Copernicus, Galileo, Isaac Newton, Einstein and others, science would not have evolved so rapidly. The choice is ours. But at the same time, as history and culture are made by us, they could become also a burden and a source of conflicts that divide us. The ill feelings of the Korean or the Chinese people towards the recent past history of Japanese occupation are a reality that no one can deny; so too are the ill feelings of the Khmers vis-Ã -vis the Siamese, now Thai and the Annamese, now Vietnamese."

– Son Soubert, Member of the Constitutional Council of Cambodia; Archaeologist
Buenos Aires – If in nothing else, the Thai and the Cambodians are united by common roots for their food (there is some assertion that Cambodian food is Thai food without the hot spices, and apparently to a certain extent that it true, though not entirely), and by a calendar, the Chantarakati, during which, traditionally, this weekend, falls the Thai New Year, Songkran – also celebrated in Cambodia, Laos, Myanmar, Sri Lanka, and by the Dai culture of Yunnan, China – under different names in each locale. I assume our guests of the last three nights (yes, three, we had so many requests for this dinner that we opened an extra night – we probably could have opened tonight as well and filled) are happy that we didn't follow tradition and drench them with water and/or plaster as they entered…? As I started planning this menu I realized that, while I've had Thai food many, many times, I'm actually not sure that I've ever had Cambodian – if so, it was probably once or twice, and certainly something I needed to spend some time researching. Of course, I did – and there are some great websites and books out there on the subject – more exploration to be done in the future. Had I realized at the time I started planning this that the New Year was celebrated in other countries as well, I might have planned a course from each, but as it was, I'd decided on a back and forth between what were once known, respectively, as the Kingdom of Siam and the Khmer Empire.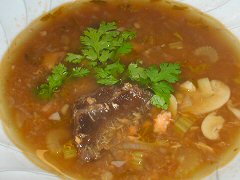 Being partial to Thai food and a bit more familiar with it, I decided on giving three courses to that cuisine and two to Cambodian – apologies to anyone offended by the imbalance. I was intrigued by the flavors of a traditional broth, purported to be one of the most ancient in the repertoire of Thai cuisine, geng nok. This broth is made by taking a common river fish, pla chorn, drying it, smoking it, and then grilling it. The fish is then shredded into a bowl and a hot broth of mango, shallots, water, and fish sauce is poured over it. Nutritious and flavorful no doubt, but I wanted something a bit more substantial to start off. It happens that there's another soup I'm partial to, dtom het dtow jiaw, a fresh fish and mushroom soup that involves all sorts of interesting flavors from tamarind, yellow bean paste, ginger, onions, coriander, and white pepper… it was all too much to absorb, and I ended up deciding to start with the basic broth but add in a couple of flavors and textures. First off, I couldn't find a fresh mango, but, I have powdered sour mango handy (doesn't everyone?). And finding dried, smoked, and grilled river fish isn't all that easy, but, there's fresh smoked trout available from Patagonia… here's where we ended up… Saute 3 chopped shallots with a little smoked salt until lightly golden. Add 3 minced garlic cloves, 4 stalks of chopped celery, 1½ tablespoons of sour mango powder, 1 tablespoon dark brown or black sugar, 1 teaspoon of ground coriander seed, ½ teaspoon of white pepper, and 2 tablespoons of fish sauce, and continue sauteeing until the celery starts to soften. Add a pound or so of mixed of chopped mushrooms – I used common white and brown button mushrooms plus some "Chilean black" ones that I'd reconstituted from dry. Add a half pound of smoked trout, broken up into bits. Continue to cook for a couple of minutes, then add hot water to the pot, enough to cover plus a bit – bring to a boil, reduce the heat, and simmer for about 30 minutes, covered, to blend the flavors and cook the mushrooms through. Adjust the seasoning with salt (or smoked salt if you want to increase the smoky flavor) and a little more white pepper if needed. Garnish with cilantro leaves.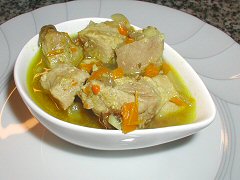 Next up we switched over to the Cambodian side, and based on a coconut stir-fry that seems to be quite popular. Now, the first night, a couple of people told me that this dish wasn't spicy enough – but, if the assertion above, and things I've been reading are correct, Cambodian food shouldn't be particularly spicy. Nonetheless, it seems there was an expectation that the food be a bit spicier, so on the second night I added a bit more heat to it, but truthfully, I liked the balance from the first night and cut back to first version the third night. Sometimes, throwing chliies into a dish just isn't the right approach. I still think it's a reasonably picante dish. This dish takes a bit of prep work, but is very quick, like most stir-fries, to cook in the moment. Slice 8 Asian eggplant into ½" rounds, salt them and let them drain for half an hour, then rinse in cold water. Cut two pounds of pork loin into bite-sized cubes. Chop a large white onion and mince 5 cloves of garlic. Finely chop 3 hot peppers – I used some fresh ajíes amarillos. Mix together 2 tablespoons of fish sauce, 1 tablespoon of sugar, ½ teaspoon of black pepper, ½ teaspoon of turmeric, and ½ cup of coconut milk. About 20 minutes before you're ready to serve this, start sauteeing the onion and garlic in oil with a touch of salt, until the onions are translucent. Add the peppers and continue to saute for a couple of minutes. Add the eggplant and continue 2 minutes. Add the pork and cook, stirring regularly, until lightly browned on the outside, 2-3 minutes. Add the spice and coconut milk mixture, stir to coat, cover the pan and let it simmer until the pork and eggplant are cooked through, about 10 minutes. Because we were going to serve rice on the next course we served this solo, but you could serve it over rice, or noodles, or on a nice slice of a baguette (Cambodians apparently like baguettes alot). By the way, one night we had someone who didn't eat red meat and I made a portion of this with cubed firm tofu – it works really well, and takes a bit less time to cook at the end.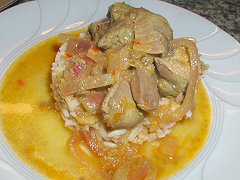 I love chicken livers, always have. It's part of the heritage. I doubt, I know, we never had them prepared this way at home, and what a shame – but then, we didn't have a lot of Thai food in the house when I was growing up. Chicken livers here come with the hearts attached. Clean it all, removing the bits of fat and gristle. Cut the hearts in half lengthwise, and each liver into bite sized pieces (about 3 each liver). Bring a pot of chicken stock to a boil (you can use bouillon cubes here, it's just to give a little flavor to the livers at the beginning) – put the livers and hearts in the boiling stock, bring back to a boil, reduce to a simmer, and let cook for about 10 minutes. Strain the broth off (reserve about a cup of it to provide some nice flavorful liquid to the final dish), and set the meat aside. Slice two red onions into half-rounds and set aside. In the blender, make a paste of 3 hot red chilies, here simply called ají rojo picante in the supermarket – they look like red jalapeños, and have about that level of heat – along with 2 shallots, 4 cloves of garlic, a peeled piece of ginger (about 1½" on a side), the peel of a lemon (or a couple stalks of lemongrass, out of season here right now), 1 teaspoon each of salt, coriander and cumin seed. Puree, adding just enough oil to give a smooth paste. Make a mixture of 2 tablespoons of fish sauce, 2 tablespoons rice vinegar, ½ teaspoon salt, and 1 tablespoon sugar. When ready, saute the onions in oil until soft. Add the puree and continue cooking, stirring regularly, for about ten minutes to develop the aromatics in it. Add the chicken livers and the reserved broth. Stir, cover, and let simmer for 5 minutes. Add the fish sauce mixture, stir again, and cook another five minutes. Adjust seasoning with salt if needed. Serve over jasmine rice.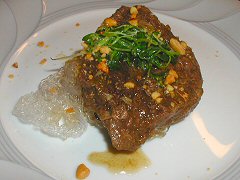 This was based on a Cambodian recipe for lemongrass marinated beef kabobs – the traditional dish being served with noodles, springrolls… and served cold. I went a little different in direction, just using the marinade idea as a base, and I decided on using kaffir lime leaves rather than lemongrass (neither in season, but the former available dried in chinatown). Now, the first night I marinated the beef and then sauteed it. I didn't like the way the texture turned out, and I thought it wasn't flavorful enough – it wasn't bad, just, well, missing something. The other two nights I ended up cooking the beef in the marinade and it came out the way I'd envisioned. Make a marinade of 1 cup of soy sauce, ½ cup of oyster sauce, ¼ cup of oil, ¼ cup of honey, about a cup of chopped green onion, a handful of kaffir lime leaves, 4 sliced cloves of garlic, 2 chopped hot peppers (I used rocotos, just to change up what I was working with), and ½ teaspoon of black pepper. Marinate the beef (sliced into steaks) in this mixture, turning regularly, for at least four hours (add water to the marinade, if needed, to cover the steaks. When ready to cook, put in a pot big enough to keep the beef submerged – bring to a boil on top of the stove then put in the oven, turned up to maximum, and cook for about twenty minutes – the beef will absorb all that flavor and be nice and tender – or, if you want, you could braise this slowly over a couple of hours in just the oven at a lower temperature. Serve over noodles – I used some sweet potato noodles, nice and slithery, top with some sauteed sprouts – in this case fresh pea sprouts – and chopped toasted but not salted peanuts. Finish with a couple of spoonfuls of a sauce made from equal parts of fish sauce and lime juice, warm lightly and add about half the amount of sugar, stir to dissolve, and some pepper flakes (I used cayenne), to taste – again, basing it on how spicy you want it – I kept it held back a bit, which seems to be more traditional.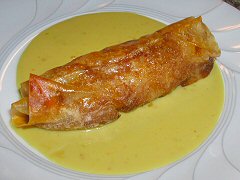 I don't know that I've really ever had much in the way of desserts from this part of the world – maybe the occasional sticky rice dish of some sort. I read about an interesting sounding grilled banana recipe served with a coconut and turmeric sauce. Grilling bananas was a thought, though it sounded like a lot of work to try to do at last minute, and I wanted to serve a hot dessert (I don't know, I just did), rather than doing it all in advance. When I saw baby bananas in the supermarket, purely by chance, I bought them out (if you want to get some odd looks in the checkout line, show up with a pile of four dozen baby bananas). I decided to roll them in filo dough, sort of like a springroll. Peel the bananas and put in a bowl of water acidulated with lemon juice (hey, we have that peeled lemon left over from the chicken liver dish…), then dry them, this is just to prevent browning. Then roll them in the filo, which you've brushed with butter and sprinkled with brown sugar. They were then baked until nice and brown, and the bananas cooked through. The sauce was made by simmering together about a cup and a half of coconut cream with 1 tablespoon of brown sugar, 1 tablespoon of white sugar, ½ teaspoon of turmeric, and ½ teaspoon of salt. Yes, salt. It makes a really interesting contrast in the flavors. After simmering, let the sauce sit for at least an hour to meld the flavors, and the yellow color from the turmeric develop, and then re-warm when ready to serve. I love banana desserts (I'm the one at the table in restaurants who always insists on order the banana dessert that everyone else is dismissing out of hand…), and this one definitely goes near the top of the list! So much for my assertion last week that we could stick with cheesecake, muffins, and chocolate noodles…
So, for your next Songkran celebration, Sawatdee Bee Mai! or Happy New Year!