"Here lies Raffaello who, when alive, Nature was afraid to be won by him, when he died, she wanted to die herself."

– Pietro Bembo, 16th century Italian cardinal and scholar – Inscription on the tomb of Raffaelo Sanzio, Italian artist more commonly just known as Rafael
Buenos Aires – There were two influences on this past weekend's dinner. The first, numerous requests for a vegetarian dinner – our one other, several months ago, had been quite popular in writeup form, if not in attendance, and quite a few readers have asked for me to put on another. Interestingly, though we filled quickly, I don't think a single one of those who asked for it came to the dinner! But, I've already got more requests for another one, so we may start to do them more often. It was also the weekend of both the birth and death of the Italian Renaissance artist Rafael, who came into and left the world on Good Friday, 37 years apart… he died after contracting a fever following a night of passionate lovemaking with his lover, the daughter of a local baker. Or, so the story goes. Regardless, Italian Vegetarian was, more or less, the theme…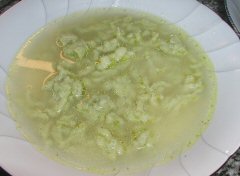 We started off, as we often do, with a soup. I was thinking in the lines of something like a "40 cloves of garlic" soup, a personal favorite, but decided to make it not quite so… strong. Rambling around the internet, I spotted a couple of places where folks were offering up recipes for garlic soup with cilantro dumplings. From there, it was an easy move to making a roasted garlic and onion broth – literally, the broth required nothing more than a basic vegetable stock into which I pureed two heads of roasted garlic and one roasted onion, and then strained it after it simmered for about 20 minutes to infuse thoroughly. A little salt and it was done. One of my personal favorite types of dumpling is spaetzle, and it's also relatively easy to make – I added cilantro and coriander seed. In a blender, thoroughly blend 3 eggs, ½ cup milk, 1½ teaspoons salt, ½ teaspoon ground coriander seed, and about a cup of packed cilantro leaves. In a bowl, mix with two cups of flour to make a batter that's like a thick pancake batter. Put it in a colander, and then, over a pot of rapidly boiling salted water, press the batter through the holes in the bottom of the colander with the back of a ladle. Work relatively fast, continuously pushing the batter through, so that the steam doesn't cook the batter in the colander and prevent you from pressing it through – if you need to, pause and do it in batches. The spaetzle will sort of plop out in dribs and drabs and make little malformed shapes. Let them boil in the water for about five minutes, until they all are floating on the top. Set them aside, tossed with a little olive oil. When ready to serve, put them in the hot broth to bring them back to serving temperature, and ladle out into bowls. Codorniú Marí sparkling wine from Mendoza paired nicely – though, I think I might use something a bit stronger on another go-round.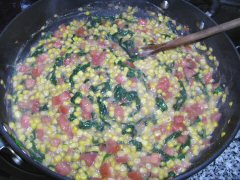 I wanted to make an interesting vegetarian empanada, and I started with a mix of fresh corn cut off the cob (save the cobs and make corn stock to use later for the risotto) and tender arugula leaves. The corn is cooked slowly to maximize it's sweetness, along with some finely chopped rocoto pepper, just a little, then adding in chopped, seeded tomatoes, and finally at the last minute, the arugula leaves and… oca. Now, those of you who've been with me since the early days might vaguely remember oca. I simply boiled them, then pureed them, and mixed them with the corn and arugula for a creaminess. Baked in empanada dough – you've all seen enough pictures of empanadas, so here, simply, the filling. I paired this with a Chardonnay and Sauvignon Blanc blend, unoaked, from Bodega del Fin del Mundo's Ventus line – a really good match from Patagonia.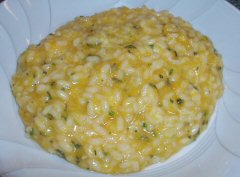 The first night, I served the pasta next, followed by this risotto. But it seemed, just from trying both dishes and listening in on the group conversation, that the pasta came across as the more "main course" dish. So the second night, I switched them around and served this first, but the dish itself was almost the same both nights. First off, split a large red squash in half, and roast it, cut side down (at the same time you're roasting your garlic and onions for the soup), until it's nice and soft. Then simply scoop the flesh out of the squash and mash it. Set it aside. Finely chop a couple of shallots and some crushed green peppercorns and saute them in corn oil. Start cooking risotto, using a couple of cups of white wine (even better, champagne that's gone or is going flat, should you happen to have some sitting around) to put some acidity into the dish, then continue with the corn stock you've made from the corncobs above. When it reaches it's proper texture, mix in the mashed squash, and a good handful each of chopped sage and chives. Finish with grated cheese. The first night, I used parmesan, the second, I tried a cheese that I like quite a bit called fynbo, which I thought would match well with the flavors – it does, but I think I like the saltiness of the parmesan better – I might even go a step further with something like a local reggianito. We tried this out with Callia's Rose de Syrah, from San Juan province, which worked well with both dishes on the two different nights.
Pici. You remember pici, right? I added a little extra water to the mixture to make it easier to roll out, and some powdered saffron to give it a beautiful color and a touch of that flavor. I wanted to give it some extra heartiness, so added sauteed and caramelized portobello mushrooms. The first night I mixed it all together, but my sense was that the breadcrumb mixture picked up too much liquid from the mushrooms, so the second night I kept them separate, just spooning the mushrooms atop. I also probably caramelized the mushrooms a bit more the second night. And, it looks prettier. The only difference from the recipe for the "sauce" from the link above is that I used some other hot red chilies, and I'd already used rocoto in the empanadas. By the way, I was right – it's really time consuming and tedious to roll out a large quantity of pici – I think this quantity took me about 2½ hours of steady rolling. Finish the dish with a drizzle of a good, spicy olive oil – I used the frantoio that I mentioned in my recent olive oil post. For wine, the NQN Picada 15 blend of Pinot Noir and Cabernet Sauvignon, from Patagonia.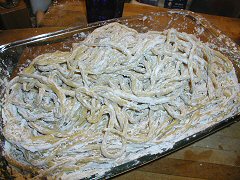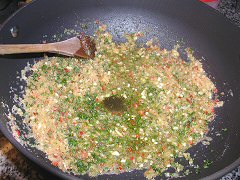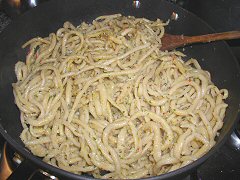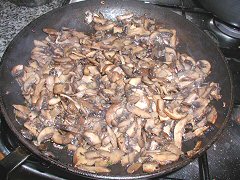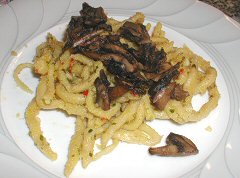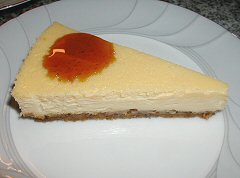 I told you you were going to have to put up with yet one more cheesecake shot. Here it is, and perhaps, for a while, the last. It doesn't really look any different from the rest, so why keep posting photos, other than to make you hungry? The only difference from my basic recipe is that I substituted marsala wine for the usual vanilla, to give it a "zabaglione" or "sabayon" flavor – after all, that classic sauce is just egg yolks, sugar, and marsala – the first two ingredients already in the cheesecake. It's topped with a little puddle of miel de caña, more or less a light sugarcane molasses that's a personal favorite here. The wine, our favorite Finca El Retiro Tardío.