"I suggest preparing a nice dinner that is loaded with her favorite foods, wine, desserts, etc., especially if it is just the two of you and there are no kids to worry about. Most men really mess this up. Can you believe that one of our employees actually received an air freshener, because it was pink! Try giving a massage or taking a bath together. Whatever it is, do something that is romantic and allows you to communicate and stay away from a show or a movie where you simply sit there in silence."

– Chad Chunglo, co-founder TooTimid.com
Buenos Aires – It's true, there are few things more romantic than a guy (or gal) cooking dinner for you. Unless, of course, they simply can't cook… at which point you struggle feebly to hold onto the romantic thoughts at the same time you struggle mightily to swallow and keep your food down. There are many ways around this – the most common are probably resorting to going out to a restaurant and hoping for a romantic experience, or bringing food in from somewhere outside. Here at Casa S, we got to participate in the former, but in a far more unique manner. I was contacted by a young man who is temporarily living here in BsAs while studying, his girlfriend was in for a few day visit, and he wanted to take her out to a quiet romantic dinner somewhere special, and not in the middle of a crowded restaurant. He wanted to book Casa S for just the two of them. Now, he's not the first person to inquire about the idea of a private two person dinner, though he is the first to go through with it. It's expensive by local standards. It takes me just as much work to go out and shop for, and then prepare and cook for, two people as it does for twelve. It's less quantity, yes, but it pretty much takes just as much time in planning and execution. So, I charge accordingly, for smaller parties, pretty much the same as I would if we were full. After all, it's really like hiring a private chef, plus the space, for the evening. He decided she was worth it (in truth, it still costs less than going out to a nice, romantic restaurant for two in New York..).
We setup our garden table outside, the weather was cool but not cold, and for a change a clear night, with no rain looming on the horizon. Flowers and a candle on the table, soft music in the background. Removed from the clatter I tend to make in the kitchen. A half bottle of Bodegas Chandon Extra Brut awaiting them on arrival. I think we managed to pull off a truly unique romantic setting and dinner.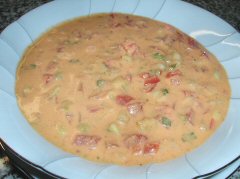 He left the menu completely up to me, not even asking what we would serve, only mentioning that she wasn't a fan of sushi or sashimi, and that he wouldn't mind a touch of Spanish or Latin flair to the food. He did note that they both love gazpacho, and had noticed that we'd included various types on different past menus. Now, just having made what I thought was a delicious white gazpacho a couple of nights before for our last weekend's dinners, I decided to start there. So I whipped up a small batch, but decided to beef it up with some additional vegetables – diced peppers and red onions added to the cucumbers and tomatoes – and, to give the liquid an extra richness – I still had a good amount of romesco sauce left from the weekend, and before adding the vegetables pureed that into the mix – adding in all that roasted pepper, tomato, and garlic flavor plus the almonds and bread. I've got to say, this might be one of the best gazpachos I've made.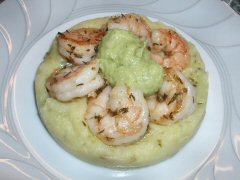 Initially, I'd thought about doing sort of a "tour" of some of our past dishes – updated, upgrade, made more romantic, and picking out those with the flair requested. I decided instead, to let the market be a guide to a certain extent. Since I didn't need advance menu approval by anyone, nor have to publish it on the internet weeks ahead of time to avoid getting slews of complaints about how I'm not telling them in advance what they're eating… yes, people really do that – some of them even send me lists of what they want on the menu, or what they want changed after I've posted it… I went to the market with some ideas in my head, but left it to a certain extent to whimsy. I happened to spot some nice ripe avocados sitting next to some nice ripe bananas, and the memory of the banana guacamole I made for our Colombian influenced dinner popped to mind. I didn't want to make risotto cakes again, but I was thinking that the sauce might pair really well with shrimp. So I picked up some nice sized shrimp as well, and threw them in a marinade of olive oil, garlic, thyme, cumin, and coriander for a couple of hours and then sauted them to order; then I made the banana guacamole, and as I'd thought the first time, it's even better with lime juice than lemon – I also couldn't find any cilantro and made it with a small amount of fresh mint, which worked equally well. I wanted to put the shrimp on something, and just in casually trolling the internet for ideas, came across a recipe idea for mashed potatoes with chopped zucchini and lemon thyme – I decided to mash the potatoes and zucchini together, and add lots of butter and milk to make the puree nice and silky, and used a bit of lemon juice and some fresh thyme (no lemon thyme available here that I've seen). The whole dish worked beautifully together – though, I'd make those mashed potatoes anytime!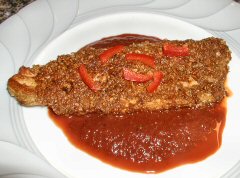 While picking up the shrimp, I'd seen some fresh trout fillets. I love trout, and there's something, I don't know, that strikes me as being among the more romantic of fish dishes. That, and I'd just been talking to my friend Frank in New York about some trout he'd just picked up. So I grabbed a couple of fillets… I had this vague idea of doing something with the pumpkin seed sauce we did with our Oaxacan dinner. I still think I'd like to try that at some point, I think the sauce would work really well with trout. But having done a sour cream base for the gazpacho, and, as you'll see, having something in mind for the next course that used sour cream, I decided to take a different tack. Google is a wonderful thing, and plugging trout and pumpkin seeds into a search yielded up a fascinating sounding recipe (actually, quite a few fascinating sounding recipes) from the Deerfield Bed & Breakfast in Massachusetts for a pumpkin seed crusted trout with a roasted tomato sauce – I started from there, and made some minor modifications. For the sauce, I cut some tomatoes in half, having removed the… hmmm… what is it called, the spot where the stem attaches… then covered those liberally in coarsely chopped garlic, shallots, a yellow hot pepper, cumin, coriander, black pepper, salt, and olive oil. Then I threw those in the oven on maximum until the tomatoes were charring on top. Meanwhile I reduced some red wine, bonarda in this case, no zinfandels readily at hand, to about a quarter of it's original volume. Pureed it all together in the blender while still nice and hot, adjusted the seasoning – it's a really delicious sauce. The trout were, as the recipe suggests, simply battered with egg and milk and then ground, toasted pumpkin seeds – I think if I did this again I'd have to really get the pumpkin seeds down to a fine crumb level – although the dish was delicious, there was a certain coarseness to the texture of the crust that I'd want to reduce. We switched, at this point, to a bottle of red wine, the Familia Zuccardi Textual Marselan 2003/4 – a two year blend of an interesting hybrid grape (Cabernet and Malbec) that's big, bold, and spicy.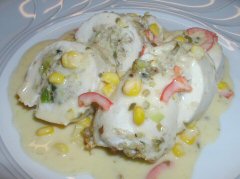 Ever since coming back from Peru we've been experimenting, mostly on ourselves, with different quinua dishes. So I've been collecting recipes from all over the net, from books, from people. I'd seen recipes for various types of side dishes and stuffings, that incorporated a wide variety of ingredients. Two that popped up several times were almonds and leeks – not in combination – and I thought I'd put them together. I was thinking about the brasil nut stuffed chicken roulades I'd made for our Sex and Sizzle dinner as an idea for our main course. Instead I stuffed them with a quinoa mixture – first wash and cook the quinoa, and then let it drain well. Saute some leeks in butter, add ground almonds, salt, white pepper, and to finish, some freshly chopped parsley. The chicken roulades are roasted in the oven and then sliced – have to work a little on the presentation – it came out pretty but not quite what I envisioned. I then started with the idea of the sour cream sauce I'd used in the Colombian dinner mentioned above – just adding a bit more color to it – sauteed capers, shallots, corn, and red bell peppers in butter and olive oil, and then finished with a little sour cream that had cornstarch dissolved in it. Salt and white pepper to finish.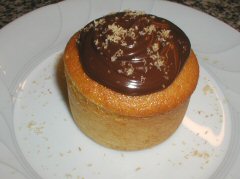 I know, it was a lot of food. But he finished every bite, and she wasn't far behind. And we still had dessert to go. I was thinking coconut, and decided on making the macaroon filled small cakes that I'd made for our Australian dinner. Not particularly Latin, but then again, not not Latin, I mean it's coconut, no? I'd go back to the way we served them the first time. I'd decided against what I thought might be overkill with a drenching of dulce de leche and the chocolate soup around the cakes, but you know what, it's really good that way. Here I made just a simple melted bittersweet chocolate sauce for the cakes – it was good but not as decadent as the original version. Back to that. A couple of glasses of Finca El Retiro Tarío to go with it. Life was good, romance was in the air.