"King Ferdinand and Queen Isabella, by the grace of God, King and Queen of Castile, Leon, Aragon, Sicily, Granada, Toledo, Valencia, Galicia, the Balearic Islands, Seville, Sardinia, Cordoba, Corsica, Murcia, Jaen, of the Algarve, Algeciras, Gibraltar, and of the Canary Islands, count and countess of Barcelona and lords of Biscay and Molina, dukes of Athens and Neopatria, counts of Rousillon and Cerdana, marquises of Oristan and of Gociano, to the prince Lord Juan, our very dear and muched love son, and to the other royal children, prelates, dukes, marquees, counts, masters of military orders, priors, grandees, knight commanders, governors of castles and fortified places of our kingdoms and lordships, and to councils, magistrates, mayors, constables, district judges, knights, official squires, and all good men of the noble and loyal city of Burgos and other cities, towns, and villages of its bishopric and of other archbishoprics, bishoprics, dioceses of our kingdom and lordships, and to the residential quarters of the Jews of the said city of Burgos and of all the aforesaid cities, towns, and villages of its bishopric and of the other cities, towns, and villages of our aforementioned kingdoms and lordships, and to all Jews and to all individual Jews of those places, and to barons and women of whatever age they may be, and to all other persons of whatever law, estate, dignity, preeminence, and condition they may be, and to all to whom the matter contained in this charter pertains or may pertain. Salutations and grace."
Buenos Aires – Thus begins a proclamation entitled Edict of the Expulsion of the Jews, written on March 31st, 1492, 515 years ago. It didn't become public for another month, until after it had made the rounds of all those who needed to know beforehand, but what the proclamation did was declare that any Jew remaining in Spain after the end of July of that year would be put to death and have their possessions confiscated. In that order. This gave time for those who were there to either leave, or convert to Christianity, whether in fact or in name only (which large numbers did). Obviously having little to do with food and menus… well, enough so to inspire me to come up with a menu of traditional Spanish dishes, modified in the way that many of the conversos or marranos might have done in order to appear to have complied with the edict yet secretly continue to maintain kosher homes. The meal in total is not one that is kosher, as I offered both dairy and meat based dishes, but within any individiual dish, where needed, I made changes to recipes in some of those same ways (it really required little adjustment when one doesn't have to worry about the penalty of death while shopping for alternative ingredients).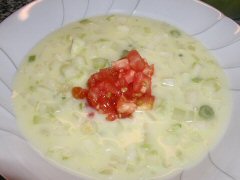 Now, there was no particular reason to select a white gazpacho rather than a more commonly known red gazpacho of sorts, other than I just felt like it. It's also one of my favorite types of soups, and very simple to make. Of course, simplicity requires that you live in a city, no, a country, where things like sour cream and unsweetened yogurt exist, as opposed to one where they don't (okay, it's possible to find unsweetened yogurt in some of the Middle Eastern markets, when they have it, homemade… and there's a rumor that one of the major dairy companies that supplies yogurt here is introducing one in the supermarkets, but the average Argentine is apparently aghast at the idea of the stuff without added sugar). Sour cream, however, one must make do – I make my own sour cream substitute by taking a 500ml (1½ cups) carton of heavy cream and mixing in the juice of one lemon and half a teaspoon of salt and letting it sit for about an hour at room temperature. It works. From there, the recipe goes back to simplicity – toss that container of sour cream into the blender with three cloves of garlic, two tablespoons of vinegar (I used rice vinegar), and about a cup of chicken (or vegetable) stock. Puree until the garlic is well blended into this, then pour in a bowl. Peel and dice 4-5 cucumbers, 4-5 thinly sliced green onions, top off with more stock, just to cover, and adjust the seasoning with salt and white pepper. Chill for at least 3-4 hours to allow the flavors to meld. Garnish with some diced tomato. Wine: Codorníu "María" sparkling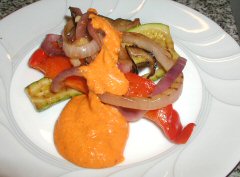 Sometimes it's all about the sauce, and in this case, the sauce is Romesco. It's a favorite sauce of mine, and one that I love to serve with nice garlicky sauteed shrimp. Oh, but no shrimp in this menu, shellfish have no place in our plans. No matter, Romesco is equally good atop many other things, including simply slathered on bread, but in this case, I decided on a selection of grilled vegetables. Choose your own, in my case, zucchini, bell peppers, red onions, and eggplant – all good choices, but use what you have or like. The sauce requires a few simple ingredients – take a large baking pan – cut open and seed 3-4 red bell peppers and put them in the pan, 1 medium hot pepper (ancho makes a great choice – which I didn't have, so left it out), cut a couple of tomatoes in half and add them, and 4-5 garlic cloves, don't peel them. Coat these all with olive oil and a little salt, and throw in a very hot oven to brown. Let them cook, turning occasionally, until well browned and soft, but not charred. Meanwhile, toast a cup of raw almonds in a pan until lightly toasted (or add them to the pan with the peppers about halfway through the cooking, otherwise they'll burn). Throw the peppers and tomatoes into a blender, squeeze the garlic paste out of their husks, add some torn up pieces of slightly stale bread briefly soaked in water and squeezed out, ¼ cup of red wine vinegar, ¼ cup of red wine, salt, black pepper, and since I didn't have an ancho pepper, but had some ancho chili powder, I added a teaspoon of that to the mix. Blend on high speed, adding olive oil slowly through the top to get a smooth but thick consistency. Adjust seasonings and serve warm with your grilled vegetables. Wine: Humberto Canale Semillon 2004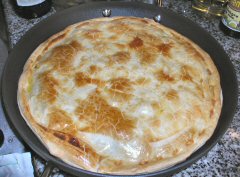 That's so pretty I could cry. No, really. I even brought the one I made out each night and showed it around the room before cutting into it. It's an Empanada Gallega. Sort of. The problem, you see, is that a traditional one is a pork pie, made with bits of pork tenderloin and prosciutto. But that's an easy change to make when the local butchers don't treat you as suspect simply because you want beef products rather than pork. The substitutions were simple – beef loin for the pork, and smoked lamb for the prosciutto. Both readily available here. Into a large saute pan I put roughly 2 pounds of diced bife de lomo – more or less sirloin, about a cup of chopped, smoked lamb, and: 1 tablespoon of sweet paprika, 1 tablespoon of hot paprika, a handful of fresh oregano leaves, 5 minced garlic cloves, 2 thinly sliced large white onions, 2 chopped red bell peppers, and 2 tablespoons of tomato paste. Cooked it all until the meat and onions were browning nicely, then added a cup of white wine, and let it simmer until the meat was nice and tender and the liquid had been absorbed. Since empanada type dough is readily available here fresh, and large sized ones for the local pascualina dish are common, I picked up some of those. Although traditionally done on a baking pan, I don't have one large enough for this, I used a round casserole pan, lining the bottom with one round of dough, putting in the filling, and then sealing it with a top piece of dough all the way around. Make little holes in a pretty pattern to let the steam escape, brush the whole thing with a beaten egg, and bake in a hot oven for about 30 minutes until the top crust is nice and browned. Present, slice, and serve… On the second night of our dinners we had one young lady who didn't eat red meat, so I made a small portion of filling using a cod fillet, leaving out the prosciutto entirely, but all the other ingredients (scaled down of course), and used two regular sized empanada doughs to make a small individual sized pie. Wine: Alta Vista Malbec Rosé 2006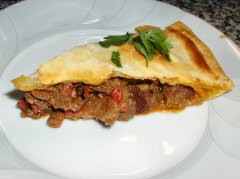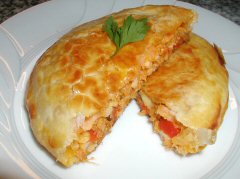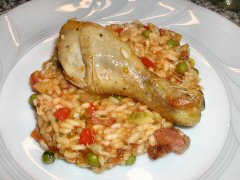 Styles of paella are so numerous, that the Marranos would have been able to make one after another without causing much suspicion. Especially has they had secret butchers preparing beef and delivering it to their homes under cover of darkness… or something much like that. The problem would have arisen in sausages, which seem to be near universal in various versions of paella. My guess is that these same butchers may have cured some for them, but more likely, they simply made their own sausages, using beef rather than pork. Now, you'd think that in a beef-centric universe like Argentina, beef sausages would be easy to find. You'd be wrong. There are plenty of them that are beef with pork added, but finding pure beef ones turned out to require a trip to Once, to a kosher supermarket. I also spent some time looking for chicken based sausages, which I've actually had in a restaurant or two here, but couldn't find them – in fact my local "chicken guy" looked at me like I was crazy and asked, "Who would make a sausage out of chicken?" He then offered me some nice pork chorizos… no thanks. But, beef chorizos, and kosher at that, in hand, I was ready to make an interesting sounding recipe I'd seen for a paella.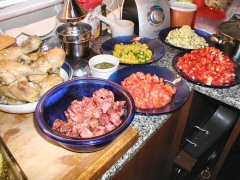 Now, I get asked all the time, how I manage to produce dinner for twelve out of our kitchen. Personally, I find it plenty big enough. It's as much space as I've ever been allotted working in a restaurant kitchen, possibly more. But here's how I set everything up ready to cook for the paella. In the restaurant biz it's called your mise en place – everything at the ready and in its place. I had a large dutch oven to cook this in. From the first bowl, two finely diced onions and two finely diced red bell peppers. Saute those in olive oil for five minutes until the onions are transluscent and soft. Second bowl goes in – 3 finely diced zucchini, 3 minced cloves of garlic, continue sauteeing another five minutes (remember, at the same time this is going on, in between stirs, I'm plating the grilled vegetables and romesco sauce… Third bowl goes in – 2 diced tomatoes… another five minutes until they render up a fair amount of liquid. A cup each of corn and peas (frozen that have been thawed – you could use fresh as well, just boil them so they're fully cooked beforehand), and a half kilo (just over a pound) box of carnaroli (risotto) rice. Continue cooking and stirring to make sure the rice is well coated with the oil. Now comes adding the things that have been pre-prepared: a quart of broth – made from chicken stock, a jalapeño pepper, 2 garlic cloves, 2 teaspoons of cumin, and 1 teaspoon of cinnamon, all pureed together and then kept hot on a burner waiting for this moment; a pound of chorizo (beef in this case, as noted), chopped up, and sauteed in a pan earlier, and drained of excess fat; and the chicken legs, previously roasted in the oven until cooked through. Just before the chicken legs go into the pan, give it all a big stir, add the legs, cover the pan, turn the heat down to medium-low, and let it all simmer away for 20-30 minutes or so while, of course, we're serving up our empanada gallega. Check it after about 15 minutes – you can kind of give it a stir between the chicken legs, just to make sure nothing's burning on the bottom. When the rice is done, simply turn the heat off and leave it covered. (For our one non-red meat eater, I left the chorizo out while the rice was cooking on the second night, when it was done I scooped out one portion into another pan, then added the chorizo to the main pan. Easy enough. Just before serving, remove the chicken legs, and into the rice stir a mixture of ½ cup chopped cilantro, juice of three limes, and two minced garlic cloves. Serve the rice on a plate with the chicken leg on top – drizzle with good olive oil (more about which in an upcoming post). Wine: Sur de Los Andes Bonarda 2005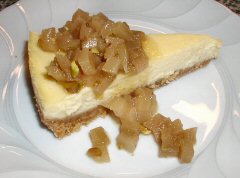 And, we finish up with a nice cheesecake – I told you this was a mixed meat and dairy meal, we start and end with dairy… but of course, you can plan your own Marrano dinner as you like. The cheesecake is my usual secret recipe, which, as always, I am under a deeply rooted Hungarian curse not to reveal – I can't help it, it's the one recipe I have in my possession that I promised I would never tell… It's topped with a compote made from simmering together diced granny smith apples, chopped pistachios, butter, brown sugar, and just a little salt. It's served warm over the chilled cheesecake, and, well, it's a nice end to our modified Spanish meal… Wine: Finca El Retiro Tardío