Life is like Sanskrit read to a pony."

– Lou Reed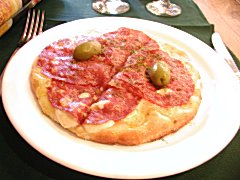 Buenos Aires – Ahhh Caballito… the pony… and also the restaurant that until recently I just assumed was a parrilla – the name evoked a sort of cowboy thingie, and it just looked like a steakhouse – but turns out to be a pizza parlor. Located at Las Heras 2999 in Barrio Norte, I dropped in the other day and decided to sample an empanada – they were out of the unusual anchovy, mozzarella, and tomato one, but I had a quite nice basil, mozzarella, and tomato version – much more common. More importantly, the pizza. I give them points for quite a few things – a really nice selection of pizzas, the option for al molde or a la piedra for those who have different preferences, and a decent winelist, including a quite good selection of half bottles. I take away a point or two for the fact that this has to be the smallest "individuale" pizza I've seen here, or anywhere for that matter. It can't be more than about 5-6″ in diameter. On the other hand, it's only 10 pesos at that size. Still, it reminded me in look as nothing so much as a Pizza Hut individual to go pizza… the difference stopped there – the crust was excellent, the sauce nice and flavorful, and plenty of toppings – this one is a calabrese al molde – a mix of cantimpalo sausage, olives, and mozzarella pan pizza. Really quite good. Next time, though, I'd order the medium sized pizza, which is more the size of a typical individual here in town… or maybe two different individual sized… hmmm… decisions, decisions.
For those who haven't been regularly checking up on the listings, over the last couple of months I've added several new helado spots to the listings – click on the link in the righthand column to check it out.