Dive and know the depth; watch and discriminate; eat and know the taste – I long for people who do that."

– The Atharvaveda
Buenos Aires – I'm not a big fan of chain restaurants, as I tend to find that they do things with rigid formulas and patterns – and most of the time end up screwing up those formulas and patterns. One of the reasons that companies like McDonald's are so successful is that they train their people to a level near brainwashing so that their procedures are followed to the letter. While it may be hard to "get it your way" as one of their competitors used to put it, you know you can count on things being identical no matter where you are. When companies are lax about those sorts of things and just sort of say, "hey, we expect you to do it this way", you can count on it rarely working out as planned. And that leads me to finally dropping by a branch of the Romario pizzeria chain, in particular the one at the corner of Vicente López and Uriburu in Village Recoleta.
It's greatest feature is that it has simply no space inside, instead placing nearly all of its tables outside under canopies. Village Recoleta is prime people watching territory, especially if you enjoy watching tourists fumbling with maps and guidebooks as they try to figure out where the Recoleta Cemetery is (ummm… behind that wall across the street with all the mausoleums loomng over the top…). It's poorest feature is service. Not that the servers aren't reasonably friendly. They are. On the other hand, let's say that astuteness is not amongst their qualities. Nor paying attention – instead most of them are hanging out on the street corner chatting with friends and ignoring customers to the best of their ability. Somewhere in the middle falls the food.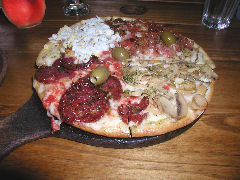 The pizzas are good. Not great. Good. Lots of toppings – I ordered an individual sized cuatro estaciones, which was tasty and packed with a variety of ingredients. It wasn't particularly traditional, the Italian classic consisting of a pizza with each quarter being topped by one single ingredient meant to represent one of the four seasons – the most common version being ham, mushrooms, artichoke, and tomato. But variations abound, the biggest difference here, and perhaps even a slight improvement, is that each quarter has two ingredients, so you get some nice combinations. On the other hand, there's little meant to represent the seasons, it's just a pizza divided into four sections of different toppings.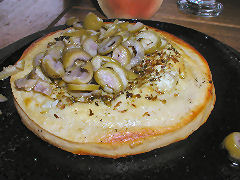 Given the brightness and level of concern of my waitress, the small provoleta that I'd ordered arrived after the pizza rather than as an appetizer – "because it's when I thought of it" according to her… which also meant that it had been sitting around on it's little cast iron sizzle platter getting harder by the minute. It was pretty much the texture of a hockey puck, and burnt on the bottom. She couldn't have cared less, it had been served and she had conversations to get back to. I would guess that served right off the grill, the provoletas are pretty good, and it's the first place I've seen a wide selection of them – they're available with any of more than a dozen toppings – I went with chopped green olives – almost like a little mini pizza without the crust… sort of the South Beach Diet version of a pizza.
Regardless, the pizza was tasty enough that I'd go back, I'd just be a little more insistent about getting appetizer first and fresh… Plus, there enough other locales of this chain that perhaps one of them has waitstaff with a bit more sense and interest in their jobs. Oh yeah, don't order the house wine… they have half bottles of drinkable stuff on the menu… the house wine isn't.