"Apparently, he's got a record longer than my… well, it's long."

Linus, in Ocean's Eleven
Buenos Aires – I'm not sure what the reverse of padding one's resume is, but if there's not a name for it, someone should invent one. Chef's do it all the time – adding in a little here, a little there, changing the title of the position they held at this restaurant or that. They know that with the constant swirl of personnel at each place they've worked, with the openings and closings of many a venue, that it's unlikely anyone can figure out that their resume isn't exactly accurate. So when a chef posts his resume on his restaurant site and basically says, "hey, I worked for my folks in a b&b when I was a kid, then I went to culinary school, then I went to New York and spent almost two whole years working at a small, okay restaurant where I didn't make it to chef or sous chef, I came back here and briefly worked at another place, and here I am opening my own…" you know he's not making it up. And you know what? It doesn't matter, because whatever Daniel Hansen did or didn't learn in his brief encounters with fine dining in one place or another, he clearly knows how to cook.
[This place has closed, though the chef has opened a new restaurant, La Pecora Nera.]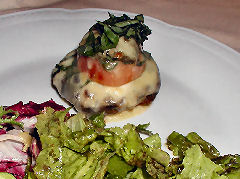 And that's good, because while the name of his restaurant, Sette Bacco, Agüero 2157 in Barrio Norte, 4808-0021, has a certain ring to it, it means "Seven Bacchus" – the latter being the god of wine and drinking. It doesn't really make any sense – though, he (Daniel, not Bacchus) took the "Sette" part from having worked for those two years at Sette MoMA in New York, the now defunct restaurant at the modern art museum. Now, I haven't sampled a huge portion of the menu. My friend Barbara and I dropped in one day last week for lunch, and Sette Bacco has a great deal at lunch time – 20 pesos for a three course meal – and a real three courses too. And the place is popular, hey, it even has two separate listings in the Guia Oleo, the local online restaurant guide (interestingly, it garners better ratings under the name Settebacco than under it's name seperated into two words). Of the things we sampled, I can say we enjoyed everything, though I will note that there's a tendency (or is it just what we ordered?) towards heavier cream or cheese sauces on the dishes. We started off with the Torre di Capri and a Vitello Tonnato – the former was basically described as a stacked version of a caprese salad – mozzarella, tomato, basil – though, with eggplant added into the mix.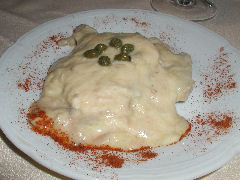 Our waitress assured me that the mozzarella was absolutely fresh, fiori de latte mozzarella – you know, the gleaming white stuff that's floating in the water and whey it was made in. It wasn't. It was the semi-hard, though at least not aged, mozzarella that is more typical here. A shame, as this dish really needs the fresh stuff – though, since the kitchen takes a disk of it and grills it like a provoleta and then stacks it with tomato and eggplant and a little salad with basil, perhaps the fresh stuff wouldn't work. And it's not much of a torre, or tower… but it's got the idea going. Either way, it's tasty. The vitello tonnato was excellent, and a fairly big portion too. The veal was nice and tender, if slightly thickly sliced, and the tuna mayonnaise sauce atop was seasoned just right and accented by some capers – a classic version of the dish.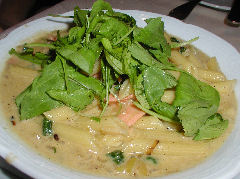 It's not just the name of the restaurant where there seems to be some oddities in the naming of things. This dish was simply named penne Italiana – I'm not sure what about it makes it the defining Italian penne, but apparently here, it is. Let's start with that the penne is cooked well. Is it slightly past al dente? Yes, but not to the point of limp noodle status, as is so typical here. It retains a touch of "chew" to it, so points for that. The sauce was a cream sauce with bits of salmon in it. t, for the moment, that it's a dish that's more likely to show up on the menu of an Italian-American restaurant, maybe one at the modern art museum in New York, than it is to show up on a menu anywhere in Italy. Actually, while there is salmon available in Italy, I can't recall ever seeing it on pasta – though, like here, it's used as one of the few fish for sushi… Regardless, the sauce wasn't overly cloying, and worked quite well with the salmon.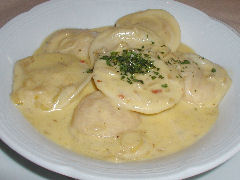 The other dish I have a problem with the shape. There's nothing else wrong with the dish – it's a delicious, round ravioli, filled with squash puree, and topped with a delicious fresh sage and cream sauce (I didn't note that it was cream and was thinking a more classic sage and butter sauce, but that's my fault, it was on the menu as cream). Really, it was a very good version of this dish. But the menu asserts these as tortellini. Our waitress did too when I commented that they looked more like ravioli. They're simply not tortellini – which are ring shaped (a torus, actually, and where the name comes from), they're small… you all know what tortellini look like… and we're back to odd names again.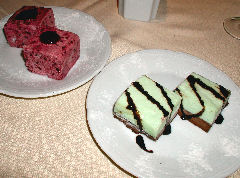 Now, I can't tell if I'm being overly critical about the names of things – but for me, words are important, and the choice of them conveys meaning… I think that's true for most people… I just may be overly sensitive to it, both from the standpoint of being a writer, but also from the amount of time I spent in Italy and/or working in Italian restaurants. The food at Sette Bacco is quite good. The atmosphere, the room, delightful – it's well lit, with nice art on the exposed brick walls, tables are well spaced. It's just the names of things. And dessert. It's the one place the kitchen fell down and went boom. The two desserts we tried were simply unpalatable. One was a blackberry and raspberry semifreddo, which should be a frozen dessert, creamy and lucious. This was more like a cafeteria jello mold with pureed fruit in it. The other, a chocolate and mint mousse, the same – a couple of wobbly, gelled squares of vividly green mint foamy something with a layer of the same in chocolate. There was nothing mousse-like about it. Both desserts, and others we saw being presented in the dining room, were the same – clearly done in big sheet pans, flavored gelatins in essence, and cut into squares to serve with the lunch menu. One can only hope that at dinner time the desserts are made with more care, more flavor, and more quality.
I'll be back to Sette Bacco, the food is worth it (I'll take an extra coffee instead of the dessert, thank you), and I want to check it out at dinner time.