Cuzco, Peru – Puno has been intriguing, interesting, and inspiring. It's also been hard to breathe and cold. We're ready to leave, and getting up with the sun isn't a problem on our day of departure. I'm not sure we really slept much at all, especially given that that packed van is coming back for us at about 5:30 a.m. Thankfully, it isn't as packed as on our way in. We have a last coca tea, thank the staff, and jump aboard. An easy check-in at the airport, a short wait, and we're on our way. Twenty five minutes later, we touch down in Cuzco. No longer are we in the Folklore Capital of the country, now we're in the Capital of the Inkan empire.
Once again, it's clear that things are clean and sparkly here. Maybe it's just that we can breathe again. While new arrivals to Cuzco coming from other lower level altitudes are going through much of what we did in Puno, for us, it's noticeable relief. Cuzco is significantly lower altitude than the lake region, only about 3,200 meters versus 3,900. There's a bit sign welcoming us to town, and another nearly the same size asking us to, in essence, "just say NO to child sex tourism".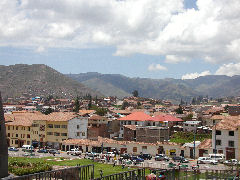 At the airport we're greeted by a representative from the hotel we're staying at, the San Agustin El Dorado, their brand new venue of three in the city. We'd switched from one of their older hotels as this one, according to their reservationist is newer, closer to the center of town, in a better neighborhood, wired for internet in every room… okay, the first two are correct, the "closer" when you're dealing with one block is very relative. One day I have no doubt they'll have the internet hooked up, somehow – I don't see any outlets, maybe they plan on wi-fi. There is a shared terminal in the lobby, at least this time it isn't the reception desk's computer, and they tell me that I can move the cable to the laptop when I need to use it. Of course, I'm working around schedules of several dozen other guests who all want to use it as well. That, and the hotel isn't actually finished yet – there are workmen busy pounding, scraping, and whatever else they do from 7 a.m. until 9 p.m. every day; the phones won't dial outside lines, so the payphone in the lobby also has a wait, or you can ask the reception desk to connect you… for a charge, of course. Still, it's a beautiful, and comfortable hotel, and without our asking, when they realize we're a couple, they switch us from a room with two separate small beds to one with one large bed.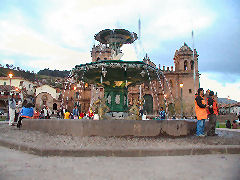 It's only mid-morning, so we take a wander around the center of town, built around three plazas – the main Plaza de Armas and two smaller ones off to one side. We head to the OFEC office, which is a tourism office that does nothing but sell a special boleto, or sort of a giant coupon, that gets you into various sites of interest. It's a must if you're spending more than a few minutes in town. At one time, the boleto got you into virtually every archaeological, cultural, and religious site in and around town. The new Archbishop, who came in a few years ago, apparently decided he was having none of that… if people were going to visit his churches, they were going to pay his office. So he withdrew the main cathedral and all the major historical church sites from participation and created his own ticket, a religious boleto, for those into visiting churches –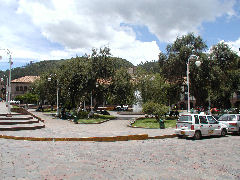 if you are, it costs 35 soles, a worthwhile investment, since each church charges 16 to enter (though, of course, you could just wait for the hours of their masses and visit for free – since there's no photography allowed in any of them anymore either, it doesn't make a difference on that level). We decided on just the archaeological and cultural ticket, it covers 15 sites plus a folklore music and dance show. We ended up using virtually all of our sixteen visits, so the 70 soles was a great investment, especially since each site charges anywhere from 30-50 soles entrance fees. This is definitely a city setup for tourism. Beyond what's included on these two tickets there are dozens of smaller museums, galleries, and cultural sites that charge their own fees.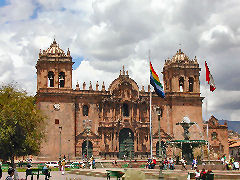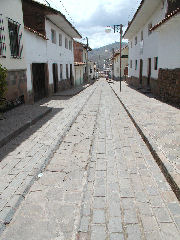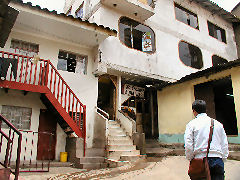 We get roped in by a tour operator for a conversation about what's available. We end up with a list of possible tours, and decide we'll go check a few other agencies after we eat to make sure she's offering us a good deal. We like her though, and she gives us a recommendation for a little place that locals go for truly authentic local cuisine, that's completely off the tourist track. She tells us to just tell any taxi driver we want to go to La Chomba, so we do. He glances at us, says "are you sure?", we reply affirmatively and he whisks away and deposits us in front of a dilapidated gateway a dozen or so blocks away from the main plaza (or so it seems, Cuzco has a lot of winding and one-way streets, I later figure out that it's really only about six blocks away, and easily walkable, not to mention on one of the main avenues of the city, Tullomayu).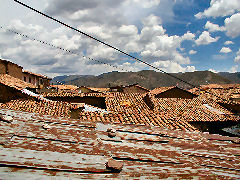 There's a small wooden sign above the gate, we enter, and find ourselves in a courtyard filled with playing children, chatting women hanging laundry out to dry, a couple of old men sitting on the ground passing a liter of beer around. No one pays us any attention, and we spot a blackboard over in one corner with a menu. We head over, and find there's a downstairs bar and an upstairs restaurant with a couple of booths and some long picnic tables. We sit in a booth with a "view" out over the neighboring rooftops. We order too much food – it all sounds good, and it's all cheap – anywhere from 6-9 soles a plate. We're given an order pad, we have to place our own order, there's not really a waiter, just a food delivery person.
We end up with three huge plates of food, any one of which would be enough to feed both of us for lunch. A plate of chicharron is heaped with fried pork, well seasoned with salt and pepper, potatoes, and rice. Good potatoes, great chicharron. We order the cabrito al horno, roasted baby goat, and receive a section of several ribs, plus two other large pieces, meaty, juicy, and basted with coriander; more potatoes and rice. We'd ordered a truly unnecessary plate of souflé de rocoto, two large, spicy rocoto peppers filled with a mixture of scrambled egg, ground beef, peas, carrots, onions, and a mix of spices. All delicious, and even with a couple of bottles of water and tip we only spent 30 soles. We'll return.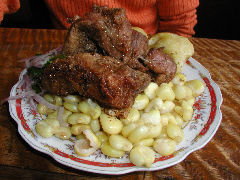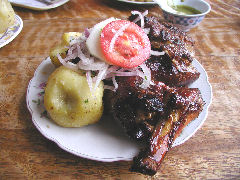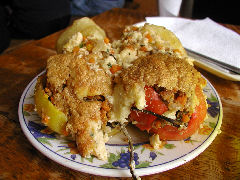 In the afternoon we spend a bit of time checking at other tour agencies, as planned, and find that everyone offers pretty much the same tours, unless you're into hiking, biking, horseback riding, or rafting. We've decided on more straightforward bus tours – we want a guide for the information (or at least I do, more later…), a nice comfortable bus for sites that are often hours apart, and the prices are decent. We book the three major tours – a city and surrounds tour for Monday, a Sacred Valley tour for Tuesday, and Machu Picchu for Wednesday. We decide against the continuous connection option that essentially takes you on three days hooked up in a row – you end up seeing the same things, but staying in small hostels somewhere between the various sites. It's less time traveling back and forth to the city, but we've already paid for a hotel, and we want some time to explore the city and food rather than eating at local diners and pizza places in small towns (which, the agent tells us is what's pretty much available in the outlying communities). For food, she, and everyone else we've talked to, has pretty much told us to stay in town.
We spend more time wandering the streets, do a little shopping, take a nap back at the hotel, decide that we're dead tired and since we have to get up early for a tour the next day, we have a light dinner in the hotel's restaurant – very "continental" food, clearly geared around tourists who aren't feeling adventurous, and for some reason, they're out of all their pastas except one – which Henry orders, some simple tallarines with vegetables and chicken, I have the chicken cordon bleu – both are fine but nothing special and not worth the hotel restaurant's exorbitant prices. We head off to bed and get a good night's sleep.