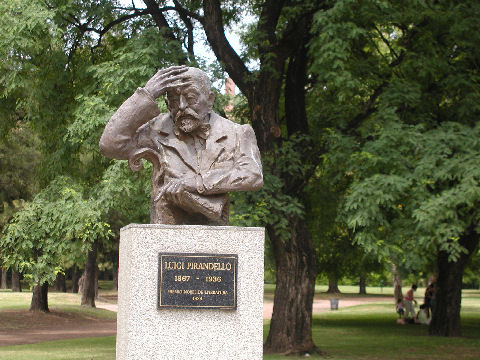 Whoever has the luck to be born a character can laugh even at death. Because a character will never die! A man will die, a writer, the instrument of creation: but what he has created will never die! "

– Luigi Pirandello, Playwright, Poet, Author
Buenos Aires – I know little to nothing about Luigi Pirandello. I read a couple of quick bios – Wikipedia and others, to find out anything more about him than what's on this bust in Parque 3 de Febrero in Palermo. He was a Nobel Prize winner for Literature in 1934. He owned and ran a theater in Rome with the financial assistance and public support of Benito Mussolini. He was born in Caos, Italy, and for a time lived in Palermo, Italy, so maybe that's how he ended up in this Palermo… he did tour Argentina with one of his plays once, in the 1920s. And there are busts of other authors scattered hither and thither in the park.
The expression on his face and his "body language" say it all for me.