"Nor do I hear in my imagination the parts successively, I hear them all at once. What a delight this is! All this inventing, this producing, takes place in a pleasing, lively dream."

-Wolfgang Amadeus Mozart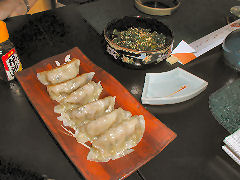 Buenos Aires – The spot was busy, bustling, loud. Not a soft surface in the room and packed with businessfolk talking earnestly in alto voz about things which probably matter to no one but themselves. Not what I was expecting. I'd heard many positive things over the last couple of months about this spot – a teeny Japanese restaurant in the midst of microcentro, purported to have excellent sushi, and a likewise excellent kitchen. I was expecting stereotypical tranquility. Then again, it was lunchtime in the middle of the business district, in January, when many other places are closed, and those spots that are open pick up extra customers. We were led upstairs to a window table, the last available (the place really isn't so teeny – downstairs where you enter, yes, just a couple of tables, but upstairs about a dozen more). And we were handed multi-page menus encased in plastic and festooned with large, colorful photos of virtually every dish, along with bold English translations of each Spanish name.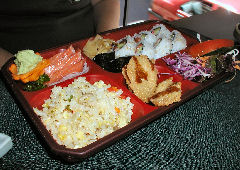 Welcome to Irifune, Paraguay 412, 4312-8787 (their business card assures one that they have twenty years experience in this location, and that they offer the true tastes of Japanese food). I was now a trifle wary. True, the man who greeted us as we entered was Japanese. One of the two sushi chefs too. There was a Japanese busboy. Our waiter, a serious looking Germanic sort, desperately trying to wait on all dozen tables on the second floor by himself. But when he finally got to us, friendly if harried, and as lunch wore on and tables of businessmen started to depart, the whole atmosphere, and he, relaxed. My two lunch companions decided to opt for relatively inexpensive combination plates (roughly 25 pesos each). I, of course, just can't bring myself to order a lunchbox. Besides, there were too many interesting things on the menu that I haven't seen on many other Japanese menus here.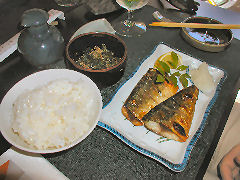 The two combo plates, however, turned out to be quite nicely presented. One was a fairly traditional bento box – with a bit of sushi, a bit of tempura, some pickles, salad, and a rice dish, all tasty, and all quickly consumed. The other, two nice sized pieces of grilled fresh mackerel accompanied by rice and goma ae, the spinach and sesame salad that I like so much (not as prettily presented as the one recently at Comedor Nikkai, nor as tasty, but still quite good). In fact, I'd already spotted it on the menu and ordered one as an appetizer. We also ordered a plate of gyoza (above) – quite good, properly cooked, and seasoned well.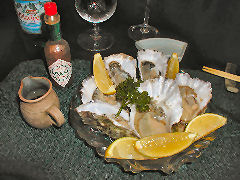 Despite being pricey (34 pesos), I couldn't resist ordering a plate of a half dozen fresh "giant" oysters on the half shell. Served with a homemade ponzu sauce, tabasco, and lemon, these were pristinely fresh, meaty oysters. Simply delightful. The ponzu sauce a little on the weak side, but truthfully, the oysters really needed nothing other than a squirt of lemon juice. And they really were quite big oysters… still, at nearly six pesos apiece, it's a bit much. And hey, just as predicted, roughly six months since my last oysters on the half shell… amazing how cravings seem to come and go on schedule. They paired beautifully with a glass of Santa Julia Sauvignon Blanc too.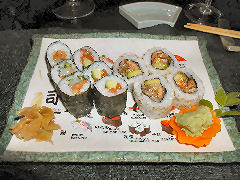 So, a little spinach salad, some oysters, a glass of wine, and hey, how about a little sushi? They didn't have any of the fresh tuna in, and I opted instead for half rolls (which are offered on virtually all their sushi rolls) of salmon skin and avocado, an ume plum with cucumber, and natto and squid rolls. Strangely, only in retrospect do I realize that I didn't really order any fresh fish sushi, so I can't really comment on the freshness of the fish, though my dining companion with the fresh salmon asserted hers was excellent. I did have an amusing conversation with the Japanese busboy – the plate that my sushi was served on was one of those with little pictures of all sorts of sushi, sort of like the typical sushi parlor placemat back in the States. When he cleared the plate, he asked something to the effect of was there anything else that would make us happy (a nice question, that!) – I grinned and pointed to the plate, and said, yes, a sushi place that offered all these different selections, since I'd never found most of them in Buenos Aires. He quickly responded that they offered all of them. I pointed to one, something like the giant clam, and he smiled and said, well, no, not that one… and then a few more, and a few more… we sort of came down to about 2-3 of the pictures of the 15 or so on the plate… he shrugged and cleared it. But it was cute.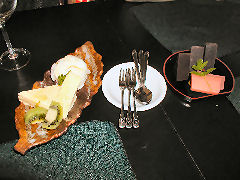 We decided on a couple of desserts, but honestly, not much sounded interesting. Most were the standard ice cream sorts, though, of course, we did order a plate of yokan, the red bean paste dessert that I like. It turned out to come in two varieties, both a red and a pink bean paste, which at least gave a bit of color contrast to the dessert, if not any perceivable difference in flavors. We also ordered a plate of the ginger ice cream with a sort of fruit cheesecake-ish thing. The ice cream was good, the other thing was questionable.
All in all, quite a good experience. Pricey, but then, this is microcentro. Somehow we managed to rack up nearly two hundred pesos for the bill, a hundred of which I shelled out – the oysters had a lot to do with that I think. If you're in the neighborhood, it's a very good option for Japanese food. On the other hand… Comedor Nikkai is only a 6-7 minute cab ride away…