"Rhythm is the basis of life, not steady forward progress. The forces of creation, destruction, and preservation have a whirling, dynamic interaction."

– Kabbalah
Buenos Aires – I've said many a time that my "themes" for our Casa SaltShaker are often loosely if at all based in the world of food. This weekend was a perfect example. It was the 40th anniversary of the legal death of Dr. James Bedford, a Massachusetts psychologist. What was important about Dr. J's death is that on that same day he became the first adult human being to be (intentionally) cryogencially preserved for the cited purpose of future resurrection. He's still out there, in his liquid nitrogen "dewar", in cold storage at Alcor – whose website, by the way, makes fascinating reading. Now, there were many ways I could have gone with that theme – an all frozen dinner perhaps? But I extended the concept and decided on "methods of preservation" as a theme. Each dish had to have some element in it that was preserved in some fashion… though, of course, I played a little fast and loose with that as well in the end.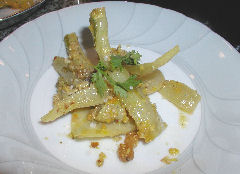 Escabeche is a term of Persian origin that means, essentially, pickled – it is a dish common throughout the Spanish speaking world, from Europe to Latin America, as well as the Caribbean. In its simplest and most traditional form, fish or poultry is fried, and then marinated in a mixture of oil and vinegar or citrus juices, and then chilled in the marinade for several hours. From there, the idea has been expanded many a time. I was inspired, in particular, by a recipe for a baby fennel escabeche in the book Vegetables, by Lyndsay and Patrick Mikanowski – a fascinating and beautifully photographed book, by the way. I didn't make a lot of modifications to the recipe, it sounded too good as is. I sliced the fennel into long strips and sauteed the strips in olive oil with a fair amount of sliced garlic until the fennel was just starting to soften. Then I added a mixture of crushed, toasted almonds and cashews, yellow raisins, ground coriander seed, brunoise of orange peel, some saffron, salt, pepper, the juice from the same oranges, and some more olive oil. I brought the mixture just to a simmer, then covered the pan and turned the heat off. I let it sit about 30 minutes, then removed the cover, cooled the vegetables, then chilled them for about 6 hours before serving. Based on feedback on the spot, anyway, this dish was one of the two hits of the evening.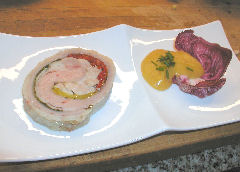 I decided to attempt a roulade of veal. Here's an example of a little fast and loose with the preservation idea – it's not like you can store a roulade indefinitely, nor that any of the ingredients in particular were preserves of any sort. But, to a certain extent, this will keep for a bit, and, hmm, there was rum in the dish, yes, that's it, rum is a way of preserving sugarcane, right? Actually, the original plan was to make a terrine, which is much more of an act of preservation, but it just sort of evolved as I was finding ingredients (or not, as in, not finding any ground veal…). What I did was first soak sweetbreads in milk, and then poach them in the milk until just done. Then I removed the membranes and separated them into nuggets.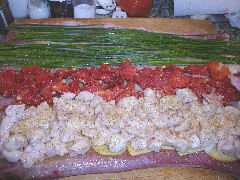 I laid out a veal matambre (flank steak), fat side down, and coated it with a mixture of salt, quatre epices (black pepper, nutmeg, ginger, and clove), and coarse yellow mustard powder. I then laid out rows of chives, reconstituted sun-dried tomatoes (oh wait, there's a preserved ingredient!), and thinly sliced peaches; topped the whole thing with the nuggets of sweetbreads; rolled it up tightly; wrapped it in foil and tied with string; poached it in a water bath for two hours in the oven; then let it cool in the water bath and then chilled it and sliced it. It was served with a simple sauce of sauteed shallots and mustard seed pureed with peaches and rum and seasoned with salt and then strained.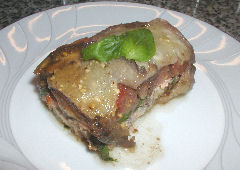 Tapenade can be simple or complex, it's really quite up to you. At it's simplest it is a puree of olives with a little olive oil and salt. At the other end it can contain a wide variety of herbs, spices, capers, and/or pretty much whatever you want. I went towards the simple end, with a puree of black olives, olive oil, salt, and a little oregano. This dish is a case where the tapenade is an accent as opposed to the main component. This is a salmon and eggplant "lasagna", or terrine, or whatever you care to term it, I go with lasagna, despite the lack of noodles, the part of which is played by eggplant slices. I thinly sliced eggplants crosswise, salted them and let them drain for an hour, then rinsed them in cold water and let them dry. I sauteed the slices in olive oil until limp but not fully cooked. Then the lasagna is made by a layer of a third off the eggplant, topped with a layer of fresh salmon, a layer of basil leaves, another layer of the eggplant, then a layer of freshly sliced tomatoes, coat them generously with the tapenade, and top with the final layer of eggplant. Each layer of eggplant should get a bit of salt and pepper. You can add other seasonings if you like, it's truly up to you. I like it without, the flavors are simpler and fresher. Cover the casserole dish with foil, bake in a hot oven for about 30 minutes, then remove the foil, flip the oven to broil, and let the top lightly brown. Serve portions garnished with basil leaves. You could even dress this up with a bit of drizzled basil oil or other herb oil on the plate if you like.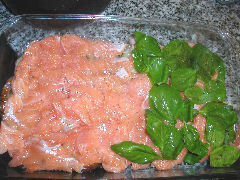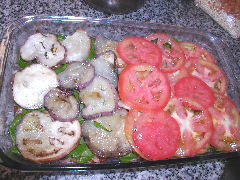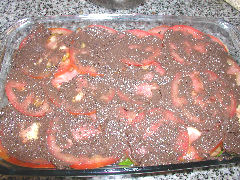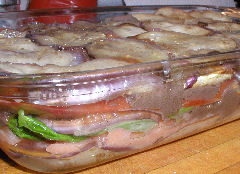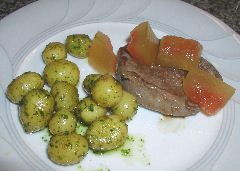 I covered the making of watermelon pickles in Friday's post. Once the pickles are made, this is a very simple dish. The pickles pair beautifully with beef. This was definitely the other hit of the evening. I think. The beef in this case is peceto, or eye of round/top round, or, essentially when cut into steaks, London Broil. The steaks were marinated in olive oil, salt, garlic powder, and wasabi powder. Then pan sauteed until medium. Topped with the watermelon pickles. Accompanied by small Andean potatoes that had been first boiled until cooked through, then sauteed in parsley oil and salt. Lots of bright, zippy flavors.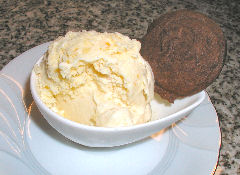 Marmalade is, of course, a way of preserving citrus fruits. In this case, a simple marmalade made from a mixture of grapefruit, orange, and lemons – roughly, in volume, 2:2:1. Unlike my usual marmalades, in this case I pureed it as finely as the blender would go (and also removed the seeds) – since I didn't want big chunks of marmalade in the final gelato. I cooked down the fruit puree with about half the volume of sugar for about 30 minutes, and then chilled it. The gelato is a very basic base – 2 cups of whole milk, 1½ cups of heavy cream, 4 egg yolks, ¾ cup of sugar, pinch of salt, all cooked, while stirring, until it coats a spoon properly – roughly 175°F – add 1 teaspoon of vanilla extract, then immediately cooled in a water bath to stop the cooking. Chill, add 1 cup of the marmalade, and process in an ice cream maker. I served the gelato accompanied by small chocolate orange cookies – 1 cup of sugar, 2/3 cup of butter, creamed together, then add the zest of one large orange, 1 egg, 1½ cup of flour, 1/3 cup of cocoa, and a ¼ teaspoon each of salt, baking powder, and baking soda. Drop by scoops (I used a large melon baller) onto a baking sheet and bake 10-12 minutes at 350°F.
And that's our Casa SaltShaker tribute to Dr. James Bedford. Hopefully he's as well preserved as my pickles… and perhaps one day he could even join us at the dinner table…