One is Jangada, where locals go for the pacú, a lumbering cousin of the piranha that can grow as large as 60 pounds. Jangada's serving is the size of a porterhouse. Grilled until crispy, the flesh is firm but flaky, and so succulent that from the first bite you'll understand how it earned its nickname, el lechón del rió, or suckling pig of the river. Pacú is worshiped in Argentina but a rare sight in Buenos Aires. And it's certainly not anything you'll find on a menu in the East Village."

– Oliver Schwaner-Albright, NY Times, Dining Finds in Buenos Aires, November 19, 2006
Buenos Aires – I'll admit to being slightly disappointed. After reading about the pacú and chatting back and forth with Oliver a bit, plus several visitors to Casa S have mentioned that they went and tried it after reading about it, I was ready for a big platter of river pig. But, it turned out Michael had been to Jangada, Honduras 5799, 4777-4193, in Palermo Viejo, and had had and not particularly liked the pacú. He described it as oily in texture and flavor, and a bit unpleasant. I'm still going to try it one of these days. Instead, we ordered the boga, a fish that in English isn't really well-known, but is called bogue, in Latin Boops boops (which I like quite a bit), and apparently falls somewhere in the freshwater perch/porgy family.
But I'm getting ahead of myself. The other night found us at a table afuera on this unfortunately somewhat noisy street corner. It wasn't beyond dealing with, but two different bus lines run by and kept a steady roar to the background noise. Still, I prefer dining al fresco to dining in air conditioning. The room, which we weren't in, is pretty, but nothing special. We had a 9:00 reservation, when they pretty much first opened, by 10:00, the place was completely packed – interestingly given the stereotype that locals don't go in for fish, it seemed virtually all locals as best I could tell. The menu is a little different than your usual, not just because of its focus on fish, and river fish in particular, but because virtually everything on it is designed to be shared by two people. There are few offerings for just one person (though there are enough to be interesting), or for a couple of people to try different things.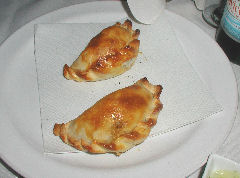 We started off with a plate of empanadas filled with surubí, which is the "tiger shovelnose catfish" in English. They're a little on the small side compared to typical empanadas here. On the other hand, that might have been a good thing. Though reasonably flavorful, they were not particularly interesting, and the filling was very dried out. My guess, the fish had been cooked well done before being mixed into a filling, and with baking time inside the empanada, it simply became way over-cooked. A shame, because I have the feeling that had the fish been cooked right, with the seasoning, these would have been delicious.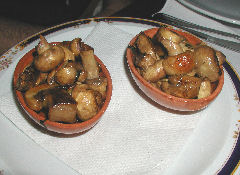 We also had a plate of the hongos salteados, sauteed mushrooms, which arrived in two small cups to make sharing easy. Two empanadas to share is one thing. Two servings of sauteed mushrooms quite another. Very flavorful, perfectly cooked, delicious, and way too much from my perspective – on the other hand, Michael charged through his bowl quickly and seemed to enjoy each and every fungal body. For me, I think this would be more effective as a side dish than an appetizer, and I'd certainly consider ordering them again, but just asking for them to come at the same time as the main course.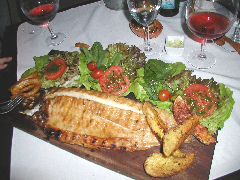 We moved on to the main event. The choices are pretty simple. You choose from a tabla tradicional or a tabla jangada. The former is a platter adorned with lettuce and tomatoes in a reasonably good pesto, along with quartered, roasted potatoes, and onion rings. The latter sounded a little "gussied up" with roasted peppers and onions, and a bit of a Mediterranean sounding offering. We opted traditional. Then you select your fish. There are four river fish offered (though only two were available the other night) – pacú, boga, dorado (which I never thought of as a freshwater fish…), and tararira, or dogfish. There are also a trio of saltwater fish offered – corvina rubia, or croaker, salmon, and salmón blanco, or sand-perch. Your fish is fileted and served simply grilled with a touch of salt and olive oil. No additions are brought to the table – I assume you could ask for things like lemon if you wanted. The boga was excellent – light, flaky, flavorful, perfectly cooked. By the way, I don't know about the pacú, but without an appetizer, I could easily have eaten this platter solo. It was a big filet, but not that big.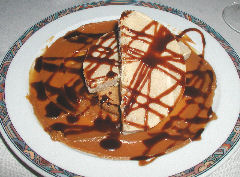 Finishing up, how could I resist a dessert named pasión de ardillas, or passion of squirrels. Sort of a semi-freddo packed with nuts, drizzled in chocolate and caramel, it was a delightful way to end up a meal, and far more interesting than any of the other offerings, which were pretty basic local standards.
The wine list is less than interesting, though it's possible to find good wines on it. There are only three whites offered (two chardonnays and one semillon-sauvignon), odd for a fish restaurant (okay, they do offer a steak for those who don't eat fish), and about a dozen reds. All from Catena Zapata's lower end lines – Uxmal and Alamos. We tried a bottle of an unusual one, the Alamos Malbec Maceración Atenuado – or short term maceration Malbec – kind of like a dark rosé, and it's served chilled. It was actually quite good with fish, though I wouldn't have minded a really good white.
Jangada can be slightly pricey – the fish plates are all around 60 pesos, though of course that's split between two people, so it's not outrageous for a fish restaurant. Overall, a very nice experience, and I'll definitely make another trip. There's a river pig with my name on it somewhere out there…
[Edit: Jangada has moved to a new, nearby location at Bonpland 1670… more to come…]