"The practical success of an idea, irrespective of its inherent merit, is dependent on the attitude of the contemporaries. If timely it is quickly adopted; if not, it is apt to fare like a sprout lured out of the ground by warm sunshine, only to be injured and retarded in its growth by the succeeding frost."

– Nikola Tesla, Inventor & Engineer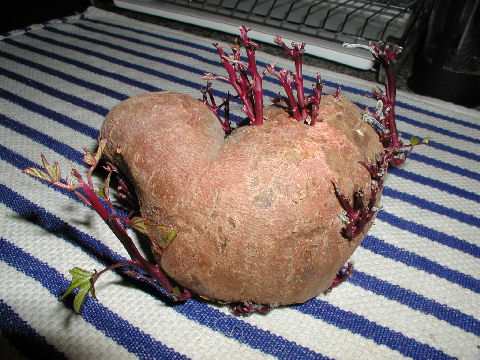 Planet Earth – The photo has nothing to do with this post except in some truly existential way. And it keeps bringing to mind the song Waltzing Matilda… with the lyrics changed, of course, to Sprouting Batata…. It's time for one of my very occasional very nerdy posts. A round up of the last year's numbers here at SaltShaker. And then, of course, making completely unreliable sense out of them…
Now, first of all, when it comes down to it, I simply have no idea how many people really read the blog. I know it's at least a few. I know there are roughly a hundred people who've subscribed (and stayed subscribed – about another 50-60 have subscribed and then later dropped the subscription) to the FeedBlitz e-mail option. I haven't a clue how many people read the blog via one or another RSS feeds or via syndication in places like Food Candy. I know there are almost 200 people who've registered on the blog enabling them to comment, but that only about five or six of them do so with any regularity, and most haven't commented on a posting at all. On the other hand, I receive 5-6 e-mails a day from people who comment directly to me rather than posting their comment – probably a side effect of requiring people to register and verify an e-mail address in order to post – but believe me, the automated attempts to spam comment on the blog are in excess of 200 per day… so be it.
I know that the blog received nearly 2.5 million hits during 2006, after 2005, when I started it, receiving a bit under 200k. I know that that number filters out the major "robots" and "spiders" like the search engine 'bots for Google, etc., but certainly doesn't filter them all out. I know that 80% of those hits spend less than 30 seconds on the blog, which most likely means that it's someone who clicked on a search link and found themselves there, but it wasn't what they were looking for (on an anecdotal note, I know that a good number of these are looking for saltshaker.com, an evangelical christian site – and I regularly get e-mails from people demanding to know why I'm talking about food instead of salvation, and where are the books and t-shirts?). I know that there are actually about 20 people per day who spend more than an hour on the site – of course, they may simply have loaded a page and then walked away from their computer.
For me, the most interesting thing has been having tracking software that identifies the IP where a visitor is from. Now, that software has evolved over time in its ability to resolve where someone is from, or perhaps it's that countries where technology is gradually improving have suddenly gotten their own servers rather than using servers based somewhere else – I have no idea, but it might explain why, for example, for the blog's first 8-9 months there were no readers from Nicaragua, then suddenly several dozen a month started showing up in the statistics – or maybe it was just discovered by a couple of Nicaraguans? There are still 35-40,000 visitors a month that are "unresolved" by the software, which I hope is merely a comment on their locale rather than their state of mind. Most fascinating for me has been the discovery or rediscovery of the existence of places around the world. The political/national boundaries of countries have changed, quite a bit, since I was a kid and studied geography. It's one of those things that I know in the back of my mind, but haven't necessarily kept track of all the shifts. The whole USSR breakup into multiple republics, the same with much of Eastern Europe, the recombination of East and West Germany into one entity, the renaming of countries throughout Africa, Asia, and several here in South America, and even just all sorts of small spots scattered here and there throughout the globe.
To date, visitors from 146 countries/entities have visited the site, one of those being all the folks who are lumped together in the European Union: Albania, Algeria, Andorra, Angola, Antigua & Barbuda, Argentina, Armenia, Aruba, Australia, Austria, Azerbaidjan, Bahamas, Bahrain, Barbados, Belarus, Belgium, Bermuda, Bolivia, Boznia-Herzegovina, Brasil, British Virgin Islands, Brunei Darussalam, Bulgaria, Burkina Faso, Cambodia, Cameroon, Canada, Cape Verde, Cayman Islands, Chad, Chile, China, Colombia, Costa Rica, Croatia, Cyprus, Czech Republic, Denmark, Dominica, Dominican Republic, Ecuador, Egypt, El Salvador, Estonia, European Union, Faroe Islands, Fiji, Finland, France, Gambia, Germany, Gibraltar, Great Britain, Greece, Greenland, Guam, Guatemala, Guyana, Honduras, Hong Kong, Hungary, Iceland, India, Indonesia, Iran, Ireland, Israel, Italy, Jamaica, Japan, Jordan, Kazakhstan, Kenya, Kuwait, Latvia, Lebanon, Libya, Liechtenstein, Lithuania, Luxembourg, Macedonia, Malaysia, Maldives, Malta, Mexico, Micronesia, Moldova, Monaco, Mongolia, Morocco, Myanmar, Namibia, Netherlands, Netherlands Antilles, New Caledonia, New Zealand, Nicaragua, Nigeria, Norway, Oman, Pakistan, Panama, Papua New Guinea, Paraguay, Peru, Phillipines, Poland, Portugal, Puerto Rico, Qatar, Romania, Russian Federation, Saint Lucia, Saint Kitts & Nevis Anguilla, Saint Vincent & Grenadines, Saudi Arabia, Senegal, Singapore, Slovak Republic, Slovenia, South Africa, South Korea, Spain, Sri Lanka, Sudan, Sweden, Switzerland, Syria, Taiwan, Tanzania, Thailand, Trinidad & Tobago, Tunisia, Turkey, Uganda, Ukraine, United Arab Emirates, Uruguay, United States, US Virgin Islands, Uzbekistan, Venezuela, Vietnam, Yugoslavia, Zimbabwe
Each month, at least 3 or 4 new ones have been added to the list – in this last month, December, Papua New Guinea, Greenland, and the US Virgin Islands had their first visitors… hola!
But look at that list – if you're around my age, or older, or even slightly younger, places like Burkina Faso, Myanmar, and Sri Lanka, simply didn't exist by those names when I was a kid (respectively, Upper Volta, Burma, and Ceylon).
Of course, I know many of them aren't really visitors or readers. The Russian Federation averaged only about 20 visits a month until four months ago when suddenly it jumped to nearly 3,000 a month. Gee, that corresponded with when I started receiving dozens of automated spam attempts per day from various Russian Federation IPs. Much the same with the Netherlands – all of the sudden a few months back the numbers jumped and I started "winning" lotteries that required I answer to Netherlands based e-mail addresses. Do I really have readers in Nigeria or is it just those folks who keep wanting me to help them smuggle their millions out of the country? And if so, where is the Ivory Coast, from which I get just as many proposals?
The US tops the list with 60 some percent of the readership per month – that's a significant drop, it used to be nearly 80%. The Australian, Argentine, Canadian, EU, British, and Spanish readership has grown rapidly, with Argentina having the second largest number of visitors per month, followed pretty much evenly by the others.
So what does it all mean? Not a damned thing. For all I know, out of those 2.5 million hits, only a few hundred have really ever read anything on the blog. After all, right off the bat we know 2 million of them barely stayed on the blog long enough to read the title. And, of course, every time I mention something that's off-topic (like the listing of countries here), it generates visitors who have no interest in reading what I write about, but have other agendas to pursue.
Perhaps some of you who do read the blog will start commenting… or keep sending me e-mails. Truthfully, I'd love to know what my one visitor a month from the Faroe Islands or the two from Fiji think about it all… and who are all those unresolved people?