"Good, better, best.
Never rest
Until good be better
And better best."

– Mother Goose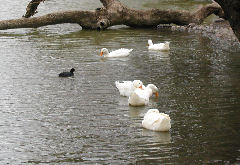 Buenos Aires – It was a short and logical decision. Two hundred years ago this weekend, a theatrical production of Mother Goose nursery rhymes opened on the stage at Covent Garden. There's lots of food imagery in Mother Goose rhymes. One of our local friends, who planned to come this evening (I'm writing this mid-dinners of three because I'm not changing anything for the last evening, it all works…) was musing about a traditional English holiday feast. Natural combination, no? I really did consider goose for the main course, and even found that one of the stands in the Mercado Belgrano sometimes has them – but the few of them that he gets in were spoken for for the holidays. I checked with my local specialty butcher – apparently it's a common enough request (I'm informed, from the local German community) that each of the poultry purveyors he called had the virtually identical joke – go to the pond by the planetarium… but go at night so you don't get caught stealing one of their geese… no, I didn't really consider it, I already had the picture from a park wander back in August.
There's a lot of food imagery in Mother Goose rhymes: "sup upon strawberries, sugar, and cream", "I'll give you a slice of bacon", "There were comfits in the cabin, And apples in the hold", "We all scream For ice cream!", "If all the trees Were bread and cheese", "Pastry and piecrust, that was the wall", "Eating all the gumdrops he can see", "Eating a mincemeat pie", "Pulled out a plum", "Eating her curds and whey", "On top of spaghetti, All covered with cheese, I lost my poor meatball" (who knew that was an MG rhyme?), "Bake me a cake as fast as you can", "We'll all have tea", "The Queen of Hearts, She made some tarts", "Said Simple Simon to the pieman, Let me taste your ware", "Four and twenty blackbirds, Baked in a pie" (okay, this is actually a rhyme about piracy… a fascinating story), "Bread and milk from a china cup", "I saw a cup of sack and a race of ginger, Apples at the fire and nuts to crack"… there's more.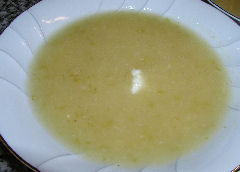 My head was spinning, but, all I really needed was to pick out a couple of classic thoughts and turn them into dishes, based on some traditional English holiday fare. Apples, sack (sherry)… that's the ticket. Let's start with an apple and sherry soup. Really pretty simple – sweat some onions and garlic in butter until they're limp but not browned. Add some sherry and white wine and let it cook off most of the alcohol. Add apples cut into 1″ chunks – leave the peel on, but core them – and top it all off with some light beef stock. Simmer about 30 minutes until the apples are soft… and doesn't it need something to spice it up a bit? Horseradish… that's pretty traditional English… and with beef and apples? No question. A good dose of it too. Puree it all – add a little more beef stock if you need to thin it out slightly. Season, and serve with a little dollop of more horseradish and a drizzle of sherry…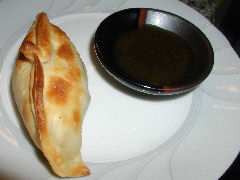 Among the various things I've heard claimed here in regard to the food world is the invention of the empanada. I'll give the foodies here this… Argentina has certainly raised empanada making to an art, and a competitive one at that. But as many folk outside the country have noted, empanada equivalents are rampant throught the world. Where I grew up in Michigan we could always find "pasties" – loosely based on traditional Cornish Pasties. A bit of time reading through various recipe versions, and it's pretty clear that the dough is much the same as that of a local empanada, though they're usually much bigger since they're intended as a full meal. Since I'm doing it as part of a tasting menu, I could stick with the small size. The filling is traditionally based on some sort of meat, potatoes, and turnips. The latter are hard to find at this time of year here, though I found a couple to add to the mix. I decided to spike the flavor a bit with some finely diced daikon radish as well, that and the diced potato (skin on), and… rabbit. Not a common variant on the Cornish Pasty, but one considered a special holiday tradition by some. Perfect. I decided, just because it occured to me that it sounded quite good, to serve them with a dipping sauce of browned butter, shallots, and parsley with just a drizzle of balsamic vinegar.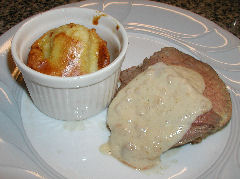 With the goose having been a mere flight of fancy, and having recently had more than my fill of roast turkeys, I thought a nice roast beef would work well for the main course. Rubbed with salt, pepper, and mustard powder and left to sit for a bit, then roasted to a nice pink medium. And, of course, a simple pan gravy from the drippings, a little flour and red wine, and finished with milk. But, nearly more important than the beef, I had to steal some of those drippings and make traditional Yorkshire Puddings, which, I've already been informed by a few of the guests, were the hit of the evening(s).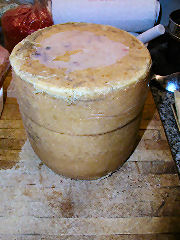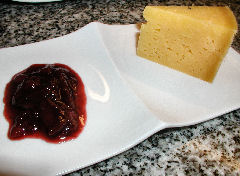 Any norteamericano or inglese expat who lives here, lives with knowing that certain things are nearly unobtainable. Good cheddar, and for that matter, an unpasteurized, farmhouse, English cheddar, is considered nigh on impossible. But not completely impossible. And a two and a half kilo, cloth-wrapped, completely ripe cylinder of this golden classic found its way to my kitchen. Just enough to dole out over the three dinners and get in a nibble or two of my own. And with all those references to plums in the rhymes, what better than a nice plum and shallot chutney to accompany each wedge?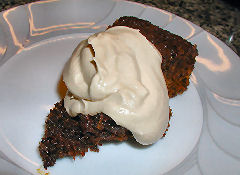 Cakes… Ginger… I used to go to this cute little English restaurant in Greenwich Village (NYC) called Tea & Sympathy. They have an amazing ginger cake. Amazing. And the internet turns out to be it's usual useful information superhighway self… the recipe is out there… I've made it a couple of times before… and, of course, made a couple of minor changes… I use cake flour rather than all purpose flour because I like the texture better, and good as it is made with "golden syrup", I love it when it's made intense and slightly bitter by using molasses. So my version comes out much darker and with the spicy ginger flavor tempered by the caramelized flavor of the molasses. As I described it to the group last night – it's more or less ginger and molasses held together by a little flour and egg…
Now… one more dinner for 2006 to prepare… and then I think we're going to sneak out of town early tomorrow morning. More when we get back in a few days.