I would challenge any American cook, regardless of what they've learned from their mom, to operate a restaurant and not have spent any real time in Italy."

– Mario Batali, Chef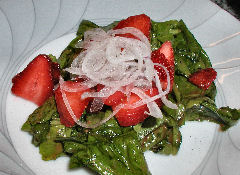 Buenos Aires – A simple Italian dinner. That was the request. I got the e-mail from one of our guests at the Sexy Spanish Club dinner. A company holiday dinner hosted by she and her paramour for his company, a chance to have a quiet fiesta, thank the employees for their hard work over the year. And, have a little bit of food and wine. A few minor restrictions… gluten free, no seafood, no beets… wait, no gluten? Italian food? No pasta? Okay, I can deal with that. They wanted to start with a salad – I think they were thinking a pretty standard ensalad mixto, but I pulled the tomatoes and substituted fresh strawberries. Red onions instead of white. The dressing a simple balsamic vinegar, olive oil and black pepper mix, but with a bit of pureed strawberry blended in. It's a salad I've made many times – I got the idea from a food magazine years ago – no idea which one. It works.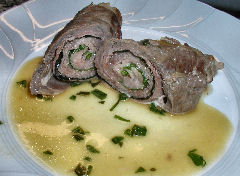 One of my favorite Italian appetizerrs is Veal Saltimbocca. This is fairly classic, with a couple of minor twists to it. Pounded thin scallops of veal (milanesas de ternera), then layering each with a fresh radish leaf (I have a bunch of radish leaves because of the Night of the Radishes dinners starting tonight) to give a touch of bitterness, along with a red perrilla leaf (or red shiso leaf). Radish leaves, by the way, are one of those under appreciated greens. Don't have your grocer or vegetable stand person cut them off and throw them away!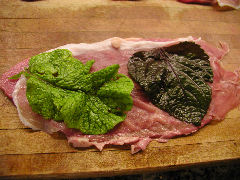 They have a light peppery bite, I love them sauteed and added to pasta… but, back to our saltimbocca (or "jumps in the mouth")… A little salt and white pepper, and roll it up in a tight roll. Then, brown on all sides and finish in the oven. The sauce, deglaze the pan drippings with a little white wine or champagne (the latter in this case as I had a bit left in a bottle), then add lots of butter and chopped fresh sage. Reduce slightly, adjust the seasoning, and serve. Typically, saltimbocca has the sage leaf on the inside, but why not add a few more layers, if you'll pardon the pun, of flavor?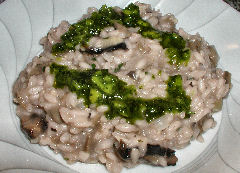 Knowing we had to avoid pasta, we discussed options. Polenta and risotto were the two obvious choices for a substitution. The hosts preferred a risotto, and something with mushrooms. I like the flavors of a gremolatta with mushrooms, or with meat – a coarse puree of lemon rind, parsley, and garlic, so I made the risotto first using a stock that used all the mushroom stems, along with a lemon, parsley stems, and some garlic and onion, all with a little red wine. That gave the risotto a little color too. Then, added to the risotto when it was finished was parmesan, and some pre-sauteed oyster and portobello mushrooms with onion. Then I topped it with a spoonful or two of freshly chopped gremolatta in a little olive oil.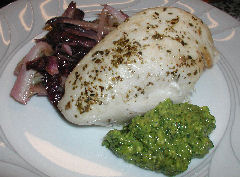 We'd talked about keeping the main course on the light side – it is essentially early summer after all, and though last night was relatively cool, it's still hot and humid. I made some fresh pesto – traditional with basil and pinenuts – pan roasted some chicken breasts, and served them side by side. I wanted a traditional Italian vegetable to serve with it, and realized it's been awhile since I did anything with radicchio. So, back to my recipe for radicchio confit from last year. I like that touch of bitterness and all the flavors that come with the confit style of the leaves. I think it also balanced nicely against the pesto.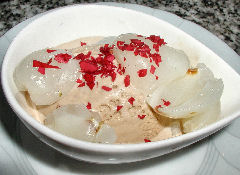 I'd originally proposed a simple sorbet and fruit for dessert, however, they decided they'd prefer gelato. Amongst the flavors that they suggested, both chocolate and dulce de leche, so why not a combination? I whipped up some dulce de leche and then made a gelato from it – I almost hate to admit, but I started with Emeril's recipe for dulce de leche gelato and added a tablespoon of cocoa powder to it. For fruit, I'd picked up some delicious fresh litchis yesterday at the market, and it seemed like it would be a good match (and it was). For a little color, I chopped up a few petals of a red rose – the flavor works well with litchis and it gives a very pretty touch to the dish.
Simply Italian! And I didn't learn any of that from my mom…