"When I am done with this meal you can have my life. It is heaven."

– Paul Prudhomme, Chef
Buenos Aires – Several people have mentioned over the last year or so that among the Japanese restaurants in town worth checking out is the one at the Japanese Cultural Center right on the edge of San Telmo. I've walked by the center numerous times and it always seemed closed up tighter than a drum. But yesterday, Michael and I decided to figure it all out – made a call to the restaurant and found out they were indeed open, reserved a table, and headed that way. Turns out that although it's in the same building, and even though there's a buzzer on the front door for it, you don't get to the restaurant by entering the cultural (and medical) center that faces the street, but you enter down a driveway with an arched doorway in front of it and find the sliding shoji screen door that brings you into Comedor Nikkai, Independencía 732, 4300-5848.
I'd heard and read several places that Nikkai specializes in cooked Japanese food rather than sushi – which is part of why we hadn't headed that way before, since we're always searching for our next sushi fix. Indeed, the menu is chockful of dishes that I have yet to see in any other Japanese restaurant in town (though there are many left to check out) – with a full range of ramen, udon, and soba, donburi, tempura, and a lengthy – maybe 3 dozen – list of appetizers from vegetable to fish to meat. The setting is beautiful, very traditional, and despite many notes on various forums that the dining room is "very small", it turns out to seat around 50 people, so it's really not a pequeño comedor as many have asserted. You can also sit at the sushi bar, which is unusual here in Buenos Aires.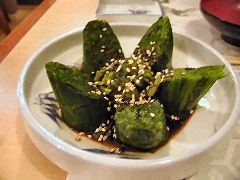 We knew we had to try the sushi, regardless of the naysayers, but the rest of the menu looked so intriguing that we settled in for a whole lot of food. We ordered a pot of green tea, which, I'll say upfront was the only disappointment of the entire meal – very weak. Starting off with a bowl of what Michael insisted was one of the best miso soups he's had in eons, we moved on quickly to a gorgeous plate of goma-e – a steamed spinach dish – just look at those rolled up logs of spinach leaves, clearly made with an incredible amount of work and then cut like pieces of sushi, centered around sesame sauteed spinach stems. Easily the best version of this dish either of us had ever had.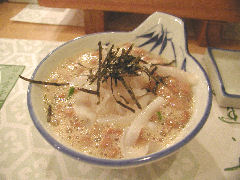 I'm a sucker for the offbeat and unusual. That includes all those things that most people say "ewwww" about, and in this case, there down at the bottom of the appetizers list, was a plate of ika natto. Now, ika is squid – and really the unnecessary, though a delicious part of this dish – thin strips of squid, just lightly cooked, only enough to firm them up. The other part is the biggie for most folks – natto – fermented soybeans. They turn kind of an icky tan color and are covered with a mucilagenous, stringy, goo that kind of foams up around the beans… it's a textural thing and there's no way to make it sound appetizing in prose. I love the stuff. Michael took a nibble and looked at me as if I'd just asked him to eat some mucilagenous, stringy goo…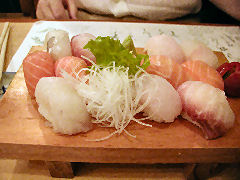 On to the sushi, and since we were also planning on some main courses, we decided to split the small nigiri sushi selection – eleven piece mixed – four salmon, and seven white fish – the selection changes daily (we chatted afterwards with the sushi chef) – we had lisa, besuga, pejerrey, lenguado, and abadejo – or mullet, porgy, smelt, fluke, and cod. Very fresh, nicely formed and perfect sized, good sushi rice. Not the best sushi I've ever had, but among the best I've had here in Buenos Aires.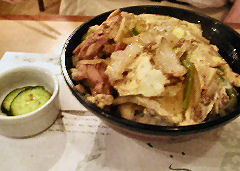 Michael opted for donburi, a savory steamed rice bowl filled with bits of egg, fish, and meat. We eagerly searched the menu hoping for an unadon, or eel donburi, a favorite of both of us, but no such luck. I'd say he settled for a pork version, but it was so good that "settling" doesn't describe it. Not having seen donburi on any other menus here, I could easily say it was both the best and worst we've found – but we'll stick with best, because it was excellent. It was accompanied by some lightly spicy pickled cucumber slices.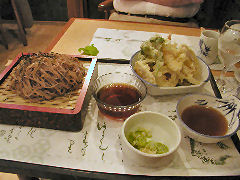 If I had to pick a favorite Japanese dish other than good sushi, it would be what I know as zaru soba. Thin soba noodles (buckwheat) are served cooked and then chilled and served atop a "zaru", or bamboo tray, with a cool dipping sauce called tsuyu, a mixture of dashi, soy sauce and mirin, to which you add to your personal taste some amount of grated ginger, green onion, and grated daikon. This was perfectly textured, temperatured, and flavored – and something I've wanted for quite some time. Nikkai serves their version accompanied by a bowl of tempura vegetables, fish, and shrimp, which is common, though for me, not necessary. Still, the tempura was delicious, even if next time I'll ask for just the noodle dish.
We finished up with some desserts – nothing of great excitement – a small plate of yokan, or red bean jelly, which was good if a bit overly gelled; and some small cakes filled with bean paste, a bit on the dry side, but tasty. Nikkai also offers some interesting ice creams, including green tea, red bean, wasabi, and sesame. Have to give those a try on the next visit!