The qualities of man comes Thus, not only he is able to survive in any kind of situation but he also maintains his poise in such trying times."

– the Sam Veda (a Hindu scripture, not a person)
Buenos Aires – I know I have trouble having someone else in "my kitchen" – even though it's "our kitchen". In general, Henry and I work well together in the kitchen when he's preparing something Peruvian and showing me, more or less, how to make it. And when we're making things just for ourselves and friends, his, well, lackadaisical approach to things is no big deal, but I remembered from our first Peruvian dinner how last minute and panicked everything was for lack of planning. So I really tried to gently nudge him to get things done in advance. On the eve before the dinner he casually let slip that he hadn't bothered yet to go out to Liniers and buy all the various special ingredients needed, so I'd have to go in the morning… that started things on a bit of a downslide. WE went the following morning, over his protests of being tired, got everything purchased, and headed back in to cook. Things being a little tense, he asked me to leave him alone in the kitchen for a bit, and I needed a bit of a walk, so I headed out for an hour… only to return and find a note from him that he'd gone to meet some friends at the University and would be back later. Nothing had been started…
Now, luckily, I'd pulled some recipes from the internet to get a sense of the dishes we were making, since a couple of them were new to me. I got started on the things I knew how to make – ceviche and causa – hoping that he'd be back relatively quickly and some time before I exploded… he reappeared around 3:30 in the afternoon, decided I was doing everything wrong and threw a fit. I threw him out. He came back in about half an hour, apologized for not having been there or gotten anything done, and we got to work in earnest. Luckily, with two people, things go much quicker, and everything came together. Amazing how quickly some things can be done that I had no idea we could do that fast… as you'll see, given the short time we had to work in before dinner at 9:00…
I don't have a picture of the ceviche, which was the first course – but it looked pretty similar to the one on the link above to the first dinner – except we made a simpler fish ceviche rather than mixed fish and shellfish one – using a local fish called pez gallo, sometimes translated as roosterfish, which would be the direct translation, and others seem to refer to it as the elephant fish. Based on online pictures, they don't look anything alike, and I can't tell you which one we were really using, since the fish was already filleted when we bought it.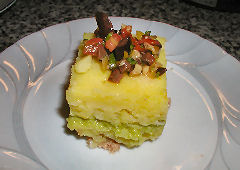 For the second plate, what's become my own in-house Peruvian specialty, a causa de atún or tuna causa. We've been playing with it for the last couple of months – there's a bit of lemon juice added to the potato base, and at Henry's suggestion, the avocado is done more as a guacamole style puree, with a bit of medium hot red pepper, and then layered between two layers of the potato. The tuna ends up on the bottom, or, I think next time, also in the middle. And the tomatoes, olives, and peppers were chopped confetti style and placed atop. We also replaced parsley with cilantro, which gives it a fresher flavor, though maybe a mix of the two… It still needs some work – he thinks thinner layers of the potato as well, and maybe a little more "heat" – possibly some chopped rocotos in the guacamole…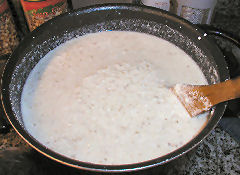 Next up, the tamales. Henry started by soaking large white corn kernels (that have had their shells stripped off – different from the large white corn used on the ceviche, which has the shell intact so that it pops a little when sauteed) in water. Then he ran the corn with a little of the water through the blender to get a coarse paste, and cooked it down with a mix of reconstituted dry red ají panca and yellow ají mirasol. As usual, I know there was other stuff in the mix… but he wouldn't say…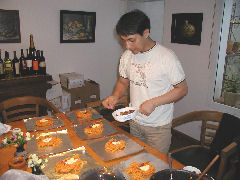 The tamale mixture was scooped out on large foil squares (where he's from, these days, they use foil, not corn husks).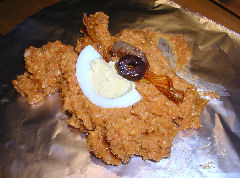 The mixture was topped with a quarter of a hard-boiled egg, some black olives, a bit of fried pork, and a strip of ají mirasol, not reconstituted – the cooking process takes care of that. Then the foil packets were closed up, flattened into rectangles, and tied tightly with string.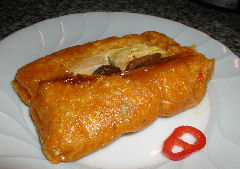 The packets are placed in a pot of water, brought to a boil, and cooked until firm. Then removed from the packet, placed on a plate with a couple of slices of rocoto pepper, and served. I mixed up a batch of ají de huacatay to drizzle on as a hot sauce. It's got that really interesting flavor from the huacatay herb – somehow reminiscent of mint, along with the spiciness of the peppers.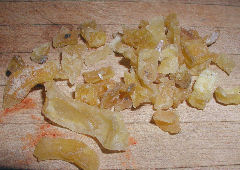 These are papas secas, cut in chunks. Sun-dried potatoes, in this case from Bolivia. I've seen them before in the markets and always thought they were some sort of dried fruit – but, no, potatoes.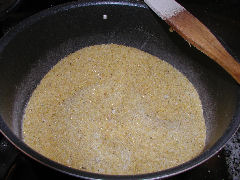 We ground them in the blender to a coarse meal, and then cooked the meal over low heat to toast it until it was a medium dark, reddish-brown color. It's then cooked slowly for about an hour in beef stock. Meanwhile, the lechon, or baby pork, is cut in thin slices and marinated in a mixture of red wine vinegar, white wine, black pepper, and cumin. It's fried up until well browned with some garlic and onions, and then added to the carapulcra, the potato mixture. It's allowed to stew for another half hour, at which point a good quantity of ground toasted peanuts and port are added. It's then seasoned to taste…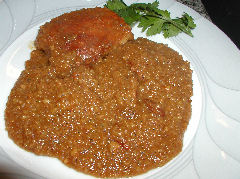 …and served. This is the finished carapulcra con lechon.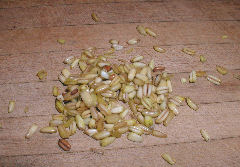 Finally, the dessert. A classic of Peruvian cooking is something called arroz zambito. Henry remembered one of his sisters makes an even more interesting version of this using wheat grains. So we'd picked up some wheat grains, which then were cooked in water. Some additional water is flavored by simmering it with fennel seed, cloves, allspice, and cinnamon, then that is strained into the cooking wheat (or rice). By the way, good versions of all these recipes can be found on the site Yanuq – most of the recipes are just in Spanish, but there is an English section that has a good number of them.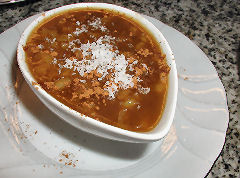 The dish is finished with some port, raisins, and chopped walnuts, and sweetened with a syrup made from chancaca, which is a block of dark brown sugar that I didn't get a picture of before it all went into the pot. To serve it's topped with a little cinnamon and grated coconut. This is the finished trigo zambito, which everyone seemed to enjoy quite a bit. A special thank you goes out to our guests from St. Thomas who showed up with a bottle of habanero hot sauce and another of coconut rum to add to our larder and enjoy!