Close only counts in horseshoes and hand-grenades."

– Anonymous
Buenos Aires – I am once again guilty of only semi-following instructions. It started with a surprise encounter in a restaurant. Last week I was with some friends from Uruguay who were in visiting for a couple of days and they wanted good pasta. I'd suggested we meet at Il Matterello, holding strong as my favorite pasta place so far in the city. Midway through our meal a group of four came in and sat at the next table – the young man at the table kept looking over at me and smiling – well, what is one to think? Then he chatted with the owner who was also taking care of his table, and she came over and asked me if I write a blog, in which I'd reviewed her restaurant – I answered affirmatively, she nodded at him, and he exclaimed something to the effect of "I thought so!" Damn, maybe I should take that little photo off the top of the site.
No, really, it was actually quite flattering to be recognized, and, as it turned out, by a regular reader of this blog, from Ecuador. We chatted cross-table for a few minutes – I think my friends from Uruguay were totally impressed – maybe they'll start reading this… he even pulled out a piece of paper from his pocket on which he'd written down numerous of my dining recommendations, along with favorite dishes – they were doing a tour of a good number of them while they were here in town! We exchanged cards, etc., and have exchanged a couple of e-mails. In one of those, he asserted that good as Il Matterello had been, along with other spots, that he'd been even more impressed by Piegari in La Recova. Now, I've heard good things about the place, but it's also expensive as hell, at least from the menu – though he claimed that the portions more than made up for the price, and dishes were easily shareable. So, I put it on my "back burner" list to check out one day… and then I was walking through Las Cañitas, and there on a corner, was Piegari Piazza, Baez 400, which turns out to be a relatively new offspring of the original. I was hungry, I figured, why not?
The setting is beautiful – it's a quiet corner, with some trees for shade, but just enough sun to make dining outside a pleasure – and even indoors, it's a beautifully appointed room. The service staff are friendly, though perhaps a trifle scattered – there didn't seem to be any real coordination between them, and different waiters and waitresses approached me several times asking the same questions, or trying to take orders, or servings things, sometimes not my food. My guess – they don't have a manager keeping an eye on them or training them. Now, I can't speak for the entire menu of food – I was eating lunch alone, so I only sampled a few things. I will say, that right off the bat, they serve up baskets of some of the best housemade bread I've had – and a good selection of half a dozen different types.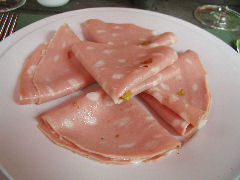 I wanted something antipasto-ish, but they didn't have a small antipasto plate on the menu – everything was a shared plate size (I should have asked, it turns out, that they do offer, or at least will make, a one-person size plate). They're also pretty pricey, much like the original locale. I ordered a plate of mortadela con pistachio – one of my favorite Italian cold cuts. Five nice sized slices of mortadella (as I would spell it), simple, unadorned, perfect with the bread, a nice way to start off a casual lunch. Possibly a bit skimpy for 11 pesos…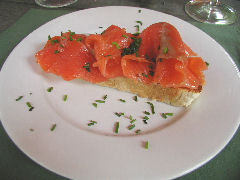 Next up, was supposed to be a bruschetta de salmón, but instead arrived the aforementioned antipasto for one – or maybe two – it was a pretty hefty plate of mixed salamis, cheeses, and olives. I sent it back, it not being what I was waiting for at that point. Of course, the person who delivered it wasn't the one who'd taken the order, and wanted to argue with me (not too much thankfully), and no one could seem to find the person who'd taken the order – so I re-ordered the rest of my meal. It then took more than half an hour to receive a simple bruschetta with smoked salmon and a thin schmear of goat cheese. I mean, come on guys, it's just toast… But it was a beautiful sunshiney day, I had a magazine to read, some wine to drink… and it turned out that the bruschetta was delicious, and I appreciate that because it took so long, they didn't charge me for it (which would have added 17 pesos onto the bill if I remember correctly…)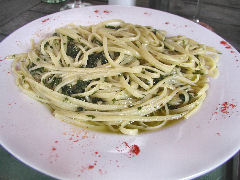 Now comes the defining moment. My new friend from Ecuador had asserted the quality and volume of the pastas (keeping in mind that he was referring to the original restaurant, in another neighborhood). I decided, despite my findings so far on the Argentine version of pesto – to order the linguini con pesto genovese… maybe, just maybe. Well… hmm… where do I start? I have no objection to boxed dry pasta, though I prefer fresh (and Il Matterello would win on that point alone), however, this pasta was simply not cooked correctly – it was limp as wet tissue, way overcooked. It also had a peculiarly translucent quality – that one's simple for someone who cooks regularly – they'd cooked it in advance, and then left it sitting in a tub of pre-cooked pasta coated with oil to prevent clumping. Then they'd just reheated it in hot water, but the oil soaks into the pasta, just like a brown paper bag, and turns it transluscent.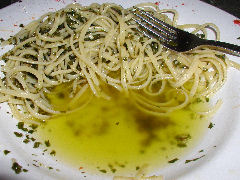 Then there was the pesto itself. First, I swear to you, it wasn't chopped basil. They claimed it was on the menu. But really, I can tell the difference between the taste of basil and spinach – even the texture is different. Someone simply screwed up – probably a prep cook who grabbed a bunch of spinach leaves instead of basil. They were coarsely chopped, along with coarsely chopped cooked garlic (not raw, as it should be), and then, simply added to a whole hell of a lot of olive oil. Look at the bowl – there's more oil left in it than should have been used in an entire batch of pesto for all the customers that day. Is it really that difficult to undertand the concept of a pounded paste of ingredients – that should have included pinenuts and grated cheese as well? Is it difficult for the chef to taste the sauces and make sure they're right? Or did he/she, and decide that no one would notice the substitution of spinach for basil? We'll probably never know.
So, mixed review for this place – I love the setting, and the simple appetizers are good, if expensive – on the other hand, they required no cooking and no skill to put together. The breads are fantastic. The one pasta tried, sucked. It's expensive – even with the one appetizer left off the bill, adding in a half bottle of inexpensive wine, this ran 60 pesos for lunch. I'd be game for trying it again, and, of course, I have to check out the original spot – the one that José recommended…