Stan Laurel: "We drank your liqueur."
Mrs Laurel: "That wasn't liqueur, it was cold tea."

– From Blotto, 1930
Buenos Aires – About a month and a half ago here at Casa S we put on a dinner featuring spirits and liqueurs from what is arguably Argentina's finest distillery, Tapaus. The food was received to rave reviews from the dozen folk who attended – in fact the evening had been booked out by one of my regular readers and friends, who loved the idea. The president of the distillery, Sergio, and I had continued to talk about putting on another event where he could come and talk to the folks at hand a bit about his ideas and perhaps offer a bit of education, or reassurance, or, simply answer questions. We ended up with only a half full house last night – unfortunately my friend the wine writer had to head off a day earlier than we thought, so couldn't make it (though he did get a chance the day before to sample the wares of the distillery and Sergio's homemade feijoada, a meat (tongue in this case) and black bean stew that is the national dish of Brazil); and two other folk cancelled at last minute – the wife apparently feeling that her husband appearing to be having a minor stroke or something similar was more important than dinner. (We'll give her that as a reasonable excuse, or at least certainly creative – and, when she called again later, he seemed to be doing okay.)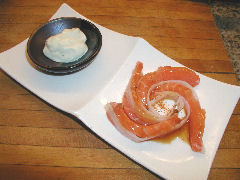 I didn't want to repeat any dishes, nor just do variations on the ones I'd done previously. One of the things I like about working with good quality liqueurs is their versatility in providing flavors. I had really liked working with the rosa mosqueta liqueur on the previous dinner, where I used it as a sort of laquered barbecue sauce for quail. It's sweet, fruity, and floral all in one… it popped into my mind that it might make an interesting version of ponzu sauce – which in its simplest form is a mix of soy sauce, vinegar, sugar, and a splash of lemon juice. Substituting the liqueur for the vinegar and sugar and playing a little with the balance came up with a quite tasty interpretation. I decided to use it initially for a sushi dish, but later decided on a risotto second course, so dropped the rice and made pinwheels of fresh salmon and shavings of daikon (soaked for a couple of hours in lemon water), sashimi style, and then brushed them with the rosa mosqueta ponzu. I offered a side dipping sauce of sour cream with a bit of wasabi and chives in it. I need to work on the daikon – the flavors worked, but it needs to be presented differently, perhaps thinner shavings…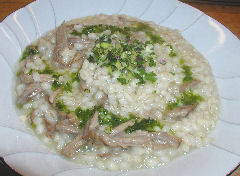 The risotto is the merging of a couple of ideas. First, I recently made a barley risotto for our Southeast Asian inspiration dinner. I had plenty of barley still around, and thought I'd try another twist on it. Way back, on my first visit to what is now one of my favorite restaurants in the city, Urondo Bar, I'd had an osso buco and gremolatta risotto that was spectacular, and I'd been thinking about reproducing it. Beef and barley are natural matches – there was no osso buco at the butcher's shop yesterday so I picked up a small roast beef and braised it slowly for several hours in white wine, and the usual suspect vegetables. Since I was going to use the gremolatta to finish the dish (a chopped mixture of lemon peel, parsley, and onion, in this case the purple part of some green onions), I started thinking about Tapaus' crema limón liqueur, so I added some to the braising liquid as well. The risotto was cooked with a light stock – I used a white chicken stock rather than beef so that the other flavors would stand out better. The shredded beef and a little parmesan was added to it at the end, then it's topped with some gremolatta, a drizzle of parsley oil, and as a last touch, another drizzle of the lemon liqueur – the heat from the risotto made the lemon essence stand out as the liqueur warmed.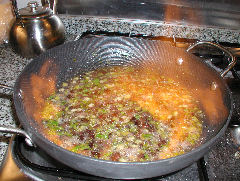 I wanted to use one of the spirits as well as the liqueurs. Tapaus offers an enebro, or gin. It's a very intense product – almost pure juniper in flavor – in some ways seeming more like an essence of juniper than a traditional gin. My initial thought was to marinate some sort of meat that would stand up to that – venison, or something along those lines. But the more I thought about it, the more I thought that it would just end up being too overwhelming. I decided instead to use the gin as a prime component in a sauce. What better than a gin martini? At least that was the base idea. I took a good dose of the gin, added some dry vermouth, chopped olives, a few chopped capers, and some fresh parsley, and let them steep for a couple of hours together. Then, I sauteed some peppers to go with the meat (mostly for color – though in retrospect I think I'd have been better off using some sort of greens for this dish),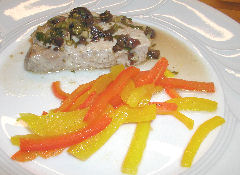 and pan roasted some nice thick slices of pork loin. When the pork was done, I drained off most of the drippings in the pan, and then added the gin mixture. Of course, with all that alcohol, we got to do the flambé sort of thing – which burned off some of the alcohol and took the alcoholic edge off the "martini" (I know, I know, what's the point of a martini without an alcoholic edge?). I let it reduce to about half the liquid volume and then spooned it over the pork – needless to say, the olives and capers contributed sufficient salt to this dish, no additional was needed.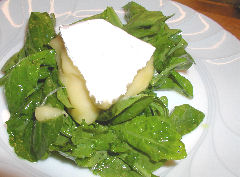 Of course, you all remember my visit to the local French brasserie, Rabelais and their excellent baked Camembert salad. I decided to play with that for an after main course salad/cheese course. An obvious match seemed the honey liqueur – some sort of honey mustard. But obvious is not my favorite way to go. A little twist on it, I decided to use the caramelo liqueur, which adds a dark, toasty or even slightly burnt note to the flavors. I mixed it with peanut oil, which also added some flavor, I mean, caramel and peanuts…? Then a bit of mustard powder, salt, and white pepper. It took a little while to get a good balance as the burnt caramel note is very strong in this liqueur, but eventually I was happy with it. Simply dressed arugula leaves with this vinaigrette. Then I tossed wedges of Argentine Camembert into the warm oven and let them melt a little (I think I like Rabelais' presentation better – the Camembert cut in squares, lightly floured, and then toasted to warm and slightly brown it… Although there is something appealling about gooey melted cheese on a plate… I'll have to work on that. I though the flavors ended up working wonderfully together – I think this dressing could also work well with a stronger flavored cheese… things to think about…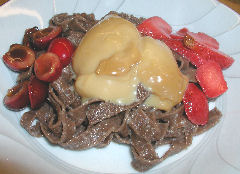 You might remember that I've been working on the evolution of a dulce de leche dessert. Each step has improved it in some way… and where we last left off, I'd made it into a tart with a chocolate shell. Last night's evolutionary step took the dish, I think, forward in one way, but sidestepped in another. It suddenly occurred to me that rather than presenting it as a tart, why not take that chocolate shell and, of course, turn it into chocolate pasta. I made chocolate fettucini and topped it with warmed dulce de leche – definitely a step in the right direction. I had the thought that rather than orange segments and caramelized orange peel with triple sec, I'd try some red fruits. I macerated strawberry slices in the triple sec, and cherry halves in the honey liqueur. That's the sidestep. It's an okay idea, but I think the choice of fruits, or the liqueurs, or something about the final combination still needs work. I'm having this idea for chocolate pasta ravioli filled with the dulce de leche… and maybe some mix of red fruits but with the caramelized orange peel returning to the scene…
Chocolate Pasta Dough

1 cup all purpose flour
1 cup semolina flour
¼ cup cocoa powder
3 tablespoons sugar
large pinch of salt
3 large eggs

Mix all the ingredients together thoroughly and knead for a few minute – it should form a damp but not overly sticky ball. Let it rest in the refrigerator for a half hour or more. Take a quarter of the ball at a time and roll it out (by hand or machine) to a good thickness for the type of pasta you want, cut in appropriate form. Cook in boiling, lightly salted water like any pasta. Serve in whatever form you deem appropriate. For those who missed my "can't miss" homemade dulce de leche, here are the instructions – along with a look at the first version of this dessert on the evolutionary scale.