I openly declare in the face of the entire world that I have never been, neither am, nor will ever be a monarchist, unitarian, or federal, but only a constitutional patriot Roman Catholic under the form of government that is to be dictated and enacted by the majority of our towns themselves or by a body of their representatives."

– Castro Barros
Buenos Aires – Pedro Ignacio de Castro Barros was a priest who later became a bishop. At some point, he got into politics, not surprising in this country, where the two arenas regularly mix. He was part of the congress that declared Argentina's independence in 1816. He openly waged for Argentina to become an Incan constitutional monarchy – not a popular plan with much of the populace in this Eurocentric culture, and one that resulted, I believe at his trial in 1833, in the above statement as an attempt to get himself out of hot water. He was exiled and went first to Uruguay and later to Chile, where he lived out his life. There's a beautiful looking little museum dedicated to him in his hometown up north. He's only relevant to this posting because yesterday I was checking out a restaurant on the street named after him, and I got curious.
On the recommendation of one of my readers, and I apologize for not remembering whom (I really ought to keep track somewhere I get so many – maybe a spreadsheet…), I had added a spot to my "top pizzas to check out" list. I've got lots of lists like that – Argentines, and expats, are fierce in their loyalty and support of one or another spots in this city for any of a variety of things – you should see the number of heladerías that I get told about – if only I could eat that much of the stuff. It was a beautiful day yesterday, so I headed out for a morning walk, and ended up eventually heading generally towards barrio Almagro. I decided to check out the pizza place, and around lunchtime found my way to Tuñin, Rivadavia 3902 (corner of Castro Barros), in Almagro. It's one of those big, café, multi-page menu sort of places that normally I just pass by. But… I had the recommendation.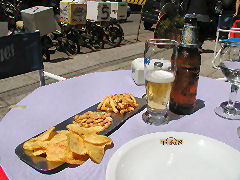 I started to order a small pizza, but the waiter suggested that perhaps even the smallest size was a bit large for one. However, luckily, Tuñin offers most of their pizzas by the slice (at an upcharge, of course). Not that I can't eat a fair amount of pizza, nature's most perfect food, but, this way I could try several different things. And besides, I am trying to eat a bit less… sometimes. So I ordered a slice of plain anchovy (which means no cheese – unless you order the mozzarella and anchovy, keep that in mind), a slice of the Española, which was a mix of roasted pepper, green olive, and cantimpalo sausage, and a piece of faina, Argentina's chickpea pizza-ish contribution to this part of the world. It was a hot day, so a nice cold beer, which at this spot autotmatically comes accompanied by a tray of potato chips (really good), peanuts (way too salty), and, umm, sticks (good).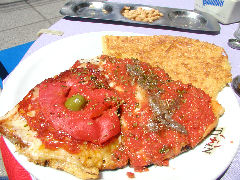 The pizza was excellent, I must say. It comes from a wood-burning oven, so has a touch of smokiness to it, the dough is in that sort of mid-range thickness, and was perfectly crispy on the bottom. Really good, well seasoned tomato sauce, and good quality cheese. Toppings plentiful and fresh. Yeah, I could eat a whole small pizza of this, no problem. I won't put it as the best of its type, but its certainly up there in the top echelon. One of the best fainas I've tried here – smoky and lightly golden. And a nice corner to sit outside and watch the world go by… and, hey, save some room, because cross-corner is one of the city's best cafés, Las Violetas, for a little coffee and dessert afterwards, or maybe one of the three heladerías within steps of the corner…