I have made only one note of this vintage in the last decade, those notes made of wines either side of 80 years of age are still relevant as some of these wines are remarkable survivors."

– Michael Broadbent on the 1906 Bordeaux vintage
Buenos Aires – In 1994 wine auctions became legal in New York state. I attended regularly, always looking for something interesting that wouldn't empty my wallet or melt my credit card. There were three purchases in particular that stand out in my mind for my own collection (over time I spent much time at auctions buying for various restaurants and private collectors as well).
The first, at the very first auction, was the co-purchase with my friend Frank of a case of 1975 Mastroberardino Lacryma Christi del Vesuvio. I had met Carlo Mastroberardino and tasted many of his wines, and been impressed. Lacryma Christi is sort of the "low end" of the wines from the region, with attention always being given to the "Barolo of the South", Taurasi. I had been enjoying, for casual drinking, the Lacryma Christis, and there was this case on the silent auction table. We scribbled down an opening bid for the case of $90, a bit later a woman came around and topped us at $100, we went one up at $110, and in the end, the case was ours. Now, I had no idea if Lacryma Christi had any hope of suriving to 19 years old. As I said, it's a more casual drinking wine – at the time I think you could buy the current vintages for about $9 a bottle. We split the case up, and at a dinner at his house, we opened the first bottle over some spaghetti and meatballs. It was spectacular. In fact, bottle after bottle has been delicious – I've opened one up about every two years. I still have one remaining, soon to be opened.
The second purchase, made, if I remember correctly, at the same auction, was a bottle of 1940 Château Gruaud Larose. It's label was all scuffed up, and quite simply, no one else seemed interested. I scribbled down the opening bid of $50, and a bit later it was mine. I didn't know at the moment if the vintage was a good one, nor did I even know a whole lot about the chateau – I think I hadn't even tried one yet at that point. The bottle remains in my collection, I just never got around to opening it – it's probably about time to do so.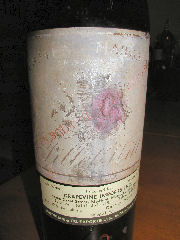 And that brings us to this year and the third purchase. It was at the second or third auction I'd attended, and once again, a bottle appeared on the silent auction table. The label scuffed and marked up, just barely legible (not as bad as it looks now, the massive fading occurred in the last year – probably the humidity here, despite being wrapped in plastic) – Château Margaux 190… what was that, a 6? Yes, reading the accompanying ticket, it was a bottle of the 1906 – not a legendary year, but a quite good year for Bordeaux. And here, a first growth. I'd never owned a bottle of a first growth, but I'd tasted quite a few, and, of course, they were generally pretty amazing. The opening bid was $75, the most I'd ever spent at the time on a bottle of wine. And, once again, no one bid on it – the label was in such bad shape, and despite the certification from the auction house that it had been checked, topped off, and re-corked, I heard murmurs of "too old" from various and sundry – this was a time when most who were attending the wine auctions had simply wandered in from neighboring art auctions – there were few serious collectors or restaurant buyers in attendance – and those that were, were looking for cases of wine for the most part.
Now, it occurred to me that a wine this special needed a special occasion for celebration. In the back of my mind, a plan hatched. After all, the wine was already 88 or 89 years old at the time I bought it. If it was over the hill, it was too late. If it was still good, why not take care of it and let it rest until it turned 100. So, I planned to open it with some wine geek friends on or around my 48th birthday, at the time when the wine would turn a century old. At the time, I anticipated living in New York for the rest of my life, surrounded by friends and colleagues from the business, an easy plan to execute. But here I am in Buenos Aires, with far fewer of either around – when my birthday rolled around last month, of the half dozen friends in the wine world who I'm spending time with here, at least one or two seemed to be away every week. Finally I just picked the closest of them, fired off e-mails and got their schedules for being in town – and last night was the first night we could all get together. Needless to say, we were all crossing our fingers, if not holding our breath.
We decided to make an evening of it – and others contributed other wines to the evening, plus a few cheeses and such to snack on. We began the evening with a 2005 Berger Grüner Veltliner from Kremstal, Austria. A unique white grape to Austria, this was, simply, a refreshing change from the whites that are available here. Dry, crisp flavors of golden delicious apple with a touch of fennel, celery, and lemon – really a delightful way to kick off the evening.
From there, we moved on to another white, a 2004 Dönnhoff Riesling Kabinett Oberhäuser Leistenberg from the Nahe region of Germany. Light and dry, the wine had a strange note when we first opened it – which my friend Heather identified as smelling like lipstick – she was right, it really did. As it opened up it had interesting notes of honey, nutmeg, and geraniums, along with some mixed tropical fruit flavors. Another really good choice.
It was time… but no, I'm going to make you wait a moment longer… skipping over the Margaux… we finished up with a really special bottle of Justino Terrentez Madeira "Old Reserve", a roughly fifty year old Madeira made from some of the few remaining Torrontés vines on the island. Simply delicious, with beautiful toffee and brazil nut aromas, tinged with caramelized orange peel, vibrant acidity, and great length. A truly special way to finish up the evening.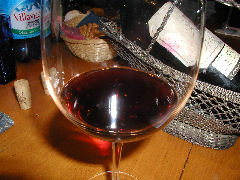 So, back to "the bottle". I carefully wrapped the wax capsule in a hot towel to help soften it. Then it was easy to crack off and clean up. The cork was a bit on the wet side and fell apart as I removed it – which unfortunately meant it was impossible to verify it as a proper Margaux 1906 cork, but such is life. The wine level was at nearly the bottom of the neck, due to having been topped off in the early '90s. I'd decided not to decant it, though I had it in a decanting basket – but merely to pour directly into the glasses. I also decided not to open it in advance… basically figuring that if it was on the verge of "turning" we might only have a few minutes to taste it before it oxidized… and if not, we could let it sit in the glasses and try it, bit by bit, over time as it opened up. The color was beautiful – a light but clear red with burnt orange at the rim – but truly no browning.
On the nose it immediately began to open up with gorgeous aromas of mushrooms, figs, and freshly cut fir. It continued to develop over time (we had a momentary moment of despair when it seemed to be fading, but it rallied quickly), and by the time it had been open about 40 minutes it was showing amazing depth of fruit with the flavors of dark amarena cherries surrounded by a deep note of smoked bacon. I kept a half a glass overnight, and this morning it still isn't oxidized, the fruit is fading a bit, but the acidity is still vibrant, and the mushroom, and freshly cut fir notes are back.
As wine purchases go, I have to say that's the best $75 I ever spent, and well worth the wait!