"Tell your friend a lie. If he keeps it secret, tell him the truth."

– Proverb
Buenos Aires – Amongst my many back-of-mind things to explore here is the world of puertas cerradas – the closed doors. Mostly, though not only, restaurants, and especially having gotten involved in this underground movement via Casa SaltShaker, I'm fascinated by the network that's out there of places for people "in the know" (I just heard about two more yesterday). On the food scene, some of these places are "tryouts" for someone who is thinking of opening a fulltime restaurant – they may want to see how their food is received, work some kinks out, come up with ideas, that sort of thing, or maybe just to see if they even enjoy cooking professionally enough to even approach opening a place. For others, it's a sideline to something else – a bakery, a food store. And for others, the puertas cerradas is the goal itself, much like Casa S is for me – with no real desire to spend 5, 6, 7 days a week, ten or more hours a day, running a business.
Possibly Buenos Aires' most famous closed door spot is Almacén Secreto, Humboldt 1626, in Palermo Viejo, 4775-1271*. It's famous enough that it's not much of a secret anymore, it's just that it's strictly by reservation in an old converted house. In fact, they put out small cards at various hotels and other venues where you can find out about them. Their specialty is the cooking of Salta, one of the northwest provinces of Argentina – and, as such, is on the hearty, rustic, homecooking side of things. The restaurant is run three nights a week, Thursday through Saturday, in the home of the owner, Maria. She takes care of her guests in the dining room, while her friend and chef whips up plate after plate of solid, good home cooking out of a large expanded kitchen. The dining room is just that, a dining room – a table for six, a table for four, and a table for two, with another table outside in the garden for nice weather – all packed into a small space that involves a bit of jostling and movement when someone needs to pass from one to another. The menu is short – with some basic staples like tamales and locro, along with an attached card with specials of the day. There's also a listing of products that Maria makes available for sale – some of it takeout prepared food, much of it packaged food that she endorses. She also offers a quite interesting wine list of selections from the region, including a couple I'd never heard of.
[*Note: This spot is even less underground and secret than at the time I reviewed it, though they've maintained the name. New partners involved, moved to a bigger house dedicated to the restaurant and seating 50 people, and open Tuesday to Saturday for lunch, and Thursday to Saturday for dinner, more like a regular restaurant that just happens to be in a converted home. Now at Aguirre 1242 in Villa Crespo, 4854-9131.] [Closed in 2016]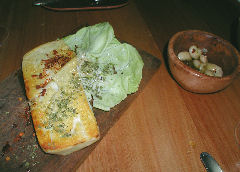 Three of us ganged up on her last week to sample through a fair selection of the offerings. She knew who I was in advance – part of my exploration of these spots is an article on the subject for Time Out BA's next issue… more to come – but the editor there had slipped in a phone call to her to let her know why I'd be snapping pictures in her home and poking at multiple dishes of food. While we perused the menu, Maria brought a small bowl of white beans in spices and olive oil – I could have just dined on those – excellent! We started off with an interesting version of provoleta, a goat's cheese slab, lightly browned on both sides, and topped at one end with oregano and the other with a sprinkling of chili flakes, entertwining in the middle.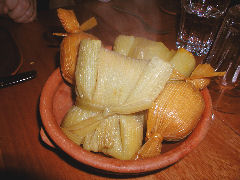 From there, we moved on to a selection of tamales, humitas and empanadas. The tamales, done up like bon-bons, were packed with meat and a corn mixture steamed in dried corn husks, the humitas, much larger flat square packets were filled with a creamed polenta like mixture with cheese, and steamed in fresh corn husks. The empanadas were a little on the small and crisp side – the dough almost cracker like, and, honestly, a little light on the filling. Our favorite was unequivocally the humitas, and we ordered another round of those and the tamales. All three could have used a touch more salt in the mixture, something we found with the main courses as well – everything is really good, and really well made, with plenty of other seasonings, but lacking salt – that's a common thing I've found here in Buenos Aires, where adding salt is left up to the diner – though no salt shakers were in evidence here – and, salt enhances flavors best if added during the cooking stages.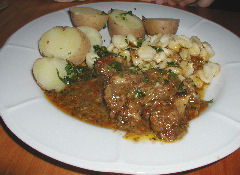 Next up, one of the specials of the day, the fricasé de cerdo, or fricassee of pork. We were forewarned by Maria that this was a very particular style from Salta, where the pork is marinated long term in lemon juice, and a large amount of lemon is added to the stewing gravy (which is what defines a fricassee – meat that is cut up and stewed in gravy). She wasn't kidding! Bright, zesty, and lemony, the sauce on the pork was a citrus lover's dream. The potatoes and beans on the side made a nice foil to the zippiness, and got the whole dish to come together quite well.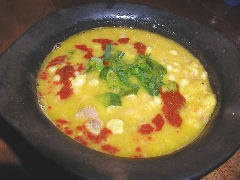 I, of course, couldn't pass up a chance to try their homemade locro, my favorite Argentine corn, squash, and meat stew. This version was a little lighter than some I've had, and with more "elegant" cuts of meat and sausage – I'm used to finding bone and gristle mucking about in my locro, which can be fun at times, but at a nice dinner out, this was a far better approach. I have no doubt given the richness of the dish that bones were in the making, but they'd been fished out. A very good version of locro, and topped with a little bit of chili sauce to give it some spice.
Overall, a fun evening. We tried a couple of interesting wines that were not the usual name brands from the region… a deliciously aromatic and dry 2005 Torrontés from José Luis Mounier and a fruit forward, lightly spicy 2004 Malbec from Bodega Nanni.