"I could never tell where inspiration begins and impulse leaves off. I suppose the answer is in the outcome. If your hunch proves a good one, you were inspired; if it proves bad, you are guilty of yielding to thoughtless impulse."

– Beryl Markham, English Aviator
Buenos Aires – One of the fun things about not having a particular style of cuisine for Casa SaltShaker is the ability to try out things from all over the world. Among my favorite foods are those of much of southeast Asia, be it Malaysian, Indonesian, Filipino, Chinese, Vietnamese… etc. I've spent a lot of time exploring dishes and recipes and the range of flavors is amenable to a wide range of interpretations. So, when I got a bee in my bonnet, so to speak, about putting on a dinner featuring flavors from that part of the world, I knew I was going to have fun. Initially, we sold out quickly, a party of four and a party of eight (though neither knew the theme at that point). The party of eight decided to cancel at last minute which is difficult for us, because we have no "walk-in" trade to make up for such things, but the party of four, two delightful couples from Houston showed up ready to take on whatever we might offer, and, I think, had a really special night.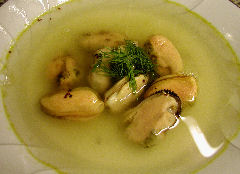 The first flavor I wanted to focus on was lemongrass. It's a favorite herb, and not easy to get here. The markets in barrio chino don't always have it, and often when they do it's dried out and brown. But I gamely made my way there to look – and sure enough, the first three stores had none. In the fourth, as I was heading towards the produced section, I spotted a woman carrying a large bundle of fresh lemongrass – easily dozens of stalks. I looked at her, she looked at me and shrugged. I continued to the produce section and there was a gap in the midst of the herbs. Bah! She'd taken it all. But I give her credit, kudos, thanks, besos, and a million other things… she actually turned and looked back, and walked over to me and apologized for taking it all, and how much of it did I need? I offered that a couple of stalks would do me fine and she pulled two off her bundle and handed them to me. The broth is quite simple – chicken stock, some chopped and crushed lemongrass, some torn up kaffir lime leaves, bring to a simmer, cover, turn off the heat and let it infuse for a couple of hours until it's cool. Strain out the herbs, reheat, add salt to taste. The mussels, out of the shell, were sauteed in butter and crushed mustard seeds, placed in the broth, and then decorated with some fresh dill.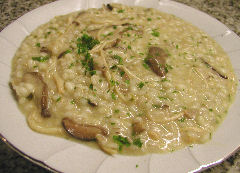 Next up, a mix of Asian mushrooms. Initially I was thinking about a nice risotto with a mix of the mushrooms… then, while wandering the information superhighway, well, more specifically the Wikipedia, I discovered that yesterday was barley day on the French Republican calendar, a calendar that offers up each day with a tribute to some agrarian product. I've been thinking about "risottos" made with other grains, and I know barley is a good choice – and, using pearl barley (which has the outer husk removed, making it easy to cook), I just followed the same process I'd normally use for making risotto – using shallots and a beef and vegetable stock. Then I mixed in the mushrooms (pre-sauteed in butter and olive oil, a mix of pine mushrooms, shiitakes, and enokis), some chopped parsley, and grated smoked gouda cheese. A sprinkle of shichimi (seven-spice) powder across the top just for color and a bit of zip and it was delicious!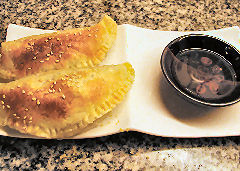 Banh Mi Empanadas? I hear you asking. Well no, not only because this is the internet and I'm not hearing you, but because I hadn't mentioned them yet. Banh mi are those wonderful pressed Vietnamese sandwiches, among the best things ever put on bread on the planet. Roast pork, paté, vegetables, and a spicy fish sauce. Okay, once again, I'm making pork empanadas – I promise, the next ones will use something else. I used ground fresh bondiola, or pork shoulder, and sauteed it with onions, garlic, mint, basil, cilantro, and szechuan pepper; then mixed this with some foie gras paté. Then I shredded some carrots, daikon, and cucumber. Put the whole thing into an empanada skin, baked them with some sesame seeds on top to be decorative, and served them with a dipping sauce made of rice vinegar, fish sauce, sugar, and chopped fresh hot red chili peppers. I admit to eating four of them, drizzled with the sauce and extra chilies.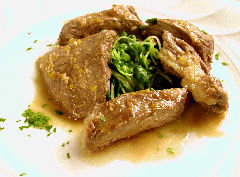 I'll say it right now, I'm not fond of what passes for flank steak here, or vacio. I actually hadn't tried it before, but I had this idea for marinated flank steak in a mix of lime juice and fresh chilies. Vacio turns out to be just too fatty – quite different from what I'm used to. I think I'd redo this dish with a better cut of steak. Either way, it was tasty, the steak marinated for several hours in lime juice, salt, and chopped medium hot yellow chilies. Then I sauteed the steaks, sliced them, reduced the marinade to a sauce consistency and spooned it over the top. The pieces of steak were arrayed around some pea shoots sauteed with garlic chives. As I said, tasty, but the texture wasn't what I was going for.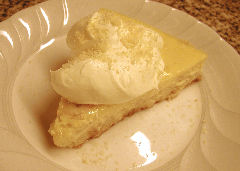 Banana and coconut for dessert, what could be more fitting? Originally planned as a classic banana cream pie with a toasted coconut topping, I altered it on a momentary whim. I make darned fine cheesecake, something I've mentioned before with no modesty – having gotten the recipe from a friend's mother from Hungary with promises of poxes, curses, or other such terrible things if I ever revealed the recipe. In this case, rather than the usual crush I make, I made one using crushed coconut cookies, butter, and sugar. Then I tossed banana slices in a little pastry flour and lined the crust with them. Topped off with my standard cheesecake mixture. When served, I topped it with whipped cream and toasted coconut. That works.
To the party of eight, you missed out on a great dinner, that's all I have to say…