"Three things give us hardy strength: sleeping on hairy mattresses, breathing cold air, and eating dry food."

– Welsh proverb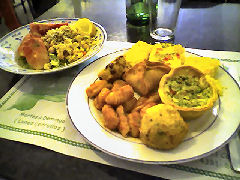 Buenos Aires – Perhaps dry as dust is a bit strong. But if that's truly a Welsh proverb, then the folks of Wales would appreciate the food at Bodhi, Chile 1763, in Montserrat. Yet another in my pathway hacking through the jungle of vegetarian steam tables in the city, this spot was, while not specifically recommended, one of the few advertisements for a local restaurant in a recent issue of El Vegetariano, a national vegetarian magazine. It was the first I'd heard of it, so I added it to my list, and a few days ago when in the area, I popped in for lunch (it's open for lunch and dinner except Mondays).
While I'm a fan of buffets, I'm a fan of buffets where the food is fresh, monitored, and regular replaced if it's getting dried out, or has been out too long. Now, there were two young women changing out a couple of the steam table pans while I was there, but they were changing out empty ones. Meanwhile, food that was clearly untouched sat also untouched by them. Much of the food is deep fried, most of it seems dried out, the food is well flavored, I'll admit, and probably if grabbed when fresh is actually pretty interesting. There is an excellent salad bar, which is Bodhi's one real redeeming value. Oh, and despite several signs up about offering vegan food, that's clearly just a part of their offerings, as there were numerous dishes containing cheese and eggs – including an entire sheet pan covered with fried eggs – and for those who are strictly vegan, there's no real way to tell and no one around to ask. Lastly, they need to really organize the steam lines – appetizers, main courses, and desserts, are all jumbled together, resulting in my having picked some items that turned out to be sweet pastries rather than savory at the same time as my other choices. Overall, just okay – go early, or just opt for the salad bar – which, at the flat price of $7.50 for all you can eat food, would be an amazing bargain in itself.