"In each religion there are essential things, and others which are only forms and fashions; as a loaf of sugar may perhaps be wrapped in brown or white or blue paper, and tied with a string of flax or wool, red or yellow; but the sugar is always there."

– Benjamin Franklin, American Statesman, Scientist, and Writer
Buenos Aires – I've been using flaxseed, or linseed, practically since arriving in town. I admit, not for any nutritional purposes. I have a mesa raton, or coffee table – don't ask me why they call it a rat table here, I have no idea – that has six compartments in it to display things. I filled the six compartments with different kinds of seeds that looked pretty in contrast to each other. Flax, sunflower, corn, wild rice, adzuki beans, and red lentils. Very stylish. I understand that flax seeds are a good source of Omega-3 oils as well as a decorative furniture touch.
[Note: this restaurant has closed.]
I have no idea if the restaurant I was at yesterday uses flaxseed in their breads, or even at all, or if they just liked the name – Flor de Lino, Pasaje San Lorenzo 356, San Telmo, 4362-0128. Flor de lino being the flax flower, from which the seeds come. It's quite a pretty pale blue flower. I saw none in evidence, in fact the few plants in the place are seriously browning and in need of water and sunlight. The space is a long, fairly dark, warehouse of a venue – but only the front half, near to the windows, is used as a restaurant. The main purpose of the kitchen is as a catering company, and a half dozen cooks are easy to see busily churning out whatever it is that's planned for that evening's parties. It also leaves space for evening tango shows, classes, and just general hanging out and dancing. I've seen some mention of trapeze classes – the ceilings are quite high – but I saw no trapeze in evidence, nor did my waiter mention it while running down the list of various activities. The space is a bit run down, with peeling paint, crumbling brick, and in need of a serious spruce-up.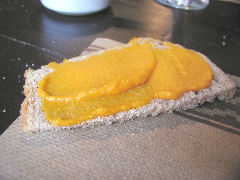 The cuisine offered is a mix of various styles, but all vegetarian – not vegan – eggs and dairy are definitely in evidence. The menu is, or at least appears to be, fairly extensive, my qualification only because the menu is a bunch of plastic laminated cards, printed on both sides, and held together in one corner by a ring – it gets a bit confusing trying to find any particular section and takes a little perusal time. But that's not a bad thing, as it will give you a chance to enjoy the freshly baked whole grain bread with a calabaza squash mayonnaise. Flor de lino uses primarily organic ingredients in their cooking, but they're not fanatical about it, nor about your diet – beer, wine, and coffee are all offered.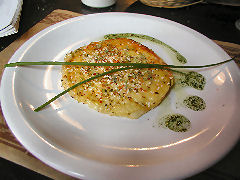 Not to be missed is their provoleta de sardo. By definition, a provoleta ought to be made from provolone cheese. On the other hand, there are plenty of provoleta de cabra to be found out in the BsAs restaurant world – discs of grilled goat cheese. So why not pick a completely different cheese altogether? In this case, sardo, a semi-hard grating cheese, similar in some ways to the fairly well known pecorino romano or, more directly, from Sardinia, pecorino sardo. It's noted on the menu that this is an organic sardo, but I do find myself wondering about the vegetarian aspect, as sardo is, as part of its production process, made with rennet, an enzyme from a cow's stomach – though, I suppose, no more part of the cow than the milk is, however, probably requiring the demise of the bovine. It's topped with toasted sesame seeds and chopped herbs – one note, the menu specified that it came with an onion chutney – instead it came with a couple of chives and some chive oil on the plate – excellent touch, though I'd have been curious to try the chutney – though truly, it was one of the more interesting provoletas I've had here.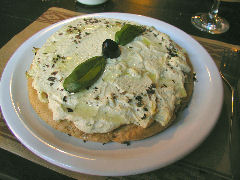 Given my cooking background, anyone offering up a combination of Italian and Japanese cuisines on a plate gets my attention. So when I saw a pizza japón de tofu nestled in the middle of the pizza list, I had to try it. Flor de lino's pizzas are perfectly individual sized, or with a couple of appetizers, splittable. I have to admit, this was nothing like what I expected – it was described in the menu as a topping of "creamed tofu, seaweed, and olives". I had visions of a sort of white sauce pizza just using tofu instead of bechamel, topped with a bit of chopped olives and algae. Instead, an absolutely delicious whole grain crust (easily the best whole grain crust I've ever had on a pizza), topped with a thick layer of raw onions mixed with chopped seaweed and basil; then that was topped by a doubly thick layer of whipped tofu, olive oil, and finely chopped black olives. The whole thing was drizzled with more olive oil and a sprinkling of more chopped olives. It was really good, and far better than my imagined pie.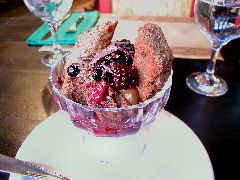 As my friend John back in NYC would say, "Sure, I'll have dessert, I'm a professional." This explains why we need to go to the gym on a regular basis (three mile run and forty minutes of weights this morning). Besides, I couldn't pass up something called sobredosis de chocolate, the chocolate overdose. Thankfully, it turns out not to be near as intensely chocolatey as one of those over the top "death by chocolate" type desserts that one encounters out in the world. This was a dish of fairly light choclate nut brownies, topped with dulce de leche, chopped bits of chocolate, and fresh berries. Excellent, and not at all overdose-ish.
My one disappointment at Flor de Lino, the coffee. An espresso that had to be a good 4 ounces or more, at least double what it should have been, watery and bitter. Given the care and quality that goes into the rest of the food, I was surprised, clearly it hasn't been given the attention it deserves, and the waiters haven't been trained to make it well. I wouldn't, however, hesitate to go back and eat there again (by the way, weekdays, lunch only, Saturday and Sunday, dinner only). Besides, it's on my favorite little street in the city.