"If they ask you what it is, tell them it's an old recipe from Chantilly."

– Gérard Depardieu, from the movie Vatel
Buenos Aires – Louis II de Bourbon, Prince de Condé, Duc d'Enghien, and probably several other titles, was not only a famed French general, but a well known gourmet. At various times he employed in his household in Chantilly some of the finest chefs of 17th Century France, including François Vatel. Several classic French dishes have been named in his honor, either appended with Condé or Chantilly, including, of course, Crème Chantilly, or whipped cream (which anecdotally, Vatel invented, but in reality, it was known long before his time – though he did help make it popular). For our Casa S dinner this weekend I looked at some of the dishes that come from that genre, or from Vatel's repertoire, or simply from the area around Chantilly, and came up with our menu.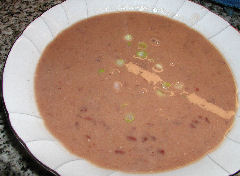 The evening opened up with a soup called Crema Condé. I found several references to it, and several different versions of it. The best I could come down to was that it was some sort of creamed soup that involved red beans and pheasant. I initially thought about doing a non-creamed soup, as I wasn't so sure how well I could puree a pheasant – but then, realized I puree chicken and duck all the time for various mousses and such. I did decide not to strain the puree, and I left it not 100% smooth – the pheasant itself creamed nicely, the skins of the red beans not so much. I loved the flavors in this, and I think if I did it again I'd use a coarse strainer. I purposely didn't add any cream to the soup, this meal was destined to be rich enough. To make the soup, I sauteed two chopped white onions and a couple of chopped cloves of garlic in olive oil. I added a whole pheasant and browned it lightly. Then, six crushed Italian tomatoes, ½ teaspoon of dried oregano, a couple of quarts of chicken stock, and 3 cups of red beans that had been soaking in water overnight. A little more water to top it up and I brought it to a boil and then reduced the heat and simmered until the pheasant was cooked through. I pulled the pheasant out, let it cool while the soup continued simmering, then pulled and shredded the meat and added it back to the soup. When the beans were done, I pureed the whole thing with an immersion blender, and added ½ cup of armagnac, salt, and black pepper. For service I garnished the soup with some chopped scallions.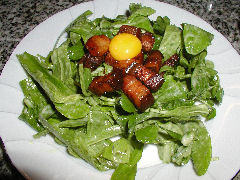 Though not particular to the Prince's house or one of his chefs, a classic Salade du Lard is very typical of the region. Numerous recipes abound for what goes into it, one of my favorites involves an arugula salad with bacon and blue cheese with a light mustard vinaigrette. Playing on that, I first made a bunch of lardons – cubes of smoked bacon cooked at medium heat on a baking pan in the oven until they've rendered out a good amount of fat, shrunk, and browned. The salad greens were a mix of slightly bitter greens – arugula, dandelion, radichetta (a type of chicory very common here), and pea sprouts. The greens were dressed with a blended vinaigrette made from apple cider vinegar, olive oil, powdered mustard, and blue cheese. I topped them with the warm lardons made into a little nest on top, and in the nest, slipped the raw yolk of a quail's egg. Now, that's a salad.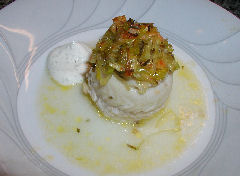 One of the old recipes out of Chantilly was an elaborate stew of fish and shellfish, something like a bouillabaisse, but with whipped cream, lots of tarragon, and all sounding good, but more like a main course than an appetizer. I decided to pull out some key ingredients and do my own thing. I've been playing over the last several dinners (at least the ones that involved fish) with steaming the fish in packets, what's called in French technique en papillote, or in paper. It's one of those terms that often gets confused with another, paupiette, a.k.a. a roulade, or a rolled up piece o' fish. I found some nice, firm fillets of pez palo, or flathead fish, and rolled them around a simple filling of chopped cooked shrimp and leeks with tarragon, salt, and white pepper. The paupiettes were baked in a hot oven with a little vermouth and butter in the pan, until the fish was cooked through and the top of the filling was just lightly browned. I served it with a bit of the cooking juices spooned around, and a dollop of sour cream mixed with chopped fennel fronds (the fuzzy little leaves on the top of a fennel bulb).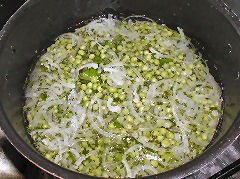 For the main course I started off from a classic Vatel recipe of braised leg of lamb. Not surprisingly, his recipe involved days of preparation, cooking, and elaborate presentation. Here at Casa S, we're all about flavor, good food, and being able to get it done by myself in the kitchen during the day. The Vatel recipe was accompanied by various potato and vegetable dishes, I decided to pair it up with a simpler take on Chantilly Potatoes (a fancy mounded parfait of plain mashed potatoes topped with stiff whipped cream and a layer of grated parmesan, the whole thing baked until set into a sort of giant potato meringue pie), and a regional dish of Petits Pois à la Française. Here, the peas are about to be cooked – the pan is lined with a layer of torn lettuce leaves, chopped mint, fresh peas, and thinly sliced white onions. It's all cooked in just enough water to cover, for several hours, until the peas are reasonably tender but not mushy, and then simply seasoned with salt.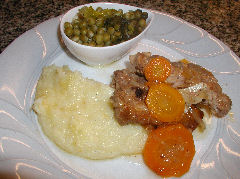 For the lamb, I found some wonderful lambs' tail, a cut I don't work with all that often, but love – flavorful like oxtail, and braises beautifully. The only key thing to the lamb Vatel seemed to be a lot of carrots – so I braised the lamb for about six hours on top of lots of sliced carrots, red onions, and garlic, along with a little marsala wine, tomato paste, and a bouquet garni. For the potatoes, I peeled and boiled them, mixed them with heavy cream, and then handworked them through a fine sieve to get a very fine puree. For service, I mixed them with parmesan, and a little salt and white pepper. One of these days I'll try the parfait version…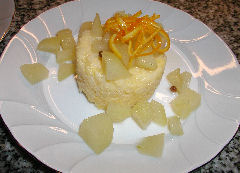 For dessert, I stuck relatively faithfully to the original Poires Condé recipe, mostly just changing the presentation to individual servings rather than a giant ring mold of the rice pudding filled with the poached pears. The pears were poached in a simple syrup flavored with vanilla and, my addition, some szechuan peppercorns for a little zip. The rice pudding is a simple baked rice pudding that I molded into small ramekins and then turned out on plates. The rice is chilled, the pears and the candied orange peel garnish were hot. And hey, I didn't put any Crème Chantilly on it! Bad me. That rice pudding, though, is good, and the recipe bears sharing:
Baked Rice Pudding

1 cup of rice
2 cups of boiling water
2-2/3 cups of milk
Pinch of salt
2 cups sugar
1 teaspoon vanilla
3 tablespoons of butter
5 egg yolks, beaten

Pour the boiling water over the rice and let it sit for about ten minutes. Meanwhile, bring the milk to a boil to "scald" it. Drain the rice and add it to the milk along with the salt, butter, vanilla, and sugar. Stir to combine and pop it into the oven at 350°F for about 30-40 minutes, until the rice is soft and most of the liquid has been absorbed. While stirring rapidly, add the beaten egg yolks to combine. Pack into whatever mold you're using and chill until set. Eat.
—————
Wine of note for the evening, Achaval Ferrer Quimera 2003, a blend of 40% Malbec, 28% Cabernet Sauvignon, 27% Merlot, and 5% Cabernet Franc. Rich, bright boysenberry fruit and a bit of spice to it, perhaps a touch too much oak for my personal tastes, but not at all overdone. Definitely a bit on the "big" side for this meal, but with a steak… On the expensive side as wines go here, but not bad in the States, where I think it runs in the low $30s.
"Do I what?
Will I what?
Oh baby you know what I like."

– Jiles Perry (Jape) Richardson, Jr., a.k.a. The Big Bopper, Chantilly Lace