"When I wish to make a wish
I wave my hand with a big swish swish.
Then I say, "I wish for fish!"
And I get fish right on my dish."

– Dr. Seuss, One Fish, Two Fish, Red Fish, Blue Fish, 1960
Buenos Aires – I met up for lunch with a couple of friends here I haven't seen in quite awhile. Initially we headed for a little Argentine regional cuisine place they'd discovered and hoped to introduce me to, but it turned out to be El Sanjuanino, a place I've been to many a time, and a neighborhood favorite. We'd started talking about fish, and I'd remembered seeing a place in the back of a little galería that looked interesting, and several people had told me that it was quite good. So we found our way to José Luis, Quintana 456, in Recoleta (4807-0606).
As noted, it's set in the back of a little galería, so you have to look for it, and walk down past a couple of nice little shops, including Peck, a good fiambres and spice shop that I go to sometimes (they have a line of individual chile powders, like ancho and chipotle, can't pass those up). At the door is a fish tank filled with fish. No water. Just a dozen or so different fish, set on a little bit of ice. I never saw anyone come out of the kitchen to grab one and take back and cook, but there were enough there that I'd doubt they're just for display in the long run. The restaurant is very pretty, simply designed, with nice linens on the table, and the dining room wraps around a well tended garden, that looks like they probably put tables in during nice weather. The food, as it turns out, is not strictly a fish and shellfish restaurant, despite the sign out front, but a Spanish/Basque restaurant with an emphasis on seafood. They have a fair number of land-dwelling dishes as well, but we were there for the sea.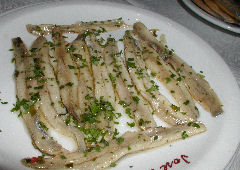 I love boquerones, these lovely little vinegar cured anchovies. Those of you who've followed along know I order them in Spanish restaurants and Italian restaurants, and… well, fish restaurants. For me, especially for a Spanish fish restaurant, they're like a litmus test. Properly balanced with good acidity, good olive oil, and a nice touch of parsley and garlic, and I'm happy to continue on to the rest of the meal. If the boquerones aren't right, why bother to see if the chef can cook? Even if he didn't make them himself, he's got to have enough of a palate to taste for balance and seasoning. I was happy to continue on to the rest of the meal! My friends hadn't tried these before, and they seemed to like their tastes of them too – not that I gave up too many of these beauties…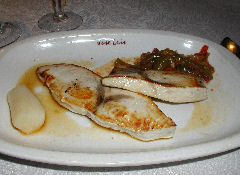 The menu has lists of fish and lists of ways to make them. While my friends were seduced by the fascinating sounding combinations on the chef's suggestions list, I decided to see how he was doing with something really simple – a plain grilled fish. This was before tasting the boquerones. It's almost a backup litmus test – can you grill a fish without turning it into shoe leather. And season it. The answer, once again, was yes. I opted for a swordfish steak, something I haven't had in quite sometime – there was that chef's moratorium on North Atlantic swordfish for awhile, so we hadn't seen them in New York for quite some time, and, though there are South Atlantic, and Pacific, swordfish available, this is the first time I've seen one on a restaurant menu. Perfectly cooked though but still juicy, lightly seasoned with olive oil, salt, and lemon, and accompanied by a single boiled potato (could have gone for another one or two…), and a delicious scoop of ratatouille.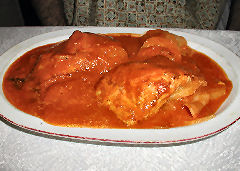 This dish was good, but less successful. The fish, merluza, or hake, was offered up on the house specialties list al horno con romero – or from the oven with rosemary. Although none of the three of us is fluent in castellano, I think we would have picked up if the waitress had used the word "salsa" after the word "tomate". What we know is that she offered the dish "con o sin tomate" – apparently, as it turned out, meaning with or without tomato sauce, as opposed to the envisioned roasted tomatoes in the oven-dish. Still, the rosemary, which was subtle but present, and the tomato, worked well together, there was just a bit too much sauce on the dish. It was good, but I'd try it again without…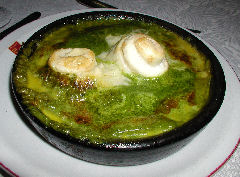 This psychedelic swirl of color oddity turned out to be the winner of the lunch. Absolutely spectacular. It's two rolled up fillets of abadejo, or pollack, surrounded by a puree of spinach, cream, and butter, and the whole thing bubbling and hot right out of the oven. Seasoned beautifully, the whole dish had great balance, and the fish had not only absorbed flavors from the surrounding whorls, but was nearly as creamy and tender as the sauce itself. It's the kind of dish that I go back home thinking about recreating – so simple, delicate, and delicious.
This place is a definite winner for seafood in town. I wouldn't hesitate to go back and/or to recommend it. I was also surprised, that although pricier than a usual lunch here (45 pesos apiece, including a decent bottle of wine), it really wasn't bad for a fish and shellfish venue.