"I refuse to believe that trading recipes is silly. Tuna Fish casserole is at least as real as corporate stock."

– Barbara Grizzuti Harrison, Italian-American journalist, essayist, and memoirist
Buenos Aires – Okay, everyone who remembers their mother's tuna fish casserole, raise your hand. There were a legion of recipes for that icon of 1950s and 1960s norteamericano cuisine. Let's face it, there was no other possible use for Campbell's Cream of Mushroom soup that didn't involve patching a hole in the drywall. The biggest variation, and cause of many a neighborhood argument, was whether or not it should be topped with crumbled potato chips or French's fried onion rings. The same argument raged over green bean casseroles, but that was a holiday dish. Tuna casserole was weekly fare.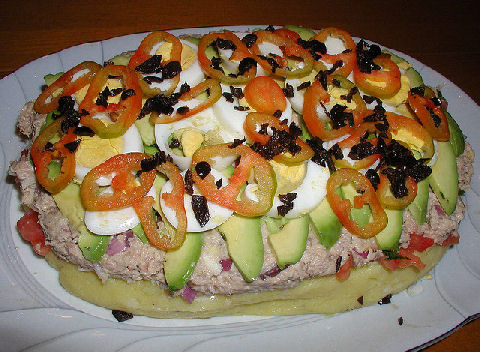 How was I to know that similar arguments were surging throughout Peru? It may actually be that canned tuna is at the root of much evil in global society, and may bear further investigation. The addition of canned tuna to the classic Peruvian mashed potato dish, causa, was no doubt an improvement in the nutritional content of the dish, since prior to that it seems it was not much more than cold seasoned mashed potatoes, but it has also led to arguments amongst the Peruvian foodie community over authenticity and limits on creativity. Not being a fan of the latter, and while caring enough to pay tribute to the former, not being a slave to it, I'm game to take recipes in varying directions. So this is my first tuna causa (making, not eating), in fact, my first causa period. Henry took one look at it and declared it a disaster. His niece and nephew, 15 and 10 years old respectively, looked at it and said, "Ewww, what is it? That's not Peruvian." It is, however, a 15″ platter of whatever nationality it may care to claim. Twenty minutes later the plate had been licked clean, and believe me, I wasn't the one who ate it all.
Tuna Causa

Potato base:

3 large potatoes
1/3 cup olive oil
ají amarillo puree
juice of 1 lemon
salt and white pepper

Boil, peel, and mash the potatoes. Add the olive oil a bit at a time, to taste and until it has a nice smooth consistency. Add the lemon juice. Season with salt, pepper, and the ají amarillo to taste – you could also use chopped or pureed fresh peppers – this is a mild yellow pepper (spicier than a bell pepper, but mild). Form it into the base of your presentation on a platter and chill in the refrigerator for ½-1 hour just to firm it up a bit. This dish is generally served cold or room temperature, though I've seen hot causas on a few menus.

Tuna layer:

3 cans of tuna (I like to use the water packed)
1 small red onion, chopped
mayonnaise
salt and white pepper

This is pretty much just a simple tuna salad. Mash the tuna, add the onions, and enough mayonnaise just to make it moist and hold together. Season to taste.

Assembly:

Potato base
Tuna salad
1 tomato, seeded and diced
1 avocado, peeled and sliced
1 rocoto or other medium hot pepper
2 hard boiled eggs, sliced
chopped black olives
chopped parsley
juice of 1 lemon

You should have a nice, firm mashed potato base to build on. Layer the tuna salad on top of it. Top with chopped tomato and parsley. Lay a layer of avocado slices on top of that, sprinkle or brush with the lemon juice so they maintain their color. Then the hard boiled egg slices (you can hard boil your eggs along with your potatoes above, just don't leave them in the water the entire time) and the pepper rings. Scatter the chopped olives over the top of it. Set it on the table, ooh and ahh a little, dig in.