"If you take myth and folklore, and these things that speak in symbols, they can be interpreted in so many ways that although the actual image is clear enough, the interpretation is infinitely blurred, a sort of enormous rainbow of every possible colour you could imagine.

– Diana Wynne Jones, author, in an interview with Judith Ridge about her Chrestomanci novels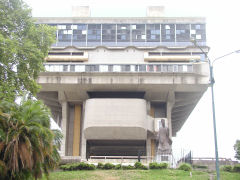 Buenos Aires – This whole week there have been offerings of various folklore and cultural activities Peruvian. It's the 185th anniversary of the creation of the Republic, so it's been a pretty big deal. My participation has been mostly peripheral, Henry had been primarily busy with preparing for a dance extravaganza on Friday evening, so didn't make it to many of the activities he otherwise might have, and therefore, neither did I. We did go to the marinera (Peruvian folklore dance) competition last weekend, which was more or less the kickoff for the week; and we also attended a poorly presented program on pisco and ceviche at the Ricardo Rojas Cultural Center – a shame, as it could have been fascinating. In a less competitive vein, Friday night held various dance and music presentations, and Henry and his friends participated in the one held at the Biblioteca Nacional (quite possibly one of the ugliest buildings, architecturally, to ever house a library).
It was a bit of a long performance, especially for sitting in standard stackable plastic chairs, but it was fun and energetic, and for a change, we scored some seats in the front row, so had a great view of the proceedings. Numerous embassy and cultural center dignitaries shared the row with us, I guess we just got lucky! The evening was a mix of various music and dance groups, many of whom are Henry's fellow students or the professors from the arts university, IUNA; including opening with some tango demonstrations and Bolivian folklore dances. After that, it was a variety of Peruvian dances, culminating with the group that Henry was part of.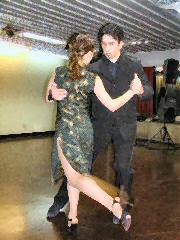 Tango demonstration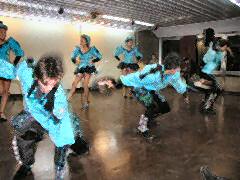 Bolivian folklore dance group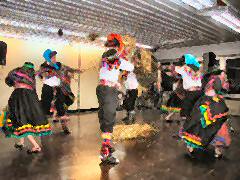 Peruvian folklore dance group – pastoral dance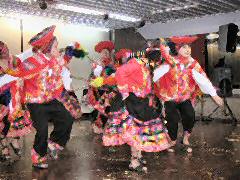 Peruvian folklore dance group – Imperial Incan dance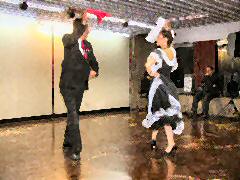 Two of Henry's teachers demonstrate the Marinera Limena from Lima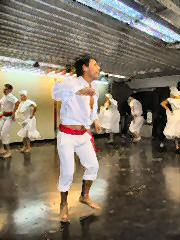 Henry and his friends in the dance finale