Buenos Aires – Yesterday was the first Peruvian dance competition to be held in the city of Buenos Aires, and, of course, we went. Henry was supposed to be part of the opening demonstration – not competing, as this particular event was a combination of a children's event and a teen's event. Unfortunately, he didn't get to do his part in the demonstration, as his group of compañeros decided to start tossing down beers during the setup part of the day and were too drunk to do anything by the time the competition got underway. In typical fashion, as I've noted many times before, the event didn't exactly begin on time. It was scheduled for noon, though the night before, he told me we probably didn't need to head that way until about 1 p.m. No objection from me, I've seen this before. We ended up not leaving the house until 2… the event didn't begin until about 4:15. Apologies to our new friend Michelle who didn't get my late night message not to head that way at noon, and got to watch the entire setup process.
When it did get underway, it started with an introduction of the seventeen couples who were competing – a little parade around the room and then lining up for pictures. Most of the pictures I ended up with are pretty poor, our seats were right by the entry way for the competitors, who stood in front of us throughout the competition, so the couple of rows of seats behind them were on their feet, and we were too – which meant holding the camera up as high as I could and randomly snapping shots, hoping to get something interesting here and there.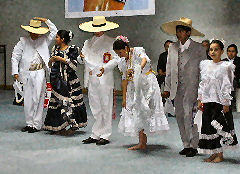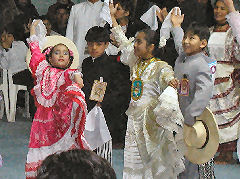 Then there was a demonstration of belly dancing. I don't know why. I didn't ask. It's not exactly Peruvian folklore dance, but several young girls did their best arab courtesan imitations, which at between 5 and 10 years old, to me anyway, just looks silly. Then some various folklore dance demos (sans Henry's group) from Peru and Bolivia. Then the competition eventually got underway, very disorganized, and they seemed (and Henry later confirmed, as he was sitting at the scorekeepers table) to be changing the rules as they went along.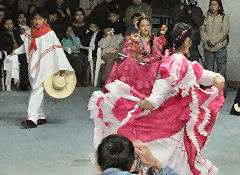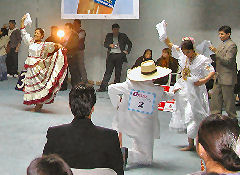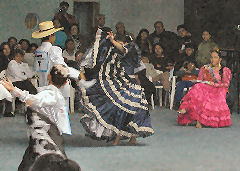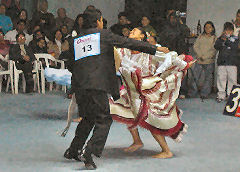 Somewhere around 7:30 in the evening, the winners were announced, and a trio of competitors in each of the categories went home reasonably happy (beyond plaques and certificates, the first place winners received 200 pesos, the second place 100 pesos, and the third place a handheld portable sewing machine – to share…). Well, the prizes were donated, what can one say? There were also drawings throughout the event for ticket numbers of audience members to win everything from a roundtrip bus ticket to Lima on down to a 2-liter bottle of soda.