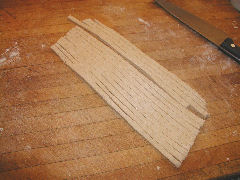 Buenos Aires – A couple of weeks ago I posted about our dinner celebrating the opening of the Paliio. The pasta dish, a classic of Sienese cooking, was pici alle briciole e, a very simple preparation in the final analysis – the pasta simply tossed with freshly sauteed breadcrumbs, garlic, hot peppers, and parsley. I had mentioned that my local pasta guy would only make me die-cut versions of pici, which, in reality, were just fat spaghetti – or bucatini. I wanted to get back to the pasta itself (the preparation is now something I'm making regularly, even with other pastas – it's so simple and so good!) – and a couple of nights ago I decided to spend the evening making handrolled pici. It's definitely an activity to plan when you have lots of time.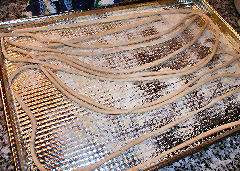 I can't claim any particular personal recipe for the pasta, it's been being made by Italian cooks for eons. I'm a fan of semolina flour pastas and decided to use my friend Mario Batali's version (which probably isn't his originally either) – 2 cups of semolina flour, 2 cups of white flour, and roughly 1¼ cups of warm water. This makes a pretty stiff dough, that was a definite workout for kneading – especially when you knead it by hand for 10-15 minutes until it's smooth. Then you let it rest for another 10-15. The fun part – though time consuming – comes next. Tear off small balls of the dough and roll them out into more or less long rectangles, about ¼" thick, or just slightly less. With a sharp knife, cut the rolled out rectangle into long square "dowels" as he puts it. Then, one by one, you roll them either between your hands, or, as I found it easier as I went along, on the countertop. You end up with slightly malformed, very long (roughly 18″), fat spaghetti.
It took me a little while to get the hang of it, and I'd say an easy 40 minutes just to roll out about half of that quantity of dough into pici. But boy was it worth it! I'd hate to have to do this for a large group of folk, but maybe with some help getting them rolled out! Compare the two – on the left the die cut versions from the dinner, on the right, my handrolled ones. Then again, good as the first version was, there's no real comparison!