Buenos Aires – One of the things that professional and good home bakers know, is that to reproduce many high quality breads over and over, you need a mother. Not the woman who tied you to her apron strings when you were four, but more of a wiggly mass of flour, water, and yeast that you keep in your refrigerator. You use a little bit of it each time you make your special bread (sourdough is famous for this – often called a "starter"), and you have to feed it – i.e., add more flour and water to it at regular intervals to keep it alive and fresh. In castellano, at least colloquially, that's a masa madre, or mother dough. Unsurprisingly, it's also the name of various bakeries throughout the Latin American world, and at one time, there was one here in Buenos Aires, in Villa Crespo, simply called Masamadre. I'm not 100% certain from my searches, but I gather that at some point they packed up and moved to Chacarita, and reopened as Masamadre es con M, at Olleros 3891, a few blocks from the Chacarita Cemetery. I'm assuming that means it's still under the guiding hand of Juan Morín, who built quite a name for himself for his artesanal breads (although I didn't see any evidence of it, I've since learned that they sell their breads as well).
My friend Heather and I found our way there for lunch the other day, and since I've only been there the once, and just for lunch, this review is somewhat limited in scope. However, I asked to see the dinner menu and other than being more expensive, plate for plate, appeared to be the same menu as that offered at lunch. Perhaps there are larger portions? There's also an evening "plates of the day" menu that is offered alongside the regular one, and that was different from what was offered at lunch. On to the review… we both liked the space. It's a cute, corner restaurant, L-shaped, with large windows looking out on a quiet residential street. Bold shades of red, a large service bar, and simple wood tables and chairs fill the room. Comfortable, not pretentious, clearly a neighborhood hangout – a quote from a past review from the owner "it's not really a restaurant, it's my kitchen" – or words to that effect. I got there a little early, at 12:30, the place was empty. I took my choice of tables, a friendly waiter brought the menus, and then disappeared. Within about 10 minutes, the place was teeming with people, including a party of 12 who just walked in, grabbed half a dozen tables and their chairs and shoved them together in the center of the room and sat. Who goes out to a restaurant with a party of 12, even for lunch, without calling ahead?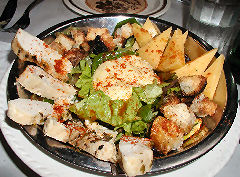 If you go to Masamadre for nothing else, go for the bread. It's spectacular. We'd finished off the absolutely delicious whole grain bread and seed bread before our waiter had walked halfway across the room (wish I'd known they sell their breads over the counter, I'd have bought a loaf of that!). The daily lunch special for that day was a tabouli salad and a pastel de papa – however, when asked, our waiter informed us that neither were available unless we ordered the menu ejecutivo, the actual 2 or 3 (with dessert) course lunch – we couldn't order one of those separately. That's just bizarre, and it lost them the sale of an appetizer. We really wanted to try the tabouli salad. Since there were no other real appetizers on the menu (salads, sandwiches, pastas, and a few main courses), we decided to just split the falso cesar as it was termed. A false caesar indeed. Not that it wasn't good, it just bore no relation, other than being a salad, to a caesar. A bowl of bibb lettuce, wedges of excellent cheese, slices of chicken, a huge dollop of mayonnaise in the center, and the whole thing heavily dusted with smoked paprika.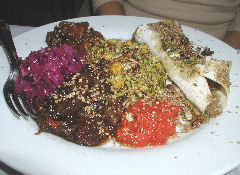 I had heard that Masamadre was a vegetarian restaurant. It's not. About half the plates are, but the other half are chicken and fish, plus there's a bolognese sauce offered with pasta and the pastel de papa offered as a special is usually made with beef, though we didn't ask (it's the local version of a shepherd's pie). I'd also heard that it was a primarily Indian restaurant. It's not. There's one plate offered, the "hindu", that bears any connection with India. But then, these were just street rumors, so, simply, I now discount them. Heather decided to try the hindu – a very colorful plate filled with quite flavorful offerings – a chapati rolled around some sort of onion and maybe lentil concoction, a fantastically good poppy seed and chickpea rice, red cabbage, a fiery hot chili sauce, and a very sweet raisin chutney. Lots of seeds and spices, but it all combined quite well.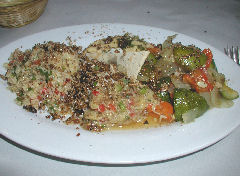 I took a similar path and ordered the plato armenio, which wasn't nearly as colorful, but just as good. A nice melange of roasted vegetables, smoked babaganush, hummus, and a quinoa salad that was excellent. In fact, it was the two grain salads that really stood out, and could easily have been bigger platefuls, with smaller accompaniments – the quinoa salad on my plate and the rice and chickpea salad on hers. All around, quite satisfying, and clearly a good option for folks who want to eat lighter or vegetarian (as long as they don't mind that the restaurant is serving meat to others). We'd noticed a helado shop across the street and decided to repair their for dessert, and it was okay, but I think in retrospect I'd rather we'd stayed and tried one or two of Masamadre's desserts – especially one of their baked goods, given the quality of bread. I now hear that their budín de coco is spectacular.