Buenos Aires – Much as the Palio kicked off last week, a chance for much Italian regional pride and competition, the encierro kicked off yesterday, a chance for much idiocy and injury, as folks attempt to chase, be chased, and hopefully outrun, a bunch of stampeding cattle. My job isn't to critique those folks who seem to get a thrill out of danger seeking and potential injury and/or death, but to somehow capture the moment on a dinner plate. Which basically means I do nothing but come up with some sort of inspiration and turn it into a menu. Then cook it. The encierro is set in Pamplona, a town in the Navarra region of Spain, so the food of that region became the basis for my plan. A half dozen folk came to last night's Casa dinner, a shame for the half dozen who didn't fill the empty seats, at least in my view!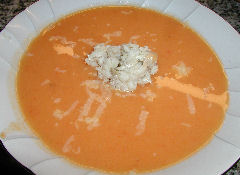 One of the classic appetizers of the region is a brandade stuffed piquillo pepper. That's a mouthful just to say, but if I was having a cocktail party with passed hors d'oeuvres, I'd go there. I like starting meals with soup, and it seems a goodly number of my guests do as well. I remembered trying a piquillo pepper soup recently at a small restaurant and not being thrilled with its limpness… can one use "limp" in regard to a soup? You know what I mean. So the soup had to be beefed up a bit in flavor, and I wanted to incorporate the ingredients of a brandade.
Piquillo Pepper and Brandade Soup

Brandade de Morue Nîmes is a traditional dish from the south of France, which has spread throughout the region, including into this northern border province of Spain. It is made by poaching salt cod (after desalting it), pounding it into a paste, then mixing it with olive oil and cream, then seasoning with salt and white pepper. It's used generally as a spread on toasted bread, or as a dip. In Marseilles, garlic is added. In some places, wine is added. In others, potato. I used some of all that, but also wanted to use fresh fish rather than salt cod – going for a mix of the flavors if not the texture. Authenticity? Who knows? Tasty? Oh yes. Piquillo peppers here are only available pre-roasted and packed in olive oil in tins or jars, imported from Spain – actually, that may be true pretty much everywhere. Traditionally, they're slow roasted over smoky wood fires, and I'd guess many if not most chefs end up buying them this way, I've actually never seen them fresh.

2 large potatoes, peeled and cut in pieces
2 onions, peeled and sliced
2 garlic cloves, peeled and sliced
2 tablespoons of butter
¾ pounds roasted piquillo peppers
2 quarts chicken stock
1 cup sour cream
salt and white pepper to taste
2-3 filets of cod
1 lemon
1 onion
whole peppercorns
grated salty cheese (Manchego if you can find it)

Saute the onions and garlic in the butter until translucent. Add the potatoes and chicken stock, bring to a boil, reduce heat and simmer until the potatoes are soft. Add the piquillo peppers and sour cream and puree with a hand blender if you have, or in batches in a regular blender. Adjust the seasoning. Meanwhile, poach the cod fillets in a simple court bouillon of water, with the lemon and onion sliced into it, and a small handful of peppercorns. When done, let cool, then remove from the liquid and flake the fish. When ready to serve, mound the cod in the center of bowls, ladle the soup around it, and grate some cheese over the top.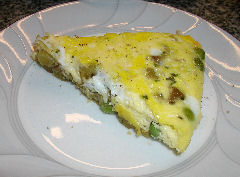 Navarra has a tradition of fresh vegetable frittatas, those wonderful baked omelettes that usually have potato as a base, along with the vegetable. Although their most famous is the Torta de Tudela, which is an asparagus version, it isn't the season for fresh asparagus here, and the thought of canned asparagus gives me the shivers. I was actually thinking about using artichokes, which are in season now, but I couldn't quite get my thoughts around a frittata of artichoke, especially paired with wine. At last minute, while vegetable shopping, the little market down the street got in a couple of pounds of freshly shelled peas. I grabbed about a pound of them, and used them as the base for the frittata, along with some finely diced batata, or yam. The frittata is seasoned with a mix of chopped fresh herbs – rosemary, parsley, and chives, and then a grating of sea salt and mixed peppercorns dusts the top.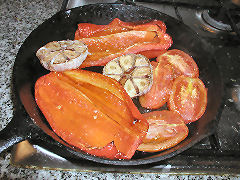 I won't make any claims that Romesco sauce is traditional from Navarra, though it's certainly made its way there. It's origins are from the city of Tarragona, in the Catalunya region. Navarra cuisine has a classic dish, however, of trout stuffed with Serrano ham, which is likewise from a different region, Andalucia. Somehow, in my mind, it all came together, and thankfully it did on the plate as well. Romesco sauce has a zillion variations, and I probably don't make it the same way every time. I roasted a large red pepper (seeded and split open), a couple of plum tomatoes (same), and a whole head of garlic (cut open crosswise), all drizzled with a little olive oil and cooked for about an hour and a half in a hot oven. I toasted a handful of walnuts and pinenuts, which were what I had, though more traditionally almonds would be used in place of the walnuts, along with a seeded and chopped large dried hot pepper – you could also use fresh, and just roast it along with the other stuff. The whole thing is processed in a food processor (scoop the soft roasted garlic cloves out of their skins) with a couple of slices of stale bread (I like the flavor of a whole wheat bread in this), a couple of tablespoons each of red wine vinegar and red wine, and then enough olive oil added to smooth it out, added while pureeing. Season with salt and black pepper.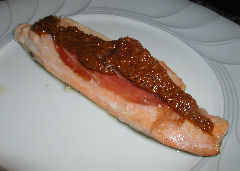 This may not be the prettiest presentation in the world, but the flavors are fantastic. The trout is filleted and deboned (I've learned not to trust local fish markets in that regard – these were sold as "100% deboned", it took me 20 minutes to pick the bones out of a half dozen fillets – I use a pair of needlenose pliers that I bought years ago specifically just for this purpose). Heat a cast iron pan very hot, put in a splash of olive oil, and when smoking hot, add the trout fillets, skin side down, to the pan. Immediately lay thinly sliced serrano ham over the fillets, while allowing the skin to crisp up a bit. Then stick the whole thing in a hot oven, to let the fat on the ham melt and baste the fish, and the fish cook through. Don't overcook the fish! It's easy to do. These won't take more than 3-4 minutes in the oven to finish cooking. Top with a the romesco sauce, warmed.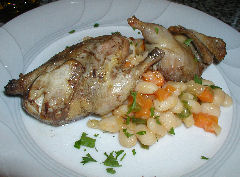 Quail and pochas bean stew is, I gather, practically the regional flagship dish. Pochas beans are a type of bean that I believe is only produced in Navarra and La Rioja. It's actually a bean that starts out a dull green, and slowly turns whiter. Traditionally, these are harvested while underripe, and used in a variety of stews. Here, they're only available pre-cooked, in jars, in sort of a strange jellied consomme, reminescent of gefilte fish. They're definitely different in flavor from other white beans, but if you can't find them, you could substitute a different variety. I rinsed them and then drained them. I sauteed a mix of small diced onions, green pepper, carrot, and tomato, with crushed garlic, until the vegetables were just getting soft. Then added the beans and seasoned with salt and pepper. Very simple. A mound of these under the birds. I could only find three fresh quail, but the market that had them also happened to have fresh partridge as well, roughly the same size. So I split and cleaned all the birds, and then sauteed them in olive oil, salt and black pepper. After the skin was browned, I added a half cup of cognac to the pan, let the alcohol burn off (be careful here, the brandy will likely burst into flame, not a problem, just let it burn off), and then stuck the pan in the oven to finish roasting for about 7-8 minutes. I served a half of each type of bird, for contrast, atop the beans, garnished with some fresh parsley.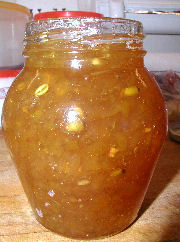 The dessert was the most fun. First, I can't believe I forgot to take pictures of the limequats. Yes, limequats. A fruit that is apparently a cross between a lime and a kumquat, somehow producing a slightly larger than a kumquat, vivid yellow fruit, that is quite tart. I picked them up the other day on a whim and the idea of a marmalade came into my mind as a nice foil to a slightly salty cheesecake. I had about two cups of limequats, which I threw in the food processor along with the juice of a lemon and then processed until coarsely chopped. That all went into a small saucepan with an equal, yes equal, volume of sugar, and then cooked the whole thing over low heat for about an hour, until it looked very marmalade-ish, and slightly caramelized. I only needed about a half cup for last night, so I have a lovely jar of limequat marmalade in my refrigerator to spread on toast and medialunas, and anything else that strikes my fancy.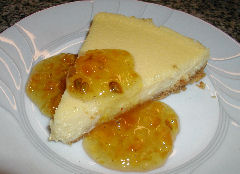 For the dessert, a simple cheesecake, but using a mix of cheeses. The crust made from 1½ cups of finely crushed plain butter cookies, mixed with ¼ cup of sugar and 6 tablespoons of melted butter. Spread on the bottom of a springform pan and cook in a hot oven (450°F) for about ten minutes. The filling, blend together a pound of cream cheese, 1½ cups of grated, slightly salt sheep's milk cheese, like Manchego, 1 cup of sugar, 1 teaspoon of vanilla, 2 tablespoons of flour, and three whole eggs. Pour over the crust and stick back in the oven. After ten minutes, turn the heat down to about 275°F, open the oven door slightly to let it cool down to that point relatively quickly. This gives a quick sort of puff to the cheesecake and then lets it cook slowly all the way through to set. Cook until it is just turned firm to the touch, don't over cook it or it'll get a little grainy and crack. Serve with the limequat marmalade or another slightly tart, citrusy sauce.