Buenos Aires – The menu is extensive, going on for more than a dozen pages. An entire page of dim sum style dishes "tapas", several pages of chicken dishes, several of beef, pork, fish and shellfish, even things like eel and frog grace the menu. An entire page devoted to tofu and another to vegetable dishes. Mostly Chinese, or, as usual here, Taiwanese and Cantonese (the latter listed as the restaurant's specialty), but some Szechuan, Vietnamese, and Thai, as well. And amongst all those items, there's not a single dish of lamb, let alone five. Yet, we're at Cinco Corderos, the Five Lambs, Av. Las Heras 2920, in Barrio Norte, a place I've walked past many a time and ignored. [Closed in 2012]
That turns out to be a shame, as the restaurant has dishes that I haven't seen on any other menu's here, including some excellent spicy dishes. It's not all perfect, but then what restaurant is? There's a strangely leaden air in the room, and nothing I can put my finger on – true the colors are a bit dull, and for a change in local Chinese places, the lighting isn't bright enough to perform surgery, but there's a big fish tank with lots of colorful fish, there are plants, it shouldn't feel leaden, yet somehow does. Maybe it's just that it's nearly empty – a young couple sit along the far wall, and there's no one from the restaurant in sight – something that occurs regularly throughout the meal. Given the food, as I'm soon to discover, I can deal with that. We're greeted relatively quickly by the delivery man, who brings menus to the table, but has difficulty with the order for a bottle of water and a coke – Spanish is clearly not in his repertoire yet. The tables are preset with small soup bowls, handy for sharing any of the various offerings, and also tea cups – interesting, because tea was never offered, though I imagine we could have asked for it.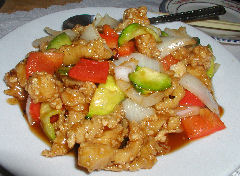 Soon, however, we're approached by a charming woman in bright colors, who chats gaily with us about the menu, making recommendations, and when Michael attempts to find out whether there's a chance at a General Tso's chicken, says she thinks she can come up with something close. This isn't the first time it's come up, so this morning I did a little research, only to find that while General Tso himself is a figure of historical importance in China, he doesn't have a chicken associated with him, and the recipe was a thrown together house special at a restaurant called Peng's, on East 44th Street in New York, back in 1974. There are also a zillion versions of it, ranging from just spicy to spicy and sweet, and sometimes breaded and fried, and sometimes not. We ended up with a fried and spicy-sweet version, which came pretty close to what he was looking for.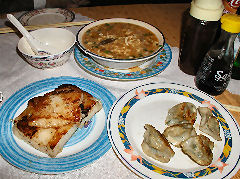 We started off with a selection of appetizers – our two usual test items being the sopa agripicante, or hot and sour soup, and the ravioles a la plancha, or potstickers. I also ordered a plate of the turnip cakes, one of my personal favorites. The soup was excellent, with a proper balance of hot and sour, packed full of bits of egg, glass noodles, and various other flotsam and jetsam. The potstickers were a mixed call – Michael found them quite good, just lacking slightly on the "finish"; I though they were a bit bland, and tasted a little like they'd been cooked in old oil – an issue that recropped up again on another dish. The turnip cakes were delicious, just what I was looking for – though I'm used to them being served with a plum sauce, or hoisin sauce, and all that was offered was a sort of watery semi-sweet sauce.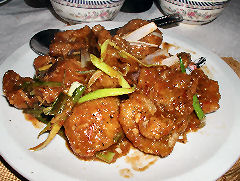 On the other hand, we also got, without asking, a nice bowl of real hot sauce – chilies and garlic – nice and fiery – to add to whatever we wanted. I spotted a dish that had that taken care of, pescado a la sichuan, Szechuan style fish, which had two little hot peppers next to it on the menu. While most of the menu had none, various items had anywhere from one to three next to them – and for a change, apparently correct. The fish was of an unknown variety, but delicate and crisp fried, then sauced in a perfectly piquant sauce of ginger, chilies, garlic, and green onion. Now we're talking!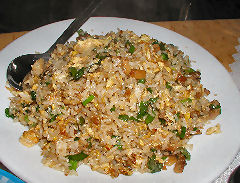 The one real disappointment was the pork fried rice. This is where that old oil thing popped up again – it was very obvious in the flavor. The pork was a mix of a few shreds of just plain cooked pork, plus some ground pork, none of the usual roast pork, almost as if they'd just thrown in whatever scraps were left from making other dishes. It wasn't a pleasant thing. And that leads me to wonder if pretty much everything was most likely cooked in oil that's turned a bit, or been used, and it was just the intensity of the sauces on the other dishes that masked it.
I love that they have dim sum, it's the only place I've found it – they don't do that whole rolling cart thing, but you can order from a wide array of 2-3 peso small plates along with tea, at lunchtime, and have yourself an, as they put it on the menu, "famous Yam Cha and Tim Sam" experience. It's certainly worth giving the place another try, and they deliver here in the neighborhood. The takeout/delivery menu is far more limited, and they charge for disposable chopsticks…