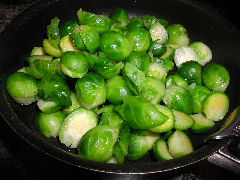 Love 'em or hate 'em, Brussels Sprouts abound. Or is that Brussel Sprouts? It's a source of quite a bit of contention whether this "countable noun" should have an "s" on the end of its first name. But then, it's named after the city of Brussels, in Belgium, so one would think that's a non-issue. The city has never been called Brussel. But then, shouldn't it be possessive? Perhaps Brussels' Sprouts? This, however, is only the beginning of the issues. Some sources cite the origin of this vegetable, a member of the Wild Cabbage family (and here in Latin America they are called coles de brussels or repollitos (little cabbages) and in France as chou de brussels, or cabbages from Brussels), as Afghanistan, Pakistan, Iran, Italy, or even Belgium itself. Highly unlikely that last – even though the source, the Worldwide Gourmet claims they were developed in Belgium in 1785. We know that for no apparent reason they became wildly popular during the 1500s in Belgium, two hundred years prior to that date, and also that they'd been known in Europe since the mid-1200s. A mere four years ago they were described as "Britain's Most Hated Vegetable", though another source claims that only last year they were "Britain's Fifth Most Popular Vegetable". Of course, those are not mutually exclusive if Britain only has five vegetables, which, based on my one trip to London may be the case… or there has been an amazing resurgence of popularity in a three year period.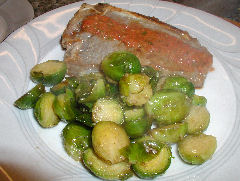 Regardless, aren't those just the prettiest little green balls? I picked them up in the market the other day and have been waiting for the opportunity to use them. They seemed the perfect accompaniment to a couple of steaks left over from Friday evening's private party. So the steaks got themselves pan seared and topped with a bit of chimichurri, and the Brussels Sprouts got themselves cooked. First off, I like to blanch them before whatever else I do with them. It does too things – first, it takes off that slightly bitter edge and, for some, objectionable smell; and second, it helps them keep that vibrant green color. Blanching, in case you're not sure, is simply tossing the sprouts into boiling water, bringing it back to a boil and cooking them for just a couple of minutes – until that bright color develops. Then, immediately scoop them out of the water and plunge them into ice cold water to fix the color at that stage. This works with lots of green vegetables, avoiding those grey-green tones that many dishes end up with.
Sesame Brussels Sprouts

Brussels sprouts
Olive oil
White sesame seeds
Salt
Cayenne pepper
Sesame oil
Chinese black vinegar
Soy sauce

After blanching the Brussels sprouts, as described above, saute them in olive oil over medium heat with just a pinch of salt. After about five minutes of cooking, sprinkle them with sesame seeds, and toss to lightly coat. Continue cooking until the seeds just start to turn golden. At that point, add a pinch of cayenne pepper, and a splash each of the sesame oil, chinese black vinegar, and soy sauce, and continue cooking for just a minute to cook off the liquid, stirring or tossing to make sure the sprouts are coated with the sauce. Adjust the seasoning if need be. Serve and enjoy!