Buenos Aires – The most surprising thing about our Casa SaltShaker venture isn't that people have been coming and enjoying, much as the speed of word of mouth did catch me off guard. Instead, it's been the idea of having a private dinner somewhere. There seem to be a large number of people, either visitors or locals, who either don't have the space for a private dinner, or don't want to deal with the mess, cleanup, and/or organizing issues of hosting one. Catering halls are too big, and the few restaurants that offer private rooms charge inordinate amounts for them. To my delight, we find ourselves booking a steady stream of small group (6-8) dinners over the next month or two – a nice adjunct to our weekly dinners – keep 'em coming! Last night was the start of a string of them now that I'm back in town – I was contacted by a regular reader of this blog whose niece just spent a semester in Buenos Aires studying, and she wanted to take the niece and other friends out to celebrate the completion of their exams.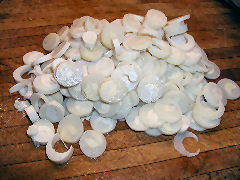 Somewhere out there floating around on the internet is a recipe for a soup called Cold Cruel Hearts of Palm Soup. I remember trying it out one summer a few years ago as a nice refreshing sort of hors d'oeuvre soup. For most folk, hearts of palm conjure to mind bad banquet food (not here in Argentina, where they're actually a quite popular vegetable). Many probably haven't a clue what they are – those long white cylinders on a salad bar, hidden away behind the sneeze guard. Probably soaked in vinegar to the point of inedibility.
"Hearts of palm are, literally, the heart of the sabal Palmetto, a tall, tough-barked graceful palm that is the state tree of Florida. Called "swamp cabbage" by native Floridians, it was long regarded as poor people's food–and was actively cut down as a source of food during the Depression, no mean task in the days before chain saws. It wasn't long, however, before its extreme tenderness and delicacy was noticed–and its name changed from "swamp cabbage" to "millionaires' salad." It wasn't long after that, then, that Florida enacted a state law to protect it from the ravenous gourmets.

Hearts of palm, of course, has flourished for thousands of years throughout Central and South America. In fact, at the time Columbus arrived in the new world, the Carib Indians were taking full advantage of what they called the Pejibaye tree. They housed themselves with its bark; put a roof over their heads with the leaves; ate the nuts of the mature tree…and ate the center core of the young plants." – Soupsong.com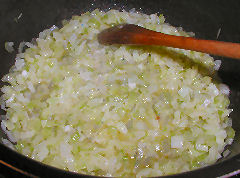 The original recipe is a pureed, strained, and iced soup, best served in shots or perhaps in a small bowl accompanying a nice seafood salad. The soup gleaming white, the average diner won't recognize the taste, and will probably be delighted by how refreshing it is. Being early winter here, I decided to serve the same soup in a bit heartier fashion – adding more substance to it, only partially pureeing it, and serving it hot. I think it worked out well, and last night's guests seemed to enjoy it immensely.
Hearts of Palm Soup

1 white onion, finely chopped
4 stalks of celery, finely chopped
1 pound of hearts of palm, thinly sliced
3 tablespoons of butter
salt and white pepper
1½ quarts of light vegetable stock
1½ cups of heavy cream
2 avocados
2 lemons

Saute the onion and celery in the butter, with a little salt and pepper, over low heat until the onion is translucent. Add the hearts of palm and the vegetable stock. Bring to a boil, reduce heat, cover, and simmer for half an hour until all the vegetables are tender. Using a hand blender, or a regular blender, puree part of the soup, leaving it a little bit "chunky". You can prepare it to this point in advance and keep warm or chill until ready to use. Bring back to a simmer, remove from the heat and add the cream. If you'd prefer to serve it cold, just don't reheat it… Meanwhile, peel the avocados and dice them quarter-inch or smaller cubes. Juice the two lemons and soak the avocado dice in the juice for at least an hour at room temperature. To serve, mound the avocado in the center of the bowl and ladle the soup around it. If you like, garnish with a little freshly chopped parsley or other favorite herbs.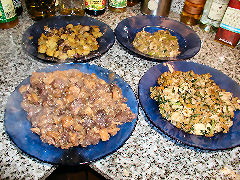 Dinner last night was oriented around Argentine classics, though my own versions of them. I decided to make a duo of empanadas. For the first, I braised osso buco along with diced batatas in red wine, orange juice, crushed Chinese five spice, and mustard seeds – more or less combining the flavors from the main course on my English Renaissance dinner last month. For the second empanada I recreated the pork, walnut and chard versions I made in an earlier menu. Two days before the dinner, the hostess got back to me to let me know that one of the young ladies attending is semi-vegetarian (she eats fish). On arrival, it turned out another guest keeps semi-kosher, so fish and vegetables for him as well. I like to plan for things like that, so there's always something in the refrigerator… For their empanadas I parboiled some diced batatas and then sauteed them with radicchio, garlic, orange peel, and mustard seeds (this turned out to be my favorite empanada of the evening). For the other, I sauteed some fresh white and brown mushrooms with leeks and thyme. It was good, but I think it needs some work – maybe some wild mushrooms thrown into the mix.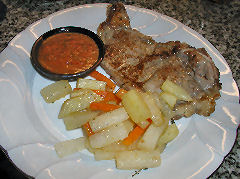 The main course had to be steaks. I would have liked to do something a bit off beat like a hanger steak, but the only ones I could find were terrible. I settled for some good quality, thin cut rib-eye steaks, seasoned with smoked salt, and served with homemade chimichurri, the national steak sauce of Argentina. Mine is a little different from what I see in most restaurants here, though is based on the same idea. I served this with a saute of root vegetables – potatoes, carrots, and daikon (couldn't find regular turnips) – sauteed in olive oil, butter, and a little thyme. Easy to make – just parboil the vegetables first and then when ready, saute them for a short time just to get a little caramelization and finish cooking them through.
Chimichurri

¼ cup olive oil
¼ cup red wine
¼ cup red wine vinegar
1 teaspoon salt
2 cloves garlic, minced
2 tablespoons parsley, finely chopped
1 green onion or scallion, chopped
1 small tomato, seeded and chopped
1 red bell pepper, finely chopped
1 teaspoon sweet paprika (you can use hot if you like, though not traditional)
½ teaspoon cumin seeds, toasted
¼ teaspoon black pepper
¼ teaspoon cayenne pepper
½ teaspoon marjoram (or oregano) leaves
2 bay leaves

Process all the ingredients except the bay leaves in a processor or blender until coarsely chopped (or just hand chop them for a coarser texture). Add the bay leaves and let the whole thing steep for at least 2 hours – shake it up or stir it every now and again. Use within a few days to preserve the freshness. Not that that will be a problem once you taste this! You can also substitute white wine and white wine vinegar for the red to make a less intense salsa. If you like, and to give a more smoky flavor, char the tomato and red bell pepper first.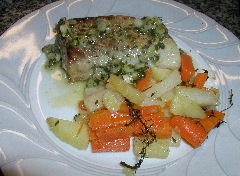 I had picked up a loin of salmón blanco (Brazilian Sand Perch) for my one known pescetarian, but figured that to be safe I'd better have one extra – we could always eat it ourselves. As luck would have it, we did need it. These were simply pan roasted in a little butter, crushed green peppercorns, and tarragon. Then I deglazed the pan with some tarragon vinegar, chopped green onions, and some more green peppercorns. As it turned out, one of the two decided to top the fish with the chimichurri as well, which apparently worked out fine. I'd actually considered that up front, but thought it might be too strong. Guess I was wrong.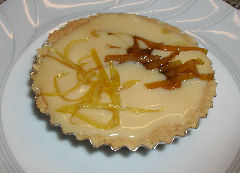 Finished up with another take on the Dulce de Leche and orange tarts I made for the same dinner I mentioned above. This time I used a shortbread crust, which isn't as pretty, but I think flavorwise might work better. I used just the candied peels of oranges and lemons, without the fresh orange segments. The dish still needs some work – some combination of the two is in the offing. Maybe a mixed citrus supreme salad macerated in liqueur, and a mix of different candied citrus peels. I have a vision of a peace sign made with lemon, lime, and orange… Watch for it…
Wines for the successive courses – Chandon Extra Brut with the soup, a great match; Familia Gascon Chardonnay with the empanadas, another excellent pairing, and the favorite wine of the guests; Sur de Los Andes Bonarda with the main course – I would have liked to use something a little heavier for the steaks, but needed something that wouldn't overwhelm the fish as well; and Weinert Sauvignon Blanc late harvest, which paired beautifully with the tarts.