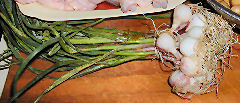 New York – It's the time here for the early versions of many vegetables. Those of you who were paying attention, or even reading my blog, last week, know I was a bit enamored of a large bunch of green garlic that I picked up at the Greenmarket. By this week, the green garlic was gone, the bulbs have grown too large and are no longer tender and sweet, the grassy, chive-like stems have started to yellow, and there was just no green garlic to be found.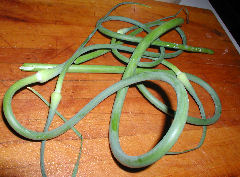 There were, however, garlic scapes. A scape is the flower stalk that comes shooting off of a garlic bulb as it develops. It needs to be removed, as it draws too much energy away from the developing garlic bulb. In most places, these either get used by a few folk in the know at or near the garlic farms. They are popular in some Asian restaurants. And these days, farmers are selling them off at their local farmers' markets as a "new" discovery. Just new for us city-folk. They've become the darlings of the food blogging world this season, with recipes being tried and shared throughout the blogosphere.
I'm still staying at my friend Frank's house, and we'd decided to invite a few folks over for dinner a couple of nights ago. Foolishly, several folk turned down the dinner invitations. That's all I have to say on that subject. Foolishly.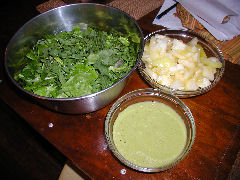 Frank had this taste in his mind for something salady, lemony, and garlicky. At the Greenmarket, we grabbed a handful of these garlic scapes, some beautiful yellow tomatoes, and a selection of greens – wild arugula and a French lettuce called sucrine that falls somewhere between bibb and romaine lettuces, plus some wonderfully lemony sorrel. Back home, the three greens got washed and tossed together along with some fresh mint leaves. The yellow tomatoes got themselves all seeded and sliced. All they needed was a fun dressing.
One of the things I like to do with vinaigrettes is to puree some type of vegetable into them. It acts as an emulsifier, and makes them thick and creamy, without the addition of the usual sorts of things that make vinaigrettes thick and creamy. I started with a basic red wine vinegar vinaigrette – probably ¼ cup of red wine vinegar, some salt and white pepper, a large pinch of powdered mustard, and then drizzled olive oil into it while blending until I had a nice emulsion. At that point I added one small shallot, half a dozen garlic scapes which I'd first blanched for a minute or two to soften them slightly, along with the peel (yellow part only) of half a lemon and pureed the whole thing until it was smooth. A little more salt and it all came together perfectly.
We started off with a bottle of Saint-Hilaire Blanquette de Limoux Brut 2002, a nice, light sparkler, while sitting in the garden. Dinner was our salad and a bit of sauteed "Peruvian chicken" as we've come to call it – I've made it it seems a zillion times over the last year. Quite simply, chicken pieces are marinated for a few hours or up to overnight in soy sauce, olive oil, garlic cloves (I usually take a whole head of garlic and cut it in half horizontally, then just break it all apart and toss it in, skins and all), and a few broken up dried chilies. Sometimes I add some thyme to the mix, this time not. Just sauteed the chicken off and we enjoyed it with the salad! Our friends had brought along a couple of bottles of Peter Schandl Pinot Blanc 2004 from Austria – crisp, dry, citrusy and minerally – perfect with a light summer meal on a hot day.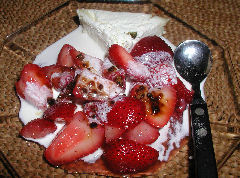 Frank had grabbed some fresh strawberries, and we'd also picked up some of Coach Farms' green peppercorn goat cheese. Rather than serving separate courses, we decided, wisely as it turned out, to serve them together. Frank washed and halved the strawberries, and then macerated them in a little bit of Cointreau. We served them around a wedge of the delicious cheese. The strawberries were topped with just a drizzle of fresh cream, and some crumbled dark moscovado sugar. Served alongside, glasses of a simple vin santo from Villa Puccini, it was a great way to end the meal.
Did I mention that some folk turned down our dinner invitation? Foolishly, I might add.