New York – Past history has an influence on your point of view. It's unavoidable. So, how do you give a fair look at the newest restaurant from someone you used to work for? Especially if that person "let you go" for reasons you disagree with? It comes down to, life is too short to hold a grudge, plus. Especially when folks are buzzing about how good the food is! And he was a pretty cool boss anyway. With that in mind I made a reservation at BLT Prime, 111 East 22nd Street, in Gramercy Park.
The space is big. I remember the space when it was divided up by various levels and walls as Union Pacific – very intimate, cozy, and sleek. The re-do takes a different direction entirely – it's all about bold flavors, big portions, and buzz – a huge black board with the menu in big white letters fills one wall. Large photographs face off against a giant meat locker where racks of steaks are dry aging. A touch of clatter and lots of bustle. It's definitely a spot for when you're in the mood for high energy. I opted for a slightly less busy experience and took a table in the small sidewalk seating area – it was a beautiful night, so why not? Let me say up front that the food, in general, was delicious, with a couple of caveats which I'll get to.
Service was friendly and warm, but a strange mix of attentiveness and inattentiveness – my waiter was a bit on the chatty side, constantly telling me stories about himself and his family – I felt like I was being asked to pay attention a bit too much. The wine I ordered arrived after I was done with the starters, and despite having ordered it both by name and bin number, I was brought the wrong wine – the wine person brought me the one he'd recommended rather than the one I ordered. A splash was poured for me to taste, and that's the last time anyone from the restaurant touched the bottle – I was left to pour my own wine throughout. Strangely, on the flip side, it seemed like every time I took a sip of water someone was at tableside refilling my glass. The wine itself, one of my favorite California Zins – Hendry "Block 7" 2003 Zinfandel, elegant, rich, full of black fruit flavors and spice – and made by George Hendry, one of my favorite California personalities.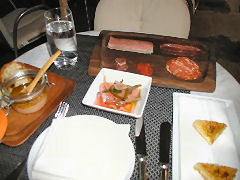 Obviously, given the past history, there are two sides to the equation, and from the restaurant side, I was warmly welcomed by a past colleague, and the owner had clearly given instructions to make sure I was well taken care of. I wasn't long at the table before I found myself surrounded by gifts from the kitchen – a selection of small appetizers. Starting at the right, an absolutely spectacular mini-grilled cheese made with fontina cheese – everything grilled cheese longs to be. A plate of mixed charcuterie – sausages and dried meats – I wasn't clear if these were made in house or just slices of cold cuts that were purchased – either way, they were quite good. You can see a small bowl of pickled vegetables in the middle that made a nice foil to the meats. At the left, an interesting presentation of paté – it's been cooked at low temperature in a sealed jar, which turns the paté into a delicious and soft treat.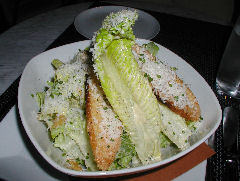 Given the array of starters, and knowing that I was headed for a big cut of meat, I figured I better throw some salad into the mix. I'm a sucker for a classic Caesar Salad. This was good, but not great – it clearly had all the ingredients – anchovies, garlic, parmesan – but they just weren't in balance. The parmesan was a mix of shaved parmesan and some sort of crunchy, crispy bits that were all on the bottom. The dressing was a bit acidic, very vinegary, and definitely needed salt and pepper. I like croutons tossed into the salad, they add a nice crunch and flavor to the salad – the two garlic toasts sticking out were good on their own, but essentially not part of the salad, since they needed to be eaten separately. And, a service point – my silverware from the starters was moved off my plate and left on the placemat for the salad – at this level restaurant that's just wrong.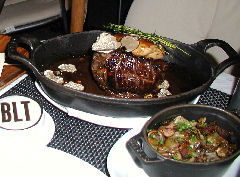 The main course was truly spectacular. It's not often these days that you see a classic Fillet Rossini on a menu. It's a thick, juicy fillet mignon, topped with a layer of perfectly grilled foie gras, shaved truffles, and a rich madeira sauce. This was perfectly interpreted and wonderful. The side dish of roasted hen of the woods mushrooms were also perfectly cooked, though in need of salt and pepper again, but that handled, delicious. Service here was a little strange – some of it probably intentional, but a style I wasn't happy with. That was, that the fillet and mushrooms were served just as you see them – in two piping hot cast iron dishes. I was left to move the food onto my plate myself. I had no serving utensils – so first it was awkward, and second, when it comes to that yummy sauce, there was no way to tilt the burning hot pan to scoop it up, and with a teaspoon it was tedious. The other point – just before this was served a young man asked if I'd been served "the cheese bread" – I said no, but that I didn't want bread. The bread, a cheese popover, was brought anyway. I did taste it, and it was good, and I do like the cute little recipe card that comes with it. I can't say I like the logoed piece of paper over the butter left for me to peel off. One note – although in my case I ordered a special of the day so it didn't apply, I noted that they charge extra for steak sauces with your steak – have to admit, with steaks running between the mid-$20s and the high $40s, $4-6 for a portion of sauce seems a bit, well, ridiculous.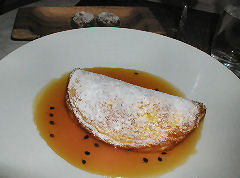 One disadvantage sometimes when you're a "known" person is that too much gets sent. It's flattering, but you leave a bit overstuffed. I'm not complaining about having received this gift of a souffle crepe with a passionfruit sauce, it was amazingly good. I only apologize to the pastry chef for only taking two bites of it – I just couldn't eat any more. It paired nicely with a glass of Mount Horrock's Late Harvest Riesling 2005 with it's bright acidity, apricot, honey, and minerally flavors.
Overall I enjoyed the food. A little more salt and pepper to balance acidity or bring out the flavors would have been nice. The service needs a bit of work in the technical details – they've got the warm and welcoming part down, which is usually the hardest part, now it's just a matter of tuning.