New York – Despite the continiuing rain yesterday (apparently five days straight and counting, though it finally stopped last night), I decided to forge forth into the streets and get myself some cultcha. If you spend a bit of time wandering around the Upper East Side, one of the first things you're reminded of is the incredible wealth that once existed in this city. Not that there isn't a whole lotta wealth here now, but it's different. At a time in history when the structure of this country was still being built, there were people who amassed amazing fortunes in that pursuit. With Manhattan still a somewhat undeveloped 'burg, some of these folks were able to buy up large plots of land and build some amazing mansions on them.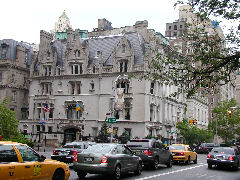 Fletcher-Sinclair Mansion
"Not many people know that the grand French Renaisance-style chateau on the southeast corner of Fifth Avenue and 79th Street is actually open to the public. Built for a businessman and art collector named Isaac D. Fletcher in 1899, and later home to oil millionaire and scandal-ridden Harry F. Sinclair as well as Augustus Van Horn Stuyvesant (descendant of Peter Stuyvesant, the colonial director famous for his $24 deal with Manhattan's Native Americans), this mansion was purchased by the Ukranian Institute in 1955."
Unfortunately, for me the institute is temporarily closed while the mansion is completely renovated. It's a museum/home I haven't been to, and was curious about. Not that I set out to go there, I just figured I'd wander 5th Avenue and see what looked interesting. So, I continued on my way…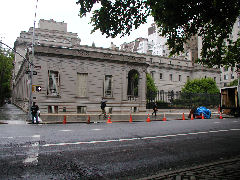 The Frick Collection
"A visit to The Frick Collection evokes the splendor and tranquillity of a time gone by and at the same time testifies to how great art collections can still inspire viewers today. Housed in the New York mansion built by Henry Clay Frick (1849-1919), one of America's most successful coke and steel industrialists, are masterpieces of Western painting, sculpture, and decorative art, displayed in a serene and intimate setting. Each of sixteen galleries offers a unique presentation of works of art arranged for the most part without regard to period or national origin, in the same spirit as Mr. Frick enjoyed the art he loved before he bequeathed it to the public."
The Frick Collection has always been one of my favorite art museums. I started going there when I moved to New York back in 1982. I love that the art is presented as part of this huge (and impressive in and of itself) home, with no barriers. You can walk right up and look at the paintings, the sculptures, and the incredible library. Back then, I could count on there not being more than half a dozen folk wandering the museum, which made it feel kind of special. I haven't been for a few years, so thought I'd spend some time rekindling my relationship with it. Yesterday, there was a high school field trip going on, a tour bus came by, and plenty of other folks meandering. They've added in a self-guided audio tour, in multiple languages. It's still an amazing museum, and I'd still rather go there than pretty much any other art museum I've been to, but it has definitely lost a certain level of intimacy now that it attracts crowds.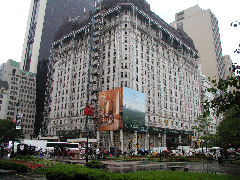 The Plaza
"The Plaza was originally built in 1900 and then was rebuilt in 1907 to the tune of twelve million dollars when the new Ritz Carlton joined the other hotels at the turn of the century. The hotel brought elegance east of Fifth street. One of New York city's finest hotels, it was architecturally designed imitating the style of a late medieval French chateaux. The elegant lobby contains ornamented archways, pillars, and marble floors. This combined with a usage of the color gold give the hotel a wealthy, upper-class appearance."
I can't say that I've ever stayed at The Plaza hotel. However, if my memory isn't failing me completely, my very first truly elegant dinner in New York, and possibly anywhere if I stop to think about it, was in The Oak Room at The Plaza. In various strange twists of fate, The Plaza came to be owned by a Saudi Arabian prince over the last decade, and then two years ago sold to an Israeli developer – who says that folks in the Middle East can't cooperate? Though I know that the hotel needed renovation, and was probably not making its owner much in the way of profit, if anything, it's a shame to see such an elegant landmark turned into yet one more condominium building for the ever more expensive Manhattan real estate market. Apparently that's progress.
—————
A few weeks ago, out of the blue, I received an invitation to attend a biodynamic wine tasting and dinner from the public relations person for a restaurant group here in New York. I'm not sure how she picked me, and as we corresponded, it was immediately clear that she didn't know I was based out of Buenos Aires. Fortuitously, the tasting was set for last night, and since I was going to be here, she kindly didn't withdraw the offer to be her guest at the event. So Frank and I took a walk down to the theater district (the rain had finally stopped) for a little Italian food and wine at Trattoria Dopo Teatro last evening. I don't really feel like I can review the restaurant itself, as we had a pre-set meal that was served for around fifty folk at once, a mix of regular customers and some various media and trade invitees. I don't even know if what we were served was part of the restaurant's regular menu.
I can say that I like the space. There's an upstairs dining area that we entered during that pre-theater period – packed to the gills with folk who seemed to be enjoying themselves immensely. It's a trifle noisy for my tastes – all hard surfaces echoing conversations and standard restaurant clatter – but that's part of the experience in theater district restaurants – I can remember when I used to find all that noise and hustle and bustle truly exciting. These days, while not some sort of stuffy, nearly quiet dining experience, I prefer the noise level subdued enough that I can chat with my dining companions. And, Dopo Teatro has a downstairs area, with several separate, quieter dining rooms. I get the sense that they are primarily for large groups like ours, but there's also a small table for up to 12 folk in what they call the "Grappa Room", a beautifully lit, panelled oval with shelf after shelf of glowing grappa bottles where I'd love to sit with a group of friends!
This was apparently the first wine tasting event the restaurant has done in many years. A biodynamic Italian winery. An interesting choice from my view. I have to admit to disappointment in the young winemaker who presented the evening, from the Tenuta di Valgiano. Not that she didn't speak well, she had charmingly accented and clear English, she spoke well, and she was enthusiastic about the wines. But given the whole biodynamic thing and that I'm sure the vast majority of the four dozen people there knew little about biodynamics, it might have been nice if she'd have talked about what that meant. Instead she announced that she's a wine-maker, not a biodynamic wine-maker, and while she knew people found biodynamics fascinating, she wasn't going to talk about it. And, she didn't. At least not much more than sort of stating that it was the next step beyond organic, which isn't exactly accurate.
Biodynamic grape-growing stems from the ideas and suggestions of Rudolf Steiner (1861-1925), who gave his now famous "Agriculture Course" in 1924, predating most of the organic movement. The principles and practices of biodynamics are based on his spiritual/practical philosophy, which includes understanding the ecological, the energetic, and the spiritual in nature. Many grape growers claim to have tried it and found immediate improvements in the health of their vineyards, specifically speaking in the areas of biodiversity, soil fertility, crop nutrition, and pest, weed, and disease management. Winemakers claim to have noted stronger, clearer, more vibrant tastes, as well as wines that remain drinkable longer. Critics say that many of these improvements would have happened if organic farming was used, without the mysticism involved in biodynamics. Nonetheless, there is an upsurge of interest among grape growers worldwide and in the media, with a number of very high-end, high-profile commercial growers also converting to biodynamic practices. As a practical method of farming, biodynamics embodies the ideal of ever-increasing ecological self-sufficiency just as with modern agroecology, but arrives at this goal via ethical-spiritual considerations. Intention, focus on detail, inner attitude and so on, are valued as part and parcel of mastering excellence in grape growing and wine making.
Palistorti 2002 – This 70% Sangiovese with a variable blend of Syrah and Merlot is Valgiano's "entry level" wine, coming in at $28. The 2002 shows fairly high, juicy acidity, some decent cherry and berry fruit, and a little bit of smokiness, but I found it to be a bit thin and lacking in length. The winemaker asserted that she was trying to show that biodynamics overcomes the faults inherent in a low quality vintage, which for the most part 2002 was in Tuscany. It's a nice theory.
Palistori 2003 – Much more elegant and richer than the 2002, which a 2003 should be – it was one of the better vintages of the past decade in Tuscany. Black cherry fruit, a touch of berries, lots of bacon fat and smoke, good depth, well integrated oak, and plenty of length. Quite good and well worth the price.
Colline Luchesi Rosso 2000 – Now, 2000 was a pretty darned good vintage. And at 6 years old, this blend of 60% Sangiovese and 20% each of Syrah and Merlot should be showing beautifully. It's not. Very green herbal – cilantro aromas stood out on both the nose and palate which is very unusual. Some red fruit and black pepper, very alcoholic on the finish and the fruit faded in the glass after a short time. At $75 a bottle this isn't one to make a beeline for.
Colline Luchesi Rosso 2001 – A fairly good vintage, and the wine certainly showed better than the 2000 – much fresher and richer, and it didn't fade. Nice red fruit flavors and a bit of smoke, but a bit simplistic. Once again fairly alcoholic on the finish. At the price, again I don't think so.
Colline Luchesi Rosso 2003 – Regardless of what the winemaker thinks about the ability of biodynamics, or her skill, it's clear that vintage has a major effect on these wines. The 2003 was, by comparison to the other two vintages of this wine, opulent, full bodied, had good tannic structure (which was completely lacking from the other two), balanced acidity, and well integrated oak. A mix of black cherry and blackberry flavors backed up by some smoky bacon fat, and great length just shows what you can do with good quality fruit from a great vintage – regardless of your vineyard management techniques.

All in all we had a fun evening. Two of the wines were certainly worthy of paying attention to. I don't know that anyone learned anything about biodynamics, and that's a shame, but it was still an interesting experience.