Buenos Aires – Francisco "Paco" Urondo was a poet, journalist, and militant politician, born in 1930, and, as I understand it, was one of "the disappeared", or at least was taken into custody and killed by the Argentine regime at that time, and died in June 1976. Reading poetry in a new language is possibly the most difficult undertaking of the learning process, as much of the phrasing in poems breaks standard grammatical rules and/or uses words or phrases that are not common. So, my attempts at reading his poetry failed miserably. Luckily, it's not a prerequisite for dining at Urondo, Beauchef 1204 (corner of Estrada), in Parque Chacabuco. Named after him, and owned by two cousins, his grandson and nephew, if you never leave the touristy neighborhoods for anything else, you should for this place. (By the way, Beauchef is not pronounced, as I did to our cabbie, "bo-shef", which I sort of did automatically without thinking about it, it's pronounced "beya-oo-chef" – I ended up having to spell it after her insistence that no such street existed in the area we were headed, or anywhere else in Buenos Aires, and then was treated to a pronounciation lecture.)
The restaurant is a small venue, located in a quiet residential neighborhood. It's definitely what we'd call a "destination" spot – you'd be unlikely to just happen by during open hours (after 8:00, Wednesday through Saturday only), and other than a hand-lettered chalkboard out front, you might not even notice it as you pass. But you should, and more than that, you should enter. I do recommend reservations for dining, as there are a mere 34 seats in the house, and while we were the first to arrive the other night at 9:00, by 10 there wasn't an empty spot in the house, and there were people waiting. It's a very comfortable room, with reasonably spacious tables, high ceilings, and while minimalist in decor, somehow just right. The open kitchen is semi-hidden by a high counter separating it from the dining room, which cuts down on the clatter from the cooking, and allows for a feeling of activity and movement from the kitchen, without having to see the nitty-gritty of every move.
The menu is short, changes regularly, and is an amazingly multi-ethnic fusion of flavors, taking Argentine classics and giving them the zip of Southeast Asia, India, Africa, Europe… well, pretty much the rest of the world. The wine list is an interesting selection of both well known and not so well known labels, clearly selected to work with the food, including some older wines, and a small selection of Riojas from Spain. I should note, by way of full disclosure, that Sebastían, the sommelier and one of the two owners, is a new friend here (which always worries me when I head to review somewhere, I would hate to have to trash a friend's restaurant), and while I know we got a bit of extra attention, from watching the room, I'd say that everyone is very well taken care of – in addition to himself, there were three waitresses, which given the number of seats, is nearly astronomical for Buenos Aires.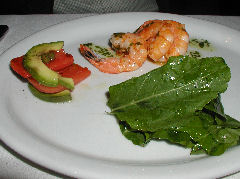 In the hands of many chefs, multi-ethnic fusion food is a recipe for disaster. Combining two cuisines can be hard enough as it is, so it's impressive to find someone who can take the range of flavors offered by the global palate and forge them into something that not only works, but works brilliantly. Some of the combinations are simple, like this dish of plump langostinos with its accompanying layered "tower" of avocado and tomato (okay, the tower doesn't really tower, but remember, we have poetic license behind the scene here). If I were to guess, the spicing on this was a bit of smoked paprika or other mild red pepper, but it was elusive, and emphasized the flavor of the shrimp rather than announcing its presence.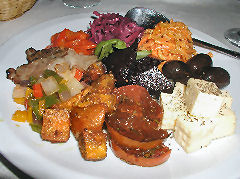 Copetín can simply mean appetizer, but in general here, it's used more to indicate a sort of antipasto plate. Our waitress suggested that even the small size, which this is, would be enough for two to share, and it was, not that that stopped me from eating virtually all of it solo. After all, Michael was enraptured with his langostinos, though we managed a bit of a swap here and there. It's hard to even know where to start with this melange of flavors – but perhaps first, with pristinely fresh vegetables. The selection coupled red cabbage with caraway, sweet potatoes with tandoori spices, carrots with a Dijon mustard dressing, spicy grilled tomatoes, roasted beets, a sort of ratatouille, roasted peppers, olives, feta cheese, and thin slices of melt in your mouth roast pork, all flavored with different spices and herbs, and all working together. Truly spectacular, and a great introduction to the restaurant's style. By the way, and I don't offer that the restaurant does this regularly, but Sebastían had offered that we could bring our own wine, knowing that I have a bit of a collection here. We enjoyed our appetizers with a bottle of Mayol Brut 2003, a 50:50 Chardonnay and Pinot Noir sparkler from a producer whose reds I've really enjoyed in the past – clean, crisp, and yeasty up front, with a bit of a minerally, metallic tang on the finish, quite good.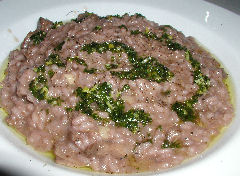 I've more or less stopped taking pictures of steaks. I figure everyone knows what one looks like, and unless there's something amazing about the presentation, the photos aren't necessary. I wish I'd taken a picture of Michael's steak now. Not that it was particularly pretty to look at, a simple ojo de bife, or boneless ribeye steak, a plump 1″ thick, butter tender, perfectly cooked to medium rare, dusted with spices, and not only the best ribeye either of us have had here in Buenos Aires, but simply one of the best steaks. It was accompanied by a scoop of intensely flavored roasted garlic puree, and golden brown fries. I fell completely under the spell of this heaping bowl of dead-on al dente risotto, studded with a generous amount of shreds of osso buco, perfumed olive oil, and swirled with a freshly made gremolata (a pounded together sauce of parsley, lemon peel, and garlic). In fact, when desserts were offered afterward, we both suggested another bowl of the risotto to share… I'd brought a second bottle of wine for the main courses, a Fattoria Artiminio Carmignano Reserva 1995 that was chockful of rustic red fruits, smoky tobacco, and minerals – turning out to be just the perfect age to have opened it.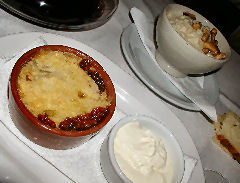 We did actually succumb to the lure of the postres, and thankfully so – not that I would have objected to another bowl of the risotto. Our waitress's suggestion of the warm dish of baked pears, topped with a lightly spiced crumble and accompanied by a lime infused whipped cream was borderline sinful… Maybe we actually crossed the border… The rice pudding was not the usual soupy mess that it is here, more milk than rice, but a firm, rich, delicately flavored version, garnished with roasted cashews, that was simply, amazingly good.
If you couldn't tell, I highly recommend Urondo, and I'm so glad I don't have to trash a friend's restaurant or pretend that I'd never visited it.