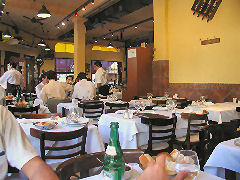 Buenos Aires – There are parrillas and there are parrillas. They range from bustling, packed with tourists places like Des Nivel or Cabaña Las Lilas, to those filled with businessfolk like Parrilla Peña, to modern yuppie hangouts like Miranda, to, well, the old-line, family style parrilla where the waiters and customers have been coming together for decades. Now, I realize that talking about yet another parrilla, and steaks in Buenos Aires, is akin to reviewing yet another Irish bar in Manhattan, but I've found that without exception, each parrilla I've been to has something to offer that's different from the others. Yesterday found a trio of us lunching at El Trapiche, Paraguay 5099, on the edge of Palermo Viejo's trendy section, at what the New York Times and Fodor's both termed "arguably the best classic Argentine food in town, with a wine list to match"; Time Out says "unstintingly Argentinian, unfailingly reliable, and always full. The grilled meat is magnificient"; The Telegraph calls "Neighbourly but classy". El Trapiche is big, clean, well-lit, and not at all smoky. The waiters know the zillion page menu inside and out, they're friendly and efficient, and know when to step in with advice. The winelist, which we didn't sample from, is long, well-priced, and isn't just a paean to the usual suspects. The place was about 2/3 full when we arrived for a late lunch (2:00), but was very nearly empty by the time we left.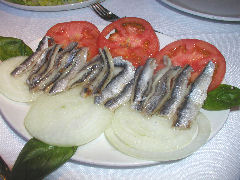 Perusing the menu at El Trapiche can take some time, it does indeed seem to go on for more pages than appropriate – with various meats, cuts of meats, pastas, salads – pretty much all the classics of Argentine cooking (except, strangely, no empanadas), along with a selection of Spanish dishes like paella, and a personal favorite appetizer, boquerones. Usually boquerones amount to a half dozen small halves of sardines, served simply on a plate with a little olive oil and some cracked pepper. Here, add in thick slices of tomato and onion, fresh basil, a garlickly marinade, and enough of them for three people to share as an appetizer.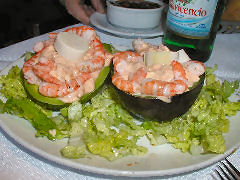 Not that we stopped at just one appetizer. We were still in the pre-stepping-in stage of working with our waiter. So we also had a plate with a huge, smoky, grilled chorizo on it – one of the better ones I've had here (Miranda and Gardelito I think are the only toppers so far) – and a plate of palta con camarones, an avocado the size of a softball filled with an excellent shrimp and hearts of palm salad. Between those three appetizers we could have probably just stopped and been happy. But, we were there to try the much touted grilled meats off the parrilla.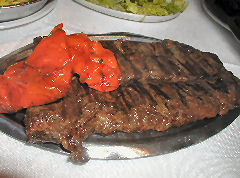 I wish I'd read some of the reviews beforehand, as without fail, everyone seems to mention the matambrito de cerdo, or grilled pork flank, as stupendous. We didn't try it. Not that that takes away in any way from what we did try. We were set to order three different steaks when our waiter sighed and clucked a little. He suggested that probably one steak at this point was sufficient for all of us. We only semi-listened, and compromised on two. A bife de chorizo that easily hit close on the two-pound mark was plopped on the table, along with this entraña, or hanger steak, which if the two pieces were left in one long strip would have easily come in at over a two-foot length. Not only that, but both were perfectly cooked to somewhere in the medium-rare or medium range, juicy, seasoned, and accompanied by one of the better chimichurris that I've encountered in a restaurant. Even between the three of us, we only finished half of each steak, the entraña came home with me and got itself diced up into a pumpkin curry last night.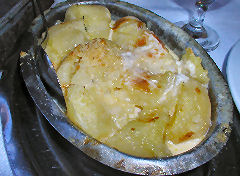 If I were to find any fault with El Trapiche it would only be a slight rigidness to the menu. At most places, substituting a side dish, say mashed potatoes for fries, or maybe a salad, is commonplace. At El Trapiche, each cut of meat is offered one of two ways – solo or with papas fritas. If you want something other than fries, you order the solo version and have to order the other side dish as an extra plate. On the other hand, the side dishes are very inexpensive, and really only amount to maybe 2-3 pesos more than the extra amount tacked on for the meat/fry combination. These are papas a la crema, certainly the largest portion of them I've ever been served, and well made – almost gratin style, though doused in milk, not cream, which took away a little bit from the richness of the usual dish. All around, a delightful experience, all-told 80 pesos for three of us, and a place I'd definitely recommend, and plan to go back to.