Buenos Aires – Apparently, Monday is the Sunday of Chinatown here. Who knew that virtually every single restaurant in Barrio China is closed on the day of the moon? Met up with my friend Heather, planning on a lovely lunch at BuddhaBA it was closed, so was Siempre Verde, in fact, there were only 2 restaurants open on the entire strip that we saw. Even nearby Contigo Peru, for a casual Peruvian lunch, was shuttered for the day. Neither of the two open options looked overly exciting, but one of them at least had Chinese people eating in it, 3 or 4 of them anyway. Thankfully, Dragon Porteño Arribeños at Arribeños 2137, turned out to be a decent option.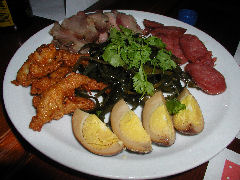 We did the usual "let's order a few things to share" and found ourselves confronted by just a bit too much food. Nonetheless, we ate most of it, and enjoyed it all. This is the Entrada China Mixta Chica, or small mixed Chinese appetizers. On the plate, some sweet chinese sausages, roast pork, deep-fried fish, soy and tea marinated eggs, and pickled seaweed. Not quite what we were expecting, I think both of us envisioned a plate with a sampler of things like dumplings, springrolls, and other sorts of more usual suspects. But, this was quite good.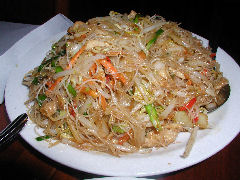 A pretty standard dish to share followed up – Fideos Saltado con Pollo, a stir-fry of thin noodles with lots of vegetables and chicken. It definitely needed something to zip it up a bit, and a dish of chili oil was brought out quickly. The real fault to this dish, tasty as it was, was that it, and the two subsequent dishes, were just oily as could be. Thankfully the oil was fresh and not "well-used" or rancid, there was just too much of it. And despite any fault we may have seen in it, we completely finished off this plate, so I guess we liked it a fair amount!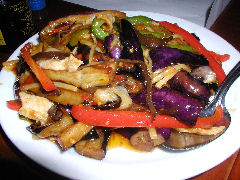 This had the potential to be the most interesting dish, both of the latter two dishes were ordered off the restaurant's house specialties menu. According to that menu this was a picante dish, but it wasn't even spicy by Argentine standards. There were a few scattered chili flakes in the dish, but basically it was sauteed eggplant with peppers and a few strips of pork tossed in. Now, Yu-Xiang style Eggplant is a Szechuan dish that should be spiced well with ginger, garlic, and hot bean paste. I think they just left the last ingredient out. Here's what the recipe should be, taken from The Good Food of Szechwan by Robert Delfs.
Eggplant with Yu-Xiang Sauce

4-8 Asian eggplants, about 1 lb.
¼ lb. pork tenderloin
2 scallions
1 handful finely chopped ginger
1 handful finely chopped garlic
1-2 T hot bean sauce

Seasonings:
2 T soy sauce
1 t sugar
½ C chicken stock

2 t sesame oil
1 T cornstarch mixed with 2 Tbsps. water
¾ C cooking oil

Cut the eggplant into 3-inch long strips as thick as your little finger, salt them and pat dry after 10 minutes. Meanwhile cut the pork into small pieces, at most ¼" on a side, chop the scallions into small pieces, and chop the garlic and ginger as finely as possible (a food processor works well). Mix the seasonings in a small bowl.

Heat 1/2 cup of the oil in a wok until very hot. Add the eggplant and turn the heat down to medium. Cook, stirring frequently, until the eggplant strips are soft and moist. Remove them from the wok with a slotted spoon and drain. Now heat 3 more Tbsps. of the oil in the wok until very hot. Add the pork, ginger, garlic and hot bean sauce. Cook until the red color of the bean sauce begins to be absorbed by the other ingredients. Add the Seasonings, stir briefly, and then add the precooked eggplant.

Cook, stirring occasionally, until the liquid begins to disappear. Add the scallions and sesame oil. Stir while adding the cornstarch and water mixture. When the sauce has thickened and begins to adhere to the eggplant strips, remove to a serving dish and serve immediately, with sticky rice and cold beer.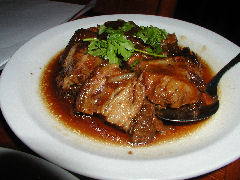 The last dish is often one of my favorites in good Chinese restaurants. It's essentially thick pork belly that's been first boiled until very tender and soft, then cut into cubes, and then sauteed in a mixture of hot bean paste, soy, garlic, wine, and sugar. It's usually called Double-Cooked Pork or something equally enlightening, here it was referred to as Pancetta con Verduras Secas or bacon with dried vegetables. There was indeed some sort of wrinkly something or other underneath the pork – it looked more like tofu skin than vegetable, perhaps it was something like cabbage, but I don't think so. Flavorwise this was pretty good, and you'd expect it to be a bit greasy because of the pork belly, but this was also swimming in oil in addition.
Overall, I give this restaurant an okay. I like that they have some creative dishes not seen on most Chinese menus here. But I think their cook needs to learn to drain the oil off of things and to add a bit more spice.