Buenos Aires – de autor is the term used here for food which is creative, different, unique, special, outlandish, bizarre, un-pigeon-hole-able. Cuisine, like most things here, needs to have some sort of a label, so that folks know what to expect. But some chefs defy convention and create things from the heart, the gut, the brain, the imagination, or any of various other places associated with such things – perhaps the spleen. And so, their menus become known as de autor, literally, of the author, craftsman, creator… And that makes the job of pronouncing judgment on them much more difficult. It's all very well and good if you like something to declare "My mutton was everything I had dreamt of weeks before in Gloucestershire, and of which I had been deprived…. I have rarely eaten more exciting meat." as Giles Coren did in one of his recent reviews. He was off to a proper Gloucestershire inn for a proper English meal. On the flip side, it's equally acceptable to announce "Some dishes were merely pleasant, and a few were unappealing, including a stringy casserole of salt cod and an overcooked and strangely sour hamburger." as Frank Bruni did when visiting a rustic Mediterranean restaurant a few weeks ago. They knew what they were looking for.
But how do you go about it when you don't know you're in an English inn or a rustic Mediterranean venue. When the food comes from the deep recesses of the chef's cranium. Perhaps the salt cod is supposed to be stringy, it's a textural thing. Or, as someone more or less put it in discussing, for example, a restaurant in New York like WD-50, just exactly what is specially caramelized Luxembourgian fungus-yak-butter, or some such supposed to taste like? Now, Restó, Montevideo 938, in Recoleta, isn't one of these new palaces of molecular gastronomy with foams and airs and dusts and deconstructions. At the same time, it's not food that easily fits into any particular mold. Of course, given that it's a little 28-seat venue located at the back of the entrance hallway inside the Sociedad Central de Arquitectos, one would expect a bit of creativity. Actually, one would expect a whole lot more creativity in the general look of the place. It's pleasant enough to view – entered through a couple of etched glass French doors, but the room itself is a bit minimalist, with no real touches of interesting decor. I sort of felt like we were sitting in a neighborhood coffee shop, with fancy white tablecloths and well groomed waitstaff. Every table has a reserved card on it, and when it was discovered we didn't have a reservation, it was a discussion… but, strangely, that happened with every single person who came through the door. As best I could tell, not one person had a reservation, but everyone was subjected to the "Oh, you don't have a reservation? Hmmm, well, let me see if there's anything we can do to for you… Clearly they've seen too many episodes of Sex and the City.
The menu is short and more or less to the point. It's one of those affairs that lists not only the main ingredient and it's principal accompaniment, but several of the spices and herbs used, techniques, etc. Thankfully, it doesn't get into the local equivalents of Nieman-Ranch and day boat and hand-picked that too many restaurants use as a way of making up for lack of talent in the kitchen – "It wasn't our fault you didn't like the scallops in steamed kiwi marmalade and crystallized foot-rubbed stinging nettle buds. Perhaps you should contact Captain John Smith of the Greater Atlantic Scallop Collectors Coalition, whose sister-in-law personally picked out your scallops. No doubt she's to blame for the fact that these particular scallops didn't taste right with kiwi and nettle." In fact, Restó's menu all sounds pretty appetizing.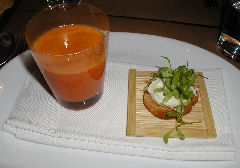 Now, I realize it's unfair that I'm heaping all of my criticisms of de autor menus on poor little Restó. And god knows, given my new project to start offering hopefully creative menus myself, I probably should just keep quiet and let it all pass. I mean, someone's sure to heap criticisms upon me out of my earshot as well. But such is life. And I did like the food at Restó, kind of. We started with a couple of piquillo pepper soups. Given the three line description, I have to admit, I was expecting something more than a semi-warm strained puree of the peppers, seasoned subtly with some sort of herby something or other in the background, and served in a small drinking glass. It was an interesting choice of peppers, a type not seen much here. It was accompanied by a toasted bread round topped with goat cheese that was about two nibbles worth. The soup itself was about half a cup's worth. It needed salt. It needed something vibrant, maybe a touch of lemon juice or vinegar. It needed to be a whole lot less than 12 pesos.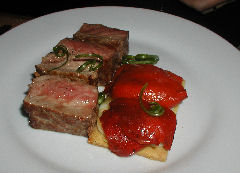 The main courses were likewise interesting but once again lacking in proportion. Now, I'm going to paraphrase my good friend John in regard to this plate of beef… "I don't care if this cow was hand-raised by blind, crippled nuns living in a mudhut on the Pampas, a cow who willing offered herself up for sacrifice for my dinner plate, I'm not paying 19 pesos for four postage stamps of beef." Thick postage stamps admittedly, but for that price, four 1″ cubes of beef sitting next to what appeared to be two small stacks of roasted vegetables. Flavorful, yes; cooked perfectly medium rare, yes; but filling and worth the price paid, no. This is the beef capital of the world, where a perfectly cooked steak the size of your head can be had for half that pricetag.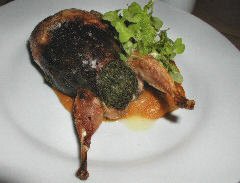 The quail, too, was tasty. It was stuffed with a puree of borage, or starflower, an herb that has a fresh, cucumber-ish flavor, and which matched nicely with the quail. A puree of Asian squash accompanied, with scattered bits of something crunchy in it that I'm not sure what they were. The quail itself, perfectly roasted, juicy, with a crispy skin and a scattering of coarse salt on top. It lacked a little in overall harmony – somehow or other the squash puree, which should work well with quail, didn't. I think that it had more to do with the borage stuffing, which was likewise good, but somehow clashed with the squash. And, for one small quail, it cost 18 pesos.
We left, I know I at least was still hungry, which for the price, in my mind, is not acceptable. The food is well made, creative, interesting, and different from pretty much anything I've had here in town. It could be argued that the creativity alone is of value, and I'd agree with that. However, that would, to my sensibilities, apply more to a tasting menu, where you have several courses of this size for a flat price – perhaps expensive, but at the end you leave feeling satisfied and like you've experienced something new and interesting. Restó, for me, falls short in the execution of a very good idea.