Buenos Aires – A mattarello or matterello is a thin rolling pin, often without handles, that is used for rolling out pasta by hand. Whether or not the folks at Il Matterello, Martí­n Rodrí­guez 517 in La Boca are rolling out their pasta using one, I don't know, I didn't look back in the kitchen. But they're certainly turning out some amazingly good pasta! The restaurant is located on a typical Boca down-at-heels street, not too far from the Boca Juniors futbol stadium. From the outside it doesn't look like much, but step inside and down the steps and you'll find yourself seated comfortably at one of the white tablecloth covered tables, seated amongst local businessfolk with a smattering of tourists and others who've heard of the place. The walls are lined with travel posters advertising various parts of Italy, the ductwork is bare steel hanging from an acoustic tiled ceiling, there's a bit of a clatter from the open kitchen at the rear, and everyone's having a great time.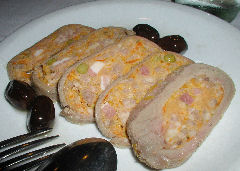 Start off with a platter of mixed antipasto, with a standard but oh so good assortment of roasted and preserved vegetables, boconcini, and olives; or maybe a platter of classic Italian sausages and cured meats. Don't even consider passing up a plate of the Cima a la Genovese (in Italian, Cimma alla Genovese), a classic Ligurian dish of breast of veal stuffed with a variety of vegetables, poached, sliced, and served at room temperature with top quality olive oil to drizzle over it. No doubt this is the dish that inspired the local matambre that porteños happily eat, as often as possible. The owners of Il Matterello, by the way came from Genoa in Liguria and Molino in Emilia-Romagna, and traditional dishes from each place grace the menu.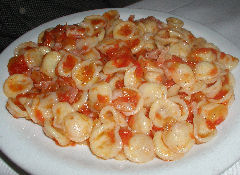 Personally, I can't tell the difference between strascinati, which these are, and orecchiete, which is what they look like to me. In fact, I'd never heard of strascinati in all my time in various Italian restaurants and travel in Italy, yet, it turns out, they do exist, and are well known. Wikipedia says that they're the Ligurian version of orecchiete, which are from Apuglia, but says they're not dome-shaped, however an internet search on strascinati reveals picture after picture of dome-shaped pasta – besides, if they were the same except for not being domed, they'd just be flat little circles of dough. Regardless, we found ourselves digging into a delightful plate of the stuff, tossed with a quite good amatriciana sauce, classically made with tomato, onions, and guanciale which is a bacon made from pig's cheeks – here made with pancetta, which is different, but still very tasty.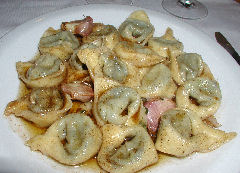 Feel free to salivate while just looking at this dish. A classic of the Emilia-Romagna region, tortelli are plump, stuffed, "torus-shaped". In this case, Tortelli Bianchi con Manteca Quemada y Ajo, they are simple but excellent pasta rings filled with cheese and vegetables and topped with a delicious and subtle brown butter sauce with whole roasted garlic cloves. That's my idea of simple but excellent. Tortelli are the house specialty, and come in several versions, and looking around the room, it's clear they're a favorite of the patrons as well.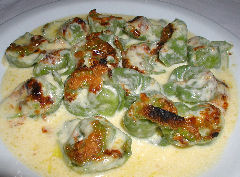 Good as the tortelli bianchi were, the true specialty of the house is their tortelli verde, made with a spinach pasta, filled with a roasted garlic and cheese mixture, and then topped with this creamy mixed butter, bechamel, and cheese sauce that's been browned under a broiler, giving a touch of crunch. It would be hard to imagine tortelli being much better than these, and we could have happily eaten another plate or two just of this dish. If you were to have nothing else at Il Matterello, you need to eat these, oh, and the Cima too, and maybe…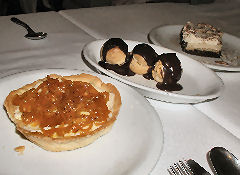 We decided to go with our waitress's recommendations for desserts, and in short order found ourselves with three marvels of the pastry world. A Crostata de Naranja is a deceptively simple delicate tart crust filled with vanilla pastry cream and topped with a whole lot of candied orange peel. The Bigné, which is the Italian term for what most of us know as profiteroles are small puffs of dough filled with your choice of ice cream or pastry cream, in this case, chocolate ice cream, and topped with a mix of caramel and chocolate sauces. And, of course, the classic Torta della Nonna with its layers of vanilla and chocolate pastry cream, nuts and coconut topping – not anything like what my grandmothers used to make. But then, I don't remember either of them ever making a torte, or dessert for that matter, and they weren't Italian.
Overall, really excellent food, and good, friendly service. Prices aren't bad, running around 15 pesos for a plate of excellent pasta. They've got a good wine list (we had a good, if slightly oaky for my tastes, bottle of 2003 Bodega Los Cerrillos "El Peral" Malbec, for a mere 27 pesos). My only criticism, the coffee, which tasted quite burnt – time to clean and adjust the espresso machine – but that's not enough to stop me from going back, and soon!