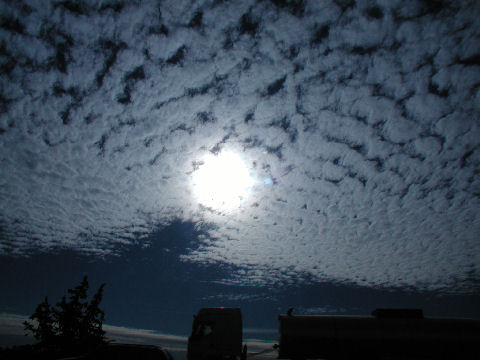 Buenos Aires – Having made my big announcement in the last post, I'm hesitant to post anything else for a little while, as I don't want to lose any momentum in building a small business here. But, life goes on, and so must I. I'll just mention it here and there to keep the idea fresh in people's minds – if I get annoying about it, well, such is life. The response, by the way, has been extraordinarily positive. In the first day of having announced this, we have two "reservations" for two on different nights, and an inquiry from a local foodie group about possibly booking out one of the dinners entirely for their monthly get-together! Plus, two different food and wine newsletters in the U.S. asked if I'd write up a small press release for them and let them publish it in their member communications! Not bad.
The picture above is purely artistic, at least in my mind. We were coming back from Barrio Mataderos where we'd gone to try to find some gaucho boots for Henry that he needs for a dance class. There are three very nice little handmade leather and metal goods shops that purport to offer authentic gaucho-wear just off the corner of Lisandro de la Torre and Dos Corrales, the corner where the Feria de Mataderos takes place on weekends. What they offer turned out to be a bit too touristy in quality for what he needs, but we did pick up a couple of nice handtooled leather belts, and the prices are cheap! And that's how we found ourselves in a remis heading back along the autopista when the sky was just lit up this way. It was too bright on its own, but the remis had tinted windows and the picture through the window just plain looked cool. We'll title it Sky Over the Autopista…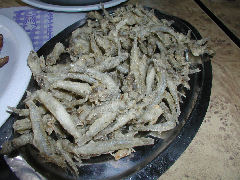 Someone had suggested, prior to heading out to Mataderos, that we check out the handmade shoe and boot "district" in Barrio Monserrat, along San Jose between Belgrano and Independencía. Turns out to be quite an interesting little four-block strip of shoe stores – all making dress shoes and boots, and despite being handmade to order, appear to be the same or lower prices than hitting the shoe stores along Santa Fé. Something to keep in mind when shoe shopping! We stopped in for lunch at a small coffee shop, Gijon, Chile 1402, corner of San Jose. Nothing fancy, just your typical neighborhood porteño coffee shop, filled with a mix of yuppies on lunch break and rummy-eyed men in their 60s sitting down to have their daily lunch steak, a flask of house wine, and read the paper.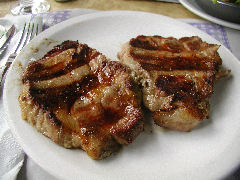 There's nothing special to report about the food, it was about what you'd expect from a coffee shop. We ordered a couple of chorizos and a half-order of cornalitos, or deep-fried smelt, to nibble on, followed by splitting a double bondiola de cerdo, or pork tenderloin. I have to admit, I was expecting it to be a little dried out, as most places here overcook pork, but this was juicy and flavorful, and cooked to just barely in the medium-well range. Impressive for the venue.
Of course, just after getting home from this all-day jaunt, a friend of Henry's from school called up with the information on where to find someone who makes authentic, dance-worthy, gaucho boots, about ten blocks from home…