Buenos Aires – I had a recent exchange with someone on a food forum elsewhere on the net on the subject of Barbecued Pizza in Buenos Aires. Given linguistic differences in different parts of the globe, he had come under the impression, from reading somewhere about the topic (and I don't know if it was his interpretation or the writer of whatever he read), that we were talking about good old American backyard barbecue. In the exchange it was clear he had visions of shortrib or chicken meat slathered in a smoky, bourbon-scented, brown-sugared tomato paste spread lavishly across a pizza crust. He was trying to determine just what sort of cheese we were using down here on such a dish. Now, I admit, the idea of meltingly tender shortrib meat atop a pizza crust gives me some ideas, though I think I might not go with a standard backyard bbq sauce, not that it wouldn't work, in fact there are numerous recipes on the internet for just such a thing. I too, think I'd be stumped for a cheese that would really work with the idea, though a melted slab of Velveeta was the first thing that came to mind.
But no, this is just a case of misunderstanding. Someone, somewhere, translated parrilla as barbecue rather than as grill. This is barbecue of the sort Australians might slip another shrimp on. And it's nothing particularly new in the culinary world. Italians have been doing grilled pizza for eons. There are places throughout the U.S. that offer grilled pizza – if you're in New York, stop in at Gonzo and have the prosciutto, arugula, and watermelon pizza – it might just change your life. The usual approach that I've seen in New York anyway is to grill a very thin (cracker thin) pizza crust, getting it nice and smoky, then top it with the appropriate toppings, generally just warmed. Cheese is not always included. The exchange – which, by the way, left him unconvinced that I knew what I was talking about, he'd firmly set his mind on some sickly sweet pizza and wasn't budging from the idea – left me wondering if perhaps he knew something I didn't. After all, I hadn't gone out for a pizza a la parrilla here, maybe they were doing something completely different from my assumption. So it was off to sample a couple of places, both of which have been given high marks on the foodie scene here – and I'm going to do a sort of compare and contrast presentation. First, the individual reviews.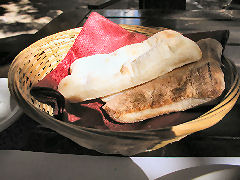 Stop number one was in Palermo Viejo, at the much touted Morelia, Humboldt 2005 (they also have a location in Las Cañitas). A good sized place on a quiet street corner, across from a new apartment tower that is being put up (the Hollywood I), the inside decorated in a mix of heavy, dark wood tables, cream colored lounge sofas, a long bar, and lots of wrought iron. The outside seating looked more appealling, especially as our days of being able to eat outside are dwindling, and I took a seat at one of the tables along the sidewalk. The waiters are a group of attractive twenty-somethings, dressed in black, friendly, and quick to attend to tables. Within a few moments of arriving I had a basket of soft breadsticks, made from pizza dough, on the table and was perusing the menu. I ordered a glass of house wine, asking what they had, and got the reply, "oh, it's just generic, it's not made from grapes with names." …sigh…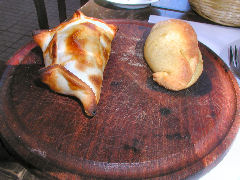 Being incapable of turning down an empanada has its advantages – I keep trying them and every now and then come across one I particularly like. Morelia offers an interesting selection – nothing out of the ordinary in terms of listed fillings – beef, chicken, vegetable – but offers each in both Argentine and Bolivian versions. I decided to try the beef versions of both, side-by-side. The former was filled with tender cubes of steak and a nearly equal amount of hard-boiled egg, all lightly spiced and quite good. The latter, I expected to be a bit picante, based on my previous experiences with Bolivian empanadas – and it had that same shortbread-ish crust, but was filled with ground beef and a whole lot of black and gold raisins – very sweet, almost too sweet.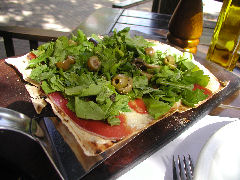 I'd asked my waitress if the restaurant had a specialty combination amongst the two dozen or so that were offered, and she immediately replied, "the Montecattini" – a prosciutto, arugula, and olive version. Montecattini is a small town in Tuscany, these days more of a spa/resort than anything else – it's not the home of prosciutto certainly, and as far as I know, grilled pizzas aren't particular to that region of Italy, but hey, maybe they just liked the sound of the name. Morelia offers "regular" pizza, i.e.,al molde (pan-pizza), or pizza a la parrilla, and offers both in three sizes. This is the individual size, and plenty for one person. The crust is lightly smoky, crisp on the bottom, slightly soft on top – I'm guessing they put the prosciutto on top while they grill it as the prosciutto was heated through, and that would account for the crust's softness on top. The whole thing was topped with lots of arugula – but the arugula wasn't cleaned well, it was slightly gritty, and there were scattered blades of grass mixed in. Points for lots of olives, green and black, pitted and halved. No tomato sauce, no cheese. The pizza was served with good olive oil and a pepper grinder. Except for the bit of grit in the arugula, this was excellent, and I'm hoping that was an aberration – some prep cook not having done their job properly – as I'd love to come back for more.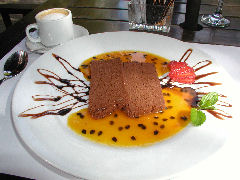 I had a quiet afternoon planned, mostly catching up on some reading, so I decided to stay for dessert and coffee. The marquise de chocolate caught my eye – and was definitely worth having stayed for – two slices of fudgy flourless chocolate torte with a passionfruit sauce. The coffee was also quite good. I was a little surprised that it arrived at the same time as dessert, usually here it's served afterwards, but I hadn't specified, maybe they get a lot of North American tourists – in fact I'm sure they do, given the neighborhood.
The other place that I'd been hearing about required a bit more of a trek. Out in Liniers, the most northwesterly barrio in the city (where we'd gone to shop a month or so ago at the Bolivian markets, though in a different part of the barrio). I had seen the 108 bus seemed to be headed towards where I wanted to go, but found that it isn't listed in the Guia T, the city's bus route guide! However, I asked the driver and he assured me it would get me where I needed to get – he just didn't tell me that it involved a convoluted tour of every northern barrio of the city before getting to my destination – an hour and a half later. I took the train line back – costs less and got me back to this area in fifteen minutes. Either way, only a dozen blocks from where the bus let me off, and passing by the beautiful Plaza de los Derechos Humanos, or Plaza of Human Rights, I found myself at Mamina, Av. Juan B. Justo 8322 [This place has closed though they still have two branches out in the province.].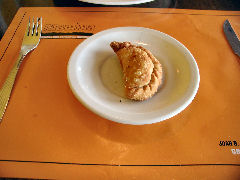 My first thought, it looks like a big cafeteria. Tile floors, blond wood tables, bright orange plastic placemats. It's clearly a place that locals hangout, and not only did I get the once over on entering, but it continued throughout my lunch. In fact, unlike the usual seating style in Buenos Aires where one more or less selects their own place to sit, the owner/manager directed me to a table in a back corner, by the kitchen, and out of sight of most of the room. He was neither pleasant nor rude, just sort of matter-of-fact. My waiter, a somewhat elderly gentleman, asked me to repeat my order four times while he wrote it down in painstakingly slow print on his order pad. Then he came back a few minutes later and asked me again. Then he brought me the wrong thing. I had, as usual, started with an empanada – a guanajuato, described as spicy diced steak. A few minutes after ordering, and getting my drink straightened out, my waiter passed by and tossed this plate on my table without comment. Wait, a 2.20 peso empanada the size of a field mouse??? You've got to be kidding me. And it was made with ground beef and some chopped egg, and was as greasy as could be.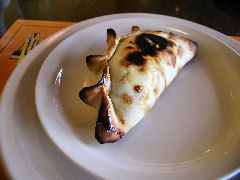 Thankfully, that wasn't my empanada, not that I could get anyone's attention to find out. But about ten minutes later the waiter passed by again, picked up the plate from what turned out to be an hors d'oeuvre, and plopped this lovely baked, and normal hamster sized empanada on the table. The crust was delicate and just slightly crispy, the filling packed full of diced steak, with plenty of chili spice – in fact, this nearly rivaled the Bolivian empanadas I'd had at Pacena for heat – possibly just a bit too much. But, it was excellent, and given a few minutes and most of a bottle of water, I figured I'd be able to taste the pizza when it arrived.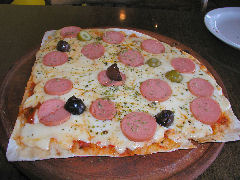 In retrospect, I should have ordered the same type of pizza at Mamina as I had at Morelia, to give a more fair comparison. My conversation with the waiter as to a recommended specialty of the house led to an "all of our pizzas are special" response. I ended up picking one that sounded a little off-beat, the pizza aleman, described as mozzarella, german sausage, and olives. The sausage turned out to be something awfully similar to bologna, though maybe with a touch more flavor. The wood fired grill at Mamina is fired with a type of South American wood called quebracha, or goncalo, that is a resinous wood from a member of the evergreen family (Astronium graveolens) that is favored among asado aficionados here. I have to admit, I didn't taste anything particularly different about the pizza or the smokiness. The crust was absolutely crisp, both sides clearly having been grilled – and if you look at the shape, you can see that my "individual" was a quarter of a very large round crust. I'd guess the crusts are cooked in advance, then cut to the size ordered, and then topped. The mozzarella on this was particularly good, definitely better than most of the mozzarella I've seen here, and far less oily; the tomato sauce flavorful, with lots of herbs and garlic.
Okay, compare and contrast…
Service and ambiance, Morelia wins hands down, Mamina isn't even on the same scale. Price at Mamina is better – for the same size pizzas, Mamina charged 12 pesos and Morelia charged 19; empanadas 2.2 pesos versus 3; plus Mamina ended up giving me the pizza and empanada as a combination even though it didn't fit one of their menu ejecutivo combos – so 12 pesos all told. Selection of pizzas – I'd put them fairly equal. Mamina also offers a variety of other dishes besides pizza, but in both cases, pizza is their raison d'etre. A close call on the pizzas themselves, especially as I tried different types. For all I know, Morelia has equally good mozzarella and sauce, but I have to admit, Mamina's is about the best I've had on a pizza here, and plenty of it. I like the crust texture better at Morelia, but I kind of like the additional smokiness of the Mamina one a bit more. Both of them get points for having pitted their olives, something that isn't usual here. Morelia maybe has a slight edge because they also cut theirs in half and scattered them around a bit more, Mamina left theirs whole, and just had a few. In the end, I think I'd probably go with Morelia both for ambiance and convenience. On the other hand, were I to find myself out in Liniers or Mataderos, I wouldn't hesitate to head back to Mamina for another stab at it. But next time, I'm sitting at a table out of the shadows.