Buenos Aires – You probably can't remember your first falafel. I certainly can't, but knowing where I grew up, I'm sure it was a greasy ball of over-fried chickpea batter stuffed in some poor excuse for a pita bread, topped with iceberg lettuce and cellophane tomatoes, and doused in some combination of sauces that bore little resemblance to either tahini (sesame paste) or hummus (chickpea puree). There's not a doubt in my mind that it was presented to us as some sort of exotica, in fact, it's pretty likely that my first experience was at some sort of Jewish Day Camp, or maybe a Sunday School "tastes of Israel" event. It has been decades since that first bite, and thankfully, I didn't give up on this culinary treasure. But then, for the time and place, Taco Bell was the height of exotica, bringing us the "true flavors" of our neighbors to the south, and I've gone on to try real Mexican cuisine.
In any place where there is an Arab or Israeli, or just general Middle Eastern community, there will be falafel. This simple crunchy ball of legumes unites our peoples with more force than any accord at Camp David ever will. The entire conflict in the region could probably be handled by a group of grandmothers getting together and sharing their recipes. Maybe they could have a sort of Pillsbury Bake-Off to decide land distribution. Or one of those eating contests where the one who can ingest the most falafel in five minutes gets title to the West Bank.
The origins of the falafel are lost to time. Food historian Joan Nathan has traced it back to biblical times and beyond. In various parts of the Levant it is made with chickpeas, fava beans, butter beans, or any of a variety of other pulses. In the U.S. we probably know the chickpea version more than any other, and we don't tend to think of falafel as separate from its accompaniments of sauces, pita bread, and salad. In New York, I probably ate falafel once a week, somewhere in the city, and I've written about what I consider the best there, Fatoosh. I realize I've been in Buenos Aires for nearly ten months now, and not eaten a single falafel, except on one trip back to New York. And so, the other day, I set out, ironically not to find a good falafel, but being the midst of Passover, to find a good gefilte fish.
Ever elusive, the gefilte fish can be difficult to trap, especially so far from its native waters. You know I missed out on the The Great Gefilte Fish Festival because of bad timing. That has haunted me for the last two weeks. I know I could have gefilte fish delivered to my home by any of several services here – it still amazes me what one can have delivered to their home here. I could buy the jarred kind from most local supermarkets, and certainly the kosher markets in Once. I could make my own. But, Vivace, Federico Lacroze 1786, in Belgrano, advertises that they specialize in gefilte fish, knishes, and other specialties of the genre. They claim to be Italian Jewish in origin, serving up first class cuisine with great respect for that tradition.
I thought perhaps I'd wandered into the wrong place. After all, the sign saying Vivace wasn't immediately evident, posted nearly up on the second floor of the building. The ground floor is a simple bakery and coffee shop. Oh wait, there are some boxes of matzoh in one corner of the window. Boxes? This is a bakery. They don't make their own? No. In fact, they don't even make the matzoh available to those having lunch in the coffee shop. Well, I was there, I may as well sit down at one of the cheap blond wood tables and check the place out. The menu of the day was short and sweet, a dozen selections. But where, where were the gefilte fish, the knishes? I signalled for my waiter and posed the question. He took the menu from me and examined it from top to bottom, even turning it over to look at the blank white back, pursing his lips and muttering to himself. After examining it thoroughly, he sighed the sigh of someone at least forty years older than his twenty something years, handed it back to me, and said, "we don't have them today."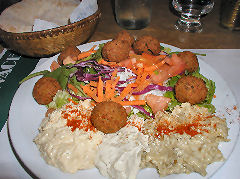 In fact, what they had was a selection of standard porteña cuisine – milanesa, lomo with mashed potatoes, a couple of pastas. And, one dish, one, a falafel platter, that spoke to the roots they so deeply honor in their advertising. Not what I'd come out to try, but I was already seated, I was hungry, and I didn't feel like looking for somewhere else to eat. So the falafel platter it was.
I will give Vivace credit for a decent falafel. Not great, but decent. Lots of salad to go with the eight small and crunchy balls of chickpea batter. Not greasy. Accompanied by a somewhat vinegary, but nicely smoky babaganoush, a quite good tahini, and a very good, slightly lumpy hummus (which I prefer to a completely smooth puree). All well seasoned. Freshly baked whole wheat real pita bread, not the usual bland white pan arabe that is served as an excuse for pita bread. More than enough food for lunch.
Will I return for another shot at gefilte fish? I think I'd call first. Then again, there are enough other places to check out in this city that perhaps I'll just go on a gefilte-falafel exploration tour. Maybe I'll just make my own.