Buenos Aires – Met up with my friend Victor and a group of folk he'd gathered together for a bit of a wine tasting on Sunday afternoon. What else is there to do on an Easter Sunday except bite the ears off of a chocolate bunny? And that gets old after a half dozen of them. Figuring that most if not all of Puerto Madero would be open, he had us gather at a place that's big in the wine scene on the east side of the puerto, Hondo, except they turned out not to be open. Luckily, right next door, at Harbor Cafe, Pierina Dealessi 230, managed to gather together five small tables and line them up for the ten of us on only a few minutes notice. They were also happy to host our little wine tasting, as long as we were happy to have some lunch. We were a bit of a motley crew – Victor and myself; Alder Y of Vinography and his wife Ruth, a clinical psychologist if I caught it right; James S, the new travel and business news reporter for the Buenos Aires Herald, and his wife Carmen, a corporate litigation lawyer; and four friends of Victor's from Puerto Rico, in a variety of fields – import/export, television news, psychology.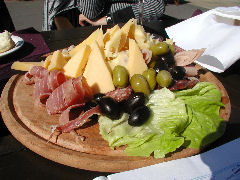 First, the restaurant. Now, if you're a regular reader you know I'm not a fan of restaurants in Puerto Madero. Not because they're not good, many of them are quite good, but because the whole setting is very tourist trappish, and the prices are far higher than most of the rest of the city (e.g., we shared a few bottles of water, two plates of cold cuts and cheeses, six main courses, and two appetizers, and five coffees on the table, and it ran 420 pesos, or 42 pesos per person for what works out to one plate per person – maybe there was a corkage charge for us doing the wine tasting, but I thought Victor said there wasn't). Now, on the other hand, it was a gloriously beautiful day, they set us up with a table for ten at last moment (and they were relatively busy) right along dockside, the view was delightful. Service was friendly and efficient, and interestingly, our waitress and waiter knew exactly how to setup a wine tasting, and did it very quickly.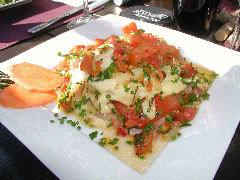 The food is porteña cuisine (parrrilla and pasta), with some interesting creative twists – like they serve their lomo, or sirloin, stuffed with sweetbreads; they have some interesting sounding sauces on things, etc. I have to admit their fiambre platter is one of the better ones I've seen here – four different very good meats; sausage, salami, turkey, and prosciutto; three different quite good cheeses, and olives, and more than enough between two platters for the ten of us. Everyone's favorite cheese dish in Buenos Aires, the provoleta, here is offered in a rellena, or stuffed, version – filled with ham, tomatoes, bell peppers, onion, and actually well seasoned – not to mention being absolutely huge for an appetizer – it was bigger than most of the main courses. I had a fairly good dish of ricotta filled sorrentinos, topped with a walnut and wine cream sauce that was a bit salty, but still quite good. All around, certainly interesting enough to recommend the place as worth stopping into.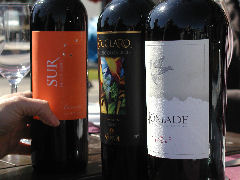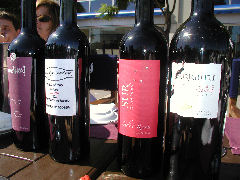 On to the wine tasting, which consisted of seven wines that Victor had brought from his cellar. The original plan was to show off some of his favorites to Alder, who arguably has one of the better wine-related blogs out there, during his brief stop in Buenos Aires – he'd been out touring Mendoza for the last week or so. I was just sort of enjoying the day, so I only scribbled cursory notes and am just going to reproduce them here.
Sur de los Andes Bonarda 2005 – 2 months with oak staves, red plums, maraschino cherries, white chocolate, juicy acidity, good finish, recommended
Bodegas Andalahue "Sol Claro" Malbec Organico 2004 – 5 months with oak staves, black plums, nutmeg, good acidity, somewhat short finish, okay, not great
Nómade Malbec 2004 – black cherry cola, mace, high acidity, green tannins, bitter finish, not recommended
Melival Malbec Reserve 2004 – corked bottle, didn't bother to take notes
Fincas Don Martino Malbec Reserva Viña Violeta de Agrelo 2003 – a barrel sample bottle, over-ripe black plums, nutmeg, milk chocolate, toasted oak, candied angelica, a little overoaked for my tastes, but not badly so, recommended
Sur de los Andes Malbec Reserve 2004 – roasted coffee, nutmeg, bitter chocolate, black plums, toasted oak, sensual, my favorite of the day, also heavy on the oak, but with more fruit than the Don Martino to back it up and balance it
Durigutti Malbec Reserve 2002 – high acidity, green stemminess, red fruits, oaky, out of balance; I've had the 2003 of this wine with Victor and liked it quite a bit, but this 2002 was disappointing
I'm curious to see what Alder's opinions are on the same wines – it always makes for interesting comparisons to see what different tasters think about the same wines in the same settings. I'll add a link when he posts his thoughts.