Buenos Aires – Let your eyes drift past the faded red awning, the storefront with it's almost scrubbed off graffiti, the peeling paint on the inside walls, the parts of the ceiling falling to the floor below, the layer of dust atop every bit of decor in the room, and let them light upon the two flour covered work tables just inside the front door. Two hand-cranked pasta machines, bowls of dough, and two pasta cooks, shuttling back and forth from the kitchen each time an order is called out – literally rolling out sheets of dough, cutting them, and then hand forming them into the requested shape "cada día, todo el día, al momento" – or "every day, all day, when ordered." A plate heaping with noodles is whisked back to the kitchen, and a few minutes later reappears in the hands of the same cook, on a plate, in a bowl, sauced, and handed off to your waitress for delivery. Then, back to the work table for the next batch.
I was at Don Chicho, Plaza 1411, in Villa Ortuzar, a small neighborhood that begins just past the Chacarita Cemetery, and seems to fill in a void that was left when the larger surrounding barrios of Belgrano, Villa Urquiza, and Collegiales were formed. I'm there because the food and wine editor over at Time Out Buenos Aires asked me to check out the rumors of this amazing place where mama rolls pasta by hand on the bar. More or less true, not exactly true, but close enough. I seated myself at one of the paper draped tables for four – there are only tables for four at Don Chicho, and asked for the menu. The room clearly filled with locals, in fact, as I entered, every head turned and I got the once over appraisal – not an unfriendly sort of appraisal, more of a "is he someone we know?" Most of the folk in the room seemed to know each other and there was friendly banter back and forth, and visiting between tables. The table next to me engaged me in genial conversation at several points during lunch, so outsiders are clearly welcome.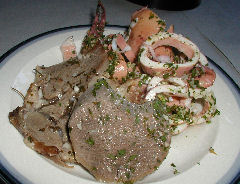 My young waitress, one of the three staff members wandering the room, is dressed in low slung jeans and a midriff top, she's impossibly thin for someone working in a pasta restaurant, but so are the barman and the busboy, both in baggy shorts and t-shirts; tells me that there is no menu. The chalkboard out front lists a couple of specials of the day, and asserts that there are always 29 different items available for consumption. I wasn't about to ask for a recitation – figuring that pasta was the thing, though I saw a few milanesas scattered here and there in the room, I asked simply, for whatever she recommended, letting her know I was willing to try anything. I found myself starting with a plate scooped from the antipasto bar (the liquor/wine bar does double duty), of pickled tongue and squid. Tender, perfectly cooked, in a light vinaigrette chockful of parsley and garlic, and good quality olive oil. I can tell she's watching out of the corner of her eye to see if I really am eating the tongue and squid, or just pushing it around on the plate. Yum!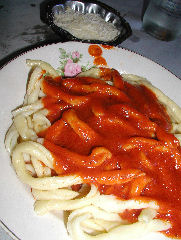 She smiles and calls out something rapidfire to one of the ladies shuttling between the work table and the kitchen. I see the cook head for the table, cut wide strips of dough, and then spiral them around a thin wire rod. Soon there is a heaping plate of what she says are tallarines, which is simply wrong, even by local naming standards. I'm not sure what the local name of these are, though most likely they'd just use the Italian name of strozzapreti, or "priest stranglers". Topped with a simple, fresh tomato sauce, seasoned with nothing more than garlic and a touch of salt (I added a touch more salt), and a small bowl of grated cheese – blocks of which are sitting on the work table and grated to order into small bowls. This is fresh pasta as it should be, and I finish the bowl faster than a visiting priest.
Strozzapretti are a long rolled pasta that more or less resemble a towel that you've rolled up from corner to corner – remember those days back in high school gym, rolling the towel and snapping the end at some unsuspecting classmate? Oh wait, I was the one getting snapped.

The name, "priest stranglers" is one of those that has numerous apocryphal legends associated with it. Some folk claim that it comes from the cook's wish to strangle their local priest, for any of various imagined slights, especially perhaps a slur on one's homemade red sauce. Others that the wish is based on those local priests who used to drop in unannounced to "visit with the family", conveniently just at the hour of the family dinner. Still others claim that they were named when one of those visiting priests ate so much of this pasta, so quickly, that he choked to death, leaving behind a legacy. We'll probably never know.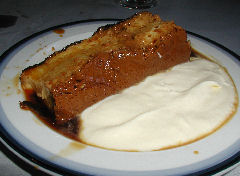 My tastebuds said – another plate of pasta please, let's try something else – but Don Chicho isn't going anywhere, I'll be back with friends to sample more, and my stomach said that another full plate of pasta probably wasn't the best of ideas. So I settled for a recommended plate of the flan casero (choice of a scoop of fresh whipped cream or dulce de leche, I went with the former), which arrived as swiftly as everything here. Actually, that's an interesting thing, service at Don Chicho is quite quick, I'm not sure if it's just that so many folk are stopping in for a quick bit on a lunch break, or if it's just their style, but I noticed that people were in and out relatively rapidly. A few tables were clearly just relaxing and enjoying themselves, maybe it just takes letting the waitress know that you're settling in for a bit. Back to the flan, which was good, but nothing special, certainly disappointing given the quality of the first two courses. All told, as I said, I'll be back – and the best part? All of this, including something to drink, for a mere 20 pesos.